With future settled, Keith Yandle, Coyotes can actually look forward
It's been a tough four years but Keith Yandle and the Coyotes can finally look to their future. Where does the franchise go from here?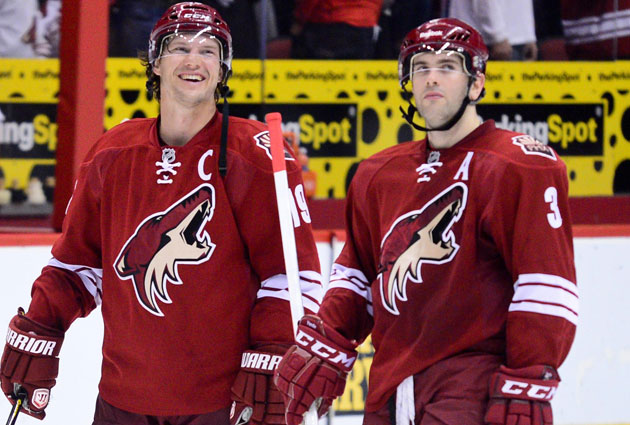 More NHL offseason: Rumors | Top 50 Free Agents | Buyout Tracker | Trades | Transactions
The Sun normally beats down on Arizona with an unrelenting intensity, but for the past four years a black cloud had been sitting squarely over Glendale, threatening to rain on its hockey parade. Then last week the cloud finally lifted, freeing the Coyotes franchise from its long shadow of uncertainty.
It took a really long time to settle, but when the Glendale City Council approved a lease deal for the potential new Coyotes ownership group, it took this story just one step away from being gone for good, a horror story getting its happy ending. The last step figures to be a formality; completing the purchase of the franchise from the NHL and getting approval from the Board of Governors.
Finally, the focus can actually be about hockey in the desert. What a novel concept for an NHL franchise.
"It was a little bit of a stressful week but everything worked out good, so it was good," Coyotes defenseman Keith Yandle said in an interview with CBSSports.com "It's been four years, it's just a little weight off your shoulders for everything; for the wives, for the guys. Just a little bit of ease off everybody's minds."
Is it ever. That weight on their collective shoulders had to be as cumbersome as the long debates in the City Council chambers.
Getting to this point wasn't easy for the players. Sure, they just did their job by putting on their gear and playing a game, but let's not forget pro athletes aren't immune to the distractions and realities of everyday life. Just navigating the uncertainty wasn't always easy, but they made it through. Yandle has been there through the entire uncertain era and has been dealing with the issue for four years.
"I thought we did a good job of not letting it get to the team or into the locker room," Yandle said. "It was something that was always in the back of your mind, you always got asked about it. For it to be done and over with and to know we're staying put for a while is a great thing."
Like anything that doesn't kill you -- the franchise in Arizona really was nearly killed -- makes you stronger. Now the Coyotes have the stability they have been asking for, begging for in the desert. There has been a strident insistence akin to "if you build it, they will come," just replacing the word "build" with "buy." All they needed was an owner and things would turn around in terms of support and success.
Already the optimism seems to be up, just take a look at this photo from the Coyotes' prospect camp this week. Yup, that's hockey in Arizona.
But the talk of survival is finished, now it's about being successful. Despite living on the salary floor with their restrictions from the NHL ownership, the Coyotes have had quite a bit of success in recent years. Remember it was just two seasons ago that they reached the Western Conference finals.
You can already see a difference in the future of the franchise, they spent some money during free agency. One of the biggest names on the market was Mike Ribeiro and the Coyotes nabbed him right away.
"The last few years that [Coach Dave Tippett] has been here, except last year, we've been to the playoffs with a team that's been at the bottom of the spending chart," Yandle said. "But this summer we were able to go out and get a guy like Mike Ribeiro. It's nice to see that we can spend some money and go out and get Ribeiro, who was probably the biggest free agent this summer. So it's a big signing for us."
You want a little more proof things can be different now? Just look at where the Coyotes are on the payroll already ... and they still have a little bit of work to do. At least for this season, they are off the floor.
Perhaps you could question whether spending more money is spending smart money but are you really going to bet against a Don Maloney and Tippett tag team with more resources at their disposal? I won't. As Yandle said, Tippett is one of the best in the game, if not the best.
"System wise, everybody buys into his system. Everybody plays hard for him," Yandle explained. "He's a guy you want to block shots for. It's fun to have a coach like that. Ribeiro said the main reason why he signed with us was Tipp. If you have a different coach you might not get a guy like him to sign with your team. [Re-signing Tippett] was probably the biggest acquisition we've had so far."
The new Coyotes owners believe this will be a profitable franchise, the uncertainty removed from the picture allowing everybody to move forward. There will be skeptics but we'll just have to wait and see.
However there is no denying that as a hockey club, they are in an infinitely better position today than they were just a couple of weeks ago when some were already penciling them in for a season in Seattle.
"It seems like the week or two coming up to the vote everybody was asking 'where are you going to be next year? Where do you think you're going to be?' Deep down you were always hoping we'd be able to stay in Phoenix because everybody who has been and everybody who has played there knows how great of a city it is," Yandle said. "The weather's unbelievable, the living's great. It would be a tough place to leave, that's for sure."
He and the rest of the Coyotes players and fans can stop worrying about leaving because the franchise is staying put. The next step is moving the franchise forward.
The 45-year-old free agent is taking things patiently as September approaches

The playoff drought might not end immediately, but something is brewing in restocked Buffa...

Former Lightning standout will be guarding the net in style in 2017-18
Devils are still in rebuilding mode, but they have reason for hope thanks to young additio...

Buffalo is in the midst of contract extension talks with Jack Eichel, and the payout could...

Los Angeles isn't rushing to sign the 45-year-old forward any time soon