American League West All-Star Team
We conclude our fictional divisional All-Star teams with the four-team American League West, although all but one pick came from either the Rangers or the Angels.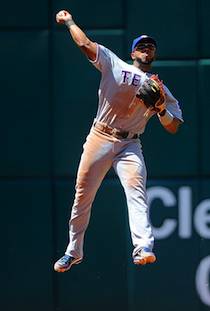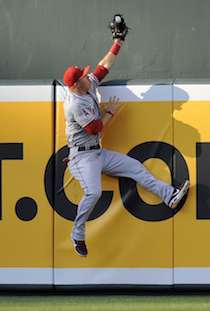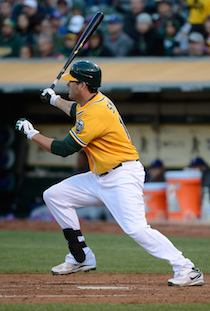 There are actually four teams in the American League West, but just two if you're talking about competition in the standings and on our final divisional All-Star team. Like the real AL All-Star team, Ron Washington has crammed our made-up All-Star team full of Rangers. If a spot's not filled by a Ranger, there's a good chance it's an Angel. (Fun trivia question for you -- the other two teams in the division are the A's and the Mariners, even if nobody's really noticed.)

Catcher - Mike Napoli, Rangers

He may not deserve to start the real All-Star Game, but in this exercise, he's the best of the bunch. Napoli is hitting .233/.336/.431 with 12 home runs.

First base - Albert Pujols, Angels

Remember the jokes about Pujols and the Mendoza line? Yeah, well, that's over. Since June 1, he's hitting .327/407/.558 with five home runs, raising his season line to .273/.334/.461 -- not quite what we've come to expect from Pujols, but he's trending in the right direction.
Full All-Star Game coverage

Second base - Ian Kinsler, Rangers

There was certainly a bit of Rangers nepotism to blame for Kinsler's spot on the real All-Star team, but he still leads the league in runs scored (62) and is hitting a .277/.338/.447. His 26 doubles lead the AL, so it's not quite like he's chopped liver.

Shortstop - Elvis Andrus, Rangers

Instead of just being a fantastic fielder, Andrus is a fantastic fielder who is getting on base at a .372 clip. He also has 16 stolen bases. He doesn't have much power, but getting on base for the rest of the Rangers leads only to good results.

Third base - Adrian Beltre, Rangers

Remember when Beltre was wildly inconsistent? Yeah, no longer. He's just having another .325/.356/.521 season with 14 home runs.

Left field - Josh Hamilton, Rangers

Hamilton's fallen off his MVP pace, but there's no way he gets left off any All-Star list. In his last 13 games, Hamilton is hitting just .239 -- but he's still hitting .316/.386/.646 and leading baseball with 26 home runs and 74 RBI.

Center field - Mike Trout, Angels

Next.

Right field - Mark Trumbo, Angels

In a close decision over Oakland's Josh Reddick, the nod here goes to Trumbo because I just don't care that much about the right fielder's defense. Trumbo's 20 homers, to go along with a .306/.355/.597 slash line showed why the Angels tried him in just about every position just to make sure his bat was in the lineup.

Designated hitter - Seth Smith, A's

Only two AL West DHs have enough plate appearrances to qualify for a batting title (not that either does), and that's Seattle's Jesus Montero and Texas' Michael Young. Neither deserve inclusion here. Oakland's Smith has 22 starts at DH and his .248/.363/.430 line with eight home runs gets him the nod.

Starting pitcher - Matt Harrison, Rangers

Texas' 26-year-old lefty is 11-4 with a 3.10 ERA. He was named the American League's pitcher of the month in June, going 5-0 with a 1.29 ERA in six starts in the month. He failed to record his 12th win of the season on Thursday, but did lower his ERA in the effort.

Starting pitcher - Jered Weaver, Angles

The starter for last year's American League team, the right-hander is 9-1 with a league-best 2.13 ERA. Weaver missed nearly a month with a stint on the disabled list, but he's given up just one run in his three starts since returning, going 3-0 over that stretch. Oh, and he had a no-hitter earlier this year.

Setup man - Scott Downs, Angles

The Angels don't exactly have a tradition closer situation, as Mike Scioscia uses both the left-handed Downs and the right-handed Ernesto Frieri. Because Frieri has more saves, we'll call him the "closer" and Downs the setup man. You can't go wrong, and Scioscia hasn't yet. Downs has allowed just one earned run this season, giving him a 0.31 ERA.

Closer - Ernesto Frieri, Angles

True math fact: Frieri's 0.00 ERA is the best you can hope to have.
For more baseball news, rumors and analysis, follow @EyeOnBaseball on Twitter, subscribe to the RSS feed and "like" us on Facebook.
Neither Josh Donaldson nor Brian Dozier have talked about a new contract extension

Francisco leads the Dominican Winter League with seven home runs

Thome deserves enshrinement and here's why the case against him does not hold up
The Twins have already fortified the bullpen with Addison Reed, and now they want to address...

The Orioles likely want pitching, and the Indians have plenty of it

Halladay died in a November plane crash off the coast of Florida