GIF: Alex Torres' sneaky pick-off move
Rays southpaw Alex Torres reached into his bag of tricks for a pick-off move on Tuesday.
More MLB: Scoreboard | Standings | Probable Pitchers | Sortable Stats | Odds
The Red Sox and Rays are playing an extremely important four-game series in Fenway Park this week, a series that will determine first place in the AL East (for the time being). Tampa got complete-game victories from Matt Moore and David Price on Monday and Wednesday, respectively, but Tuesday's game required some bullpen work.
One of the relievers Joe Maddon used in that game was rookie left-hander Alex Torres, who has been dynamite this season. The 25-year-old has a 0.30 ERA and 0.63 WHIP in 30 1/3 innings while striking out 37. In addition to being outstanding on the mound, he has has a nifty pick-off play in his repertoire. Check it out: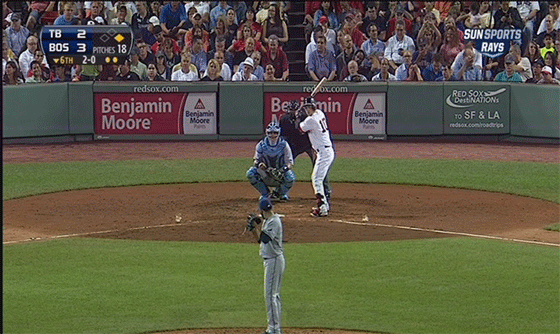 No, it didn't work, but that's pretty sneaky. Glove is resting on his left hand with the ball while his right hand removes his cap then BAM! Pick-off throw to first. That is really, really slick.
Balk rules are tricky, but I've always been under the impression that anything done in an attempt to deceive the runner (or batter) qualified as a balk. I mean, if that move isn't a balk, I don't know what is. I do know that it was neat though. Props to Torres for the creativity.
(h/t Reddit Baseball)
Garrett Cooper is the answer to a trivia question

We still don't know if Ohtani will be jumping to the majors yet

Kinsler is a free agent next winter
Opening Day will be Thursday, March 29 -- the earliest opening day in MLB history

The World Series champion and big-time wrestling fan was on hand Sunday night

The Brewers have very few payroll commitments moving forward