Just because: Jake Beckley's obit headline was outstanding
Hall of Famer Jake Beckley has been dead for almost 100 years, but his obit headline remains a gem.
More MLB: Power Rankings | Expert Picks | Latest news & notes | Fantasy news
Hall of Famer "Eagle Eye" Jake Beckley played from 1888-1907 and tallied almost 3,000 hits along the way. When he died at age 50 in 1918, he was rightly remembered as a ballplayer down to the marrow. For evidence of this claim, consider the headline to his obituary in the June 26, 1918 edition of the Pittsburgh Press ...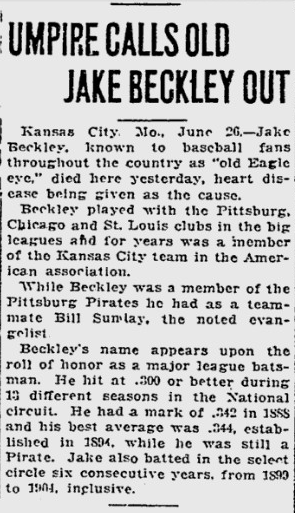 May we all grow old before being called out by the ump one final time!
And now a list of three things (not exhaustive) that the baseball enthusiast should admire about Mr. Beckley ... 
1 - He would bunt with the handle of his bat, even flipping his bat "handle out" mid-pitch in order to lay down a surprise bunt. This is now against the rules, which is lame-wad. 
2 - He was buccaneering enough to make a habit of running directly from second base, across the pitcher's mound and to home plate, all to feign the scoring of a legitimate run. Best of all, this often worked. 
3 - He would on occasion pull off the hidden ball trick by concealing the ball under the first base bag. 
Do those things and then make the Hall of Fame and maybe you too shall have a fetching obit headline like the one above. 
(Wink of CBS eye to Gentleman Josh Katzowitz for this championship find)
Dioner Navarro still hopes to return someday

Christian Yelich's agent says his client's relationship with Marlins is 'irretrievably bro...

The free-agent market has been slow and one player is bracing for an even longer wait
The Mets didn't want to trade a young outfielder for an older one

Josh Harrison doesn't sound pleased Gerrit Cole and Andrew McCutchen have been traded away

The team's media contracts expire following the 2019 season