Miguel Cabrera says rest in September wouldn't have helped him
Miguel Cabrera was hurting in October, and some questioned why he didn't rest more near the end of the regular season. The reason, Cabrera said Sunday, is that doctors told him it wouldn't have helped.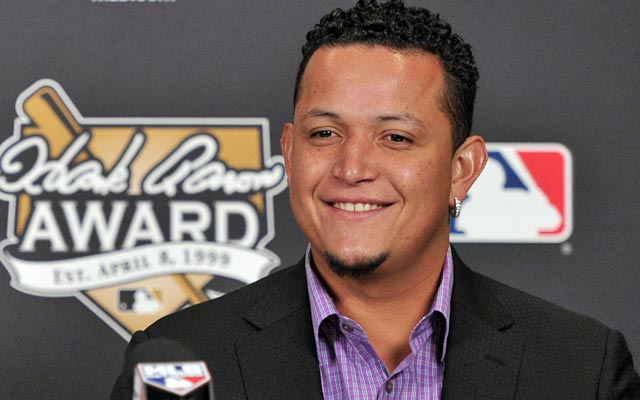 ST. LOUIS -- You know that idea that if the Tigers had just given Miguel Cabrera some time off in September, they might still be playing now at the end of October?
It sounded good, but it's not right.
"We checked with doctors," Cabrera said Sunday, after accepting the Hank Aaron award for the second straight year. "We got a lot of different opinions. If somebody had told me that if I rested 15 days, I'd be OK, I'd have rested 15 days. They didn't tell me that."
So Cabrera played on, starting 20 of the Tigers' final 22 regular-season games and every game in the playoffs, even though the injury limited him for the final two months of the regular season and two rounds of the postseason. The Tigers kept the exact diagnosis as quiet as possible until they were done playing, finally admitting after they were eliminated that Cabrera had a Grade 2-3 groin strain that could require surgery.
Cabrera said Sunday that he hasn't yet decided whether he will have the surgery, and that he will visit a doctor this week before making a determination.
In the week since the Tigers were eliminated, some Tigers people and even some officials with other teams have suggested that the Tigers would have been in the World Series if Cabrera had been healthy.
"You don't win with one player," Cabrera said. "You win with 25. Maybe it would have been different, maybe not. But you want to be healthy at that point in the season."
Sale becomes the first AL pitcher to reach 300 strikeouts since 1999

Steve Balboni's long-standing record of 36 has finally fallen

Several players called for the netting to be extended down the base lines following Wednesday's...
Maria made landfall as a Category 4 on Wednesday

The players are trying to do their job and don't want to see anyone hurt

The child is receiving medical attention at an area hospital, the Yankees said in a statem...