Miguel Tejada suspended for 105 games for amphetamines
For this third positive test for Adderall, an amphetamine, Miguel Tejada is suspended for 105 games.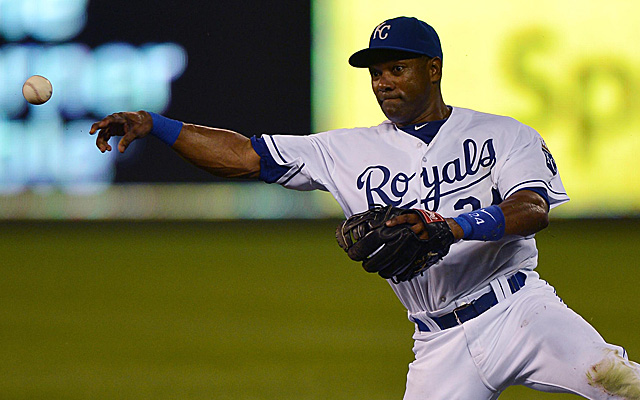 Related: Tejada's career an illustration of possible PED 'upside'
Royals infielder Miguel Tejada has been suspended for 105 games by Major League Baseball for testing positive for a banned amphetamine under the joint drug agreement, MLB has announced. The suspension is effective immediately and could well mean the end of Tejada's career. 
Why 105 games? Tejada has previously tested positive and was subject for a 25-game suspension for a second test. And then he failed a third test, which adds 80 games to the suspension (via Jeff Passan).
If Alex Rodriguez's 211-game suspension stands or isn't significantly reduced, Tejada has been slapped with the third-longest drug-related ban ever in MLB, after A-Rod and Steve Howe.
This isn't the first time Tejada has been involved in a personally embarrassing scandal. He was mentioned in the Mitchell Report for having received steroids at least once, he's pleaded guilty to perjury in front of Congress when discussing PEDs and in 2008 had to admit that he'd been lying about this age for years.
There were other allegations -- from Rafael Palmeiro, Jose Canseco and Jason Grimsley, for example -- that are either in question or have appeared to be untrue.
Tejada, 39, hit .288/.317/.378 with five doubles, three homers and 20 RBI for the Royals in 53 games this season as a utility infielder.
In his career, Tejada was an All-Star six times, won the AL MVP in 2002 and was one of the league's best players for a stretch of around five years. He's a career .285/.336/.456 hitter with 468 doubles, 307 homers and 1,302 RBI.
The Royals don't need to make a move with their roster, as Tejada was currently on the disabled list with a strained calf.
Considering age, decline and this suspension, the smart money is on never seeing Miguel Tejada in game action again.
Harrison has a thing for ending no-hit bids

Hill was close to perfect across regulation but it turned out to be all for nothing in the...

Plus Hank Aaron weighs in on Colin Kaepernick, Trevor Rosenthal hits the DL, and more
Davis should help fortify the Red Sox outfield

Whether or not Mike Matheny will adjust is to be seen

Hammerin' Hank wants to see Kaepernick get another shot in the NFL