Kevin Durant being sued over 'Durantula' nickname
According to TMZ, Kevin Durant is being sued by 80s rock guitarist Mark Durante for "stealing" the Durantula nickname.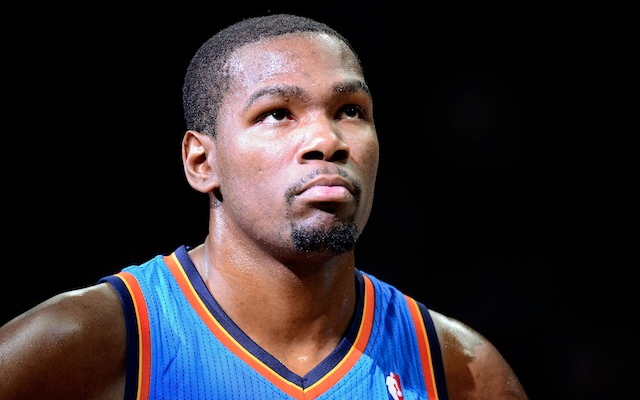 Don't call him Durantula.
(Getty Images)
There's only one Durantula and evidently, some guy that most of us have never heard of claims it's him.
According to TMZ, Kevin Durant is being sued by '80s rock guitarist Mark Durante for "stealing" the Durantula nickname.
TMZ obtained a copy of the lawsuit, in which Durante says he adopted the name "Durantula" for his "on-stage and performance persona" -- and has used it to market "music, recordings, apparel, t-shirts, guitars, and related merchandise."

Meanwhile, sports fans have adopted the handle for the Oklahoma City Thunder star and current NBA scoring champ.

Durante claims he sent KD's people a couple letters "demanding they stop using the nickname" -- but says Durant's reps claimed he wasn't using it.

In the suit though, Durante claims Nike has used the moniker to launch a shoe campaign -- and KD himself signed "Durantula" on basketballs that are for sale through his website.

The guitarist says he registered the "Durantula" trademark. He's suing for damages and an injunction stopping KD from using the name.
It's a nickname Durant has always said he doesn't even really like, and he's never actually embraced the name. The nickname originated from The Basketball Jones, when it was recommended to them by basketball writer Rob Mahoney.
Still, there's been merchandise sold with it, including Durant's No. 35 jersey with "Durantula" on the back. Durant himself hasn't seemed to taken part in much of the Durantula stuff, but I guess since people came up with a nickname for him, it's all his fault.
But this is definitely what Durant needs on his brain right before he plays in the biggest game of his life. Wondering how a lawsuit against a nobody rock guitarist from the band The Revolting Cocks is going to turn out. Good timing on this lawsuit, Mark "Durantula" Durante.
Thomas took to Twitter to let the Celtics know he doesn't want to ruin Pierce's night

The Hall of Famer was a seven-time All-Star with the Celtics, and was MVP of the 1976 NBA...

It's rare to see a legit punch in an NBA fight, but this was definitely one of them
We've got all the scores, highlights and news from an NBA Tuesday

The former Slam Dunk Contest champion will take his talents to Tri-State

Do NBA players have look-a-likes from famous paintings? We found out on the new Arts & Culture...