New York Knicks sign second-round pick Cleanthony Early
The New York Knicks signed second-round NBA Draft pick Cleanthony Early to a minimum contract.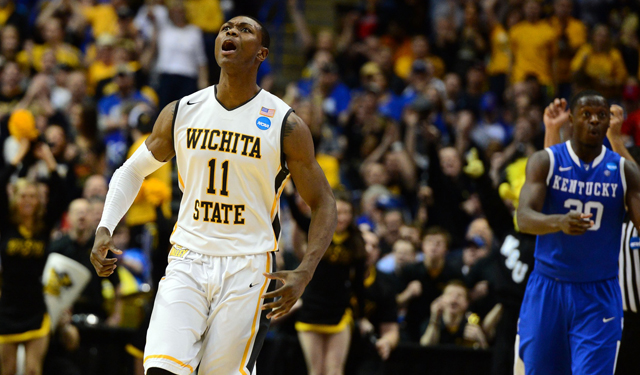 More Offseason Analysis: Coaching changes, news | Free Agency | Draft
The New York Knicks are finishing up the final touches on filling out their roster. When their offseason started, they were looking at sitting out the 2014 NBA Draft without any picks in the first or second round. The trade that scored them Jose Calderon, Shane Larkin, Samuel Dalembert, and Wayne Ellington for Tyson Chandler and Raymond Felton, also netted them a couple of second-round picks. One of those second-round picks ended up being Cleanthony Early at 34.
The Knicks announced Friday they've signed Early to a contract. Early adds to the growing stable of young assets and role players the Knicks have with Iman Shumpert, Tim Hardaway Jr, and Shane Larkin. From the Knicks:
New York Knickerbockers President Phil Jackson announced today that the team has signed forward Cleanthony Early to a contract.

Early, 6-8, 219-pounds, was selected by New York in second round (34th overall) of the 2014 NBA Draft following his senior season at Wichita State University. The Bronx, NY-native led the Shockers to an undefeated regular season (34-0), with averages of 16.4 points on 48.6-percent shooting and 5.9 rebounds. He averaged 11.5 points and 4.8 rebounds, over 27.9 minutes, in four games for New York's entry in the 2014 NBA Summer League at Las Vegas, NV.
This puts the Knicks at the limit of 15 players for their roster heading into next season. 14 of those contracts are guaranteed with Jeremy Tyler's contract the only non-fully guaranteed deal on the Knicks' roster. The last time the Knicks had a second round pick make the roster was in 2011 when Josh Harrellson and Jerome Jordan both made the roster for the 2011-12 season. They acquired Harrellson for cash in 2011 and Jordan was acquired for cash during the 2010 draft. 
The time before that was when Andy Rautins and Landry Fields made the team in 2010. Both were selected in the second round by the Knicks in the 2010 draft. Early is their first second round pick since Rautins and Fields were selected, as the Knicks didn't possess their own second round picks in the 2011, 2012, or 2013 drafts.
Leonard's relationship with Spurs also reportedly strained because of how injury has been...

San Antonio hasn't missed the playoffs in 20 years, but the road is rocky this season

Last year's MVP finalist has missed all but nine games this season
The design for the patch is still being worked on

The explosive forward and upcoming free agent is having a career year

Cuban said on Dr. J's podcast that losing is Dallas' 'best option'