Report: Lakers work out Michael Beasley again, plus 7 others
Los Angeles looked at Michael Beasley, Dexter Pittman, Bobby Brown, Toney Douglas and others on Wednesday.
• 1 min read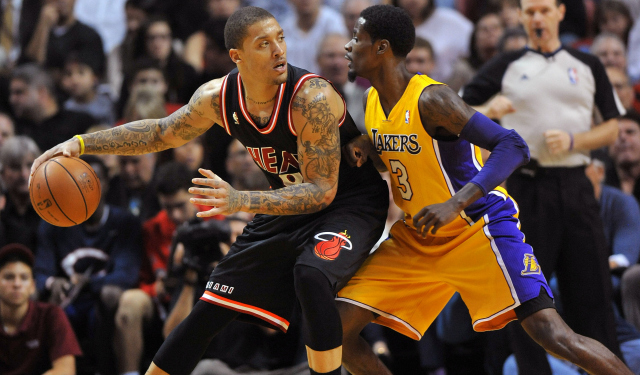 The Los Angeles Lakers held a free agent workout on Wednesday, and Michael Beasley was one of the seven players, according to USA Today's Sam Amick. The Lakers also gave Beasley a look at the end of July.
The Miami Heat are reportedly uninterested in bringing Beasley back next year, and it's unclear how many suitors he has in free agency. The forward was unsigned this time last summer before Miami decided to sign him to an unguaranteed minimum contract in September.
Beasley had encouraging efficiency numbers with the Heat last year and even showed signs of improving his defense, but the organization was reportedly unhappy with his commitment and maturity level. 
The No. 2 pick in the 2008 draft, Beasley has offensive talent to offer. At 25 years old, he's had a tremendously disappointing career relative to the hype coming out of college, and he still has some work to do to repair his reputation.
The Lakers could be a good place to do that, based purely on the fact that they don't have depth at the small forward position. Wesley Johnson is the only natural small forward on the roster at the moment, though guys like Kobe Bryant and Nick Young can slide to that spot for stretches. 
For Los Angeles, though, signing Beasley would be a curious move because head coach Byron Scott wants to be a defense-first team. The Lakers lack good defenders, so you'd assume they'd want to fill out the last couple of roster spots with guys who have a history of playing well on that end of the floor.
The other seven players at the workout, according to USA Today, were Toney Douglas, Dexter Pittman, Greg Stiemsma, Bobby Brown, Malcolm Lee, Daniel Orton and Ben Hansbrough. Douglas and Brown have already signed in China, but have NBA outs in their contracts. Douglas would have to opt out in the next three days, though, and would only consider joining the Lakers after the CBA season ends, agent David Falk told USA Today.
If there's any one player on that list who fills an immediate need for Los Angeles, it's Stiemsma. He's a big center who can block shots better than Lakers reserve Robert Sacre can. Scott could use him.
T.J. Warren gets paid big money by the Suns in a four-year deal

Melo didn't hold back on his feelings about President Donald Trump and urges for help in Puerto...

The Wizards star says the NFL won't change until important players like Brady and Rodgers speak...
Popovich spoke at length about sports, race, culture, and politics during Spurs media day on...

Carmelo Anthony finds the idea of coming off the bench very funny

Several teams spoke about Trump's recent comments about protests and the Warriors' White House...