Report: Rasheed Wallace has an interest in coaching
Rasheed Wallace reportedly has an interest in coaching.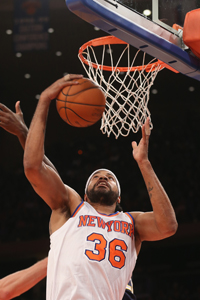 Coach Sheeeeeeeeed.
(Getty Images)
It would undeniably be the best thing to happen to basketball since the three-point shot was implemented. In a wide-ranging piece on Yahoo! Sports, Rasheed Wallace's crew suggests that the man, the myth, the legend could wind up scowling on the sideline screaming "Ball don't lie!" some day. 
So this gang will shoot straight. They agree (Mike) Woodson had everything to do with Wallace's return. And they say Rasheed might be considering getting into coaching.

"I know for a fact that's his aspiration," says (old friend Bo) Donaldson. "He loves to teach. I can see him as an NBA assistant. That's what it'll have to be for him."

"He's more calm now," says Donaldson. "Stepping away has helped him a lot."

Wallace says he isn't thinking about his future. He shrugs off the idea of coaching. "Just playing," he insists. But he's clearly not "just playing." He's helping younger players develop their games, which is something that comes naturally for him whether in the NBA or during summer pick-up games at his old Philly high school, Simon Gratz. The media always notice his screaming at refs, but most of his talk is instructive and directed at teammates. Asked if he notices how fans are treating him now, he says, "I'm just zoning in on basketball."

"You can't believe everything you hear about Rasheed," says Tarik Wallace. "It's simple: He's about his coach and his teammates. That's all that matters."
via Once the NBA's baddest bad boy, Rasheed Wallace is back and calmer than ever - Yahoo! Sports.
Rasheed Wallace picked up a technical Friday night vs. the Grizzlies and the list of things he had to say that night became Internet lore ... and this was in a loss! 
Sheed couldn't be a coach, and I'll tell you why. Coaches have an obligation to meet with the media, as mandated by the NBA. Yes, you can be dismissive and jerkish like Gregg Popovich, but he still meets with them, still answers their questions, still gives them the time. Sheed would never want to answer those questions, and would be fined for them. He would blast the officials and get fined for them. He would step out on the floor and be fined for it. 
After penalties, he would wind up making about $12,000 a year annually. 
But if he did, man. 
It would be the single greatest thing, ever. That's not hyperbole. It would actually be the best thing, objectively, ever. 
Check in throughout the night for the latest news and highlights from NBA games

The Lakers legend details why the NBA popularity will continue to rise

SportsLine's Mike McClure, a DFS pro with more than $1M in winnings, gives optimal lineup...
If the Thunder forward doesn't know the reason, he has a very short memory

The 76ers star doesn't see a bright future for Jon Snow

Valanciunas played professionally in Lithuania before joining the Toronto Raptors