Rockets' Trevor Ariza gamble paying off
Trevor Ariza has helped the Rockets transform into a top defensive team, justifying the decision to let Chandler Parsons go this summer.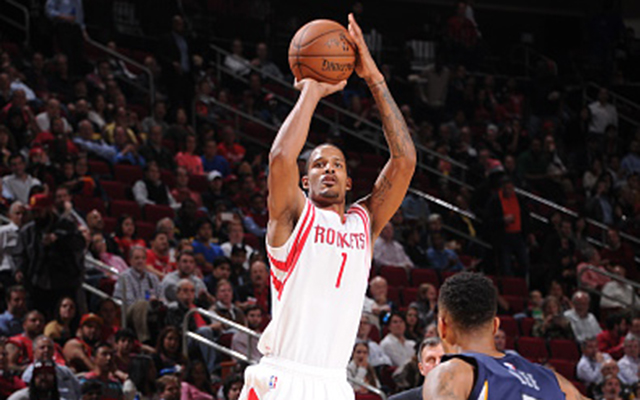 The Houston Rockets were in a jam last summer. When Chandler Parsons signed his max deal with the Mavericks, Houston had to decide whether to re-up with Parsons, who had been a crucial part of their ascension but also would have committed them to the same kind of team they had last season. Re-signing Parsons was the safe move.
Instead, the Rockets let Parsons go. They went about reconfiguring the defense while trying to keep the offense up to snuff. They replaced Parsons with Trevor Ariza, off his best season of his career with the Wizards, to be their 3-and-D guy -- a defensive upgrade from Parsons and a pure spot-up shooter.
He's been both. After a hot start, his shooting has cooled off, now shooting only 33 percent from 3-point range. But defense has won games for the Rockets this season, as their entire identity has flipped to a grind-it-out squad, and their ability to stifle their opponents has carried them.
"We're doing a little bit of everything well defensively," Ariza told CBSSports.com recently. "And that's definitely helping us get the wins when we're not scoring the ball well."
With Ariza on the bench, the Rockets surrender a 107.3 points per 100 possessions mark, a disastrous amount. With Ariza on the floor, that mark drops to just 95.3, allowing 12 points per 100 possessions fewer -- a massive differential. The offense is six points better per 100 possessions as well.
The Rockets have given power of their offense over to their playmakers. Like a lot of NBA teams, they run sets with reads instead of set plays.
"It's more reads," Ariza says. "There's no real plays. It just depends on what the person with the ball does."
Those offenses tend to produce much better results, especially when James Harden, who's playing at an MVP level, is making those decisions.
Ariza got off to a red-hot start shooting, then tailed off considerably after missing several games because of injury. If he's able to get his floor spacing back up, if Josh Smith can get integrated, if the Rockets can find ways to take advantage of the four-out system around Dwight Howard, they may have the balance to be a serious title contender come playoffs. For now, they're finding a way, and their chemistry is carrying them. And that Ariza move continues to look like the right one.
AFTER THE BUZZER: I was talking to Ariza in the locker room, when Dwight Howard started chirping at Ariza after a Rockets win. Ariza looked up, and yelled, "I know The Peppermint isn't talking."
Ariza was referring to this:
Via More-Than-Stats
Howard responded: "You couldn't rock it."
Ariza: "I wouldn't!"
The former Clipper apparently had some tricks up his sleeve after a chippy game

The Rockets were apparently looking for Austin Rivers and Blake Griffin after a chippy gam...

If they don't meet in the Finals again, let's appreciate every one of the 27 matchups since...
D-Wade picked up the steal and got creative on the fast break as the Cavs headed into half...

Despite the embarrassing hiccup, the youngest Ball had himself a pretty great day on the c...

The players were both ejected in the closing seconds, then continued their discussion off the...