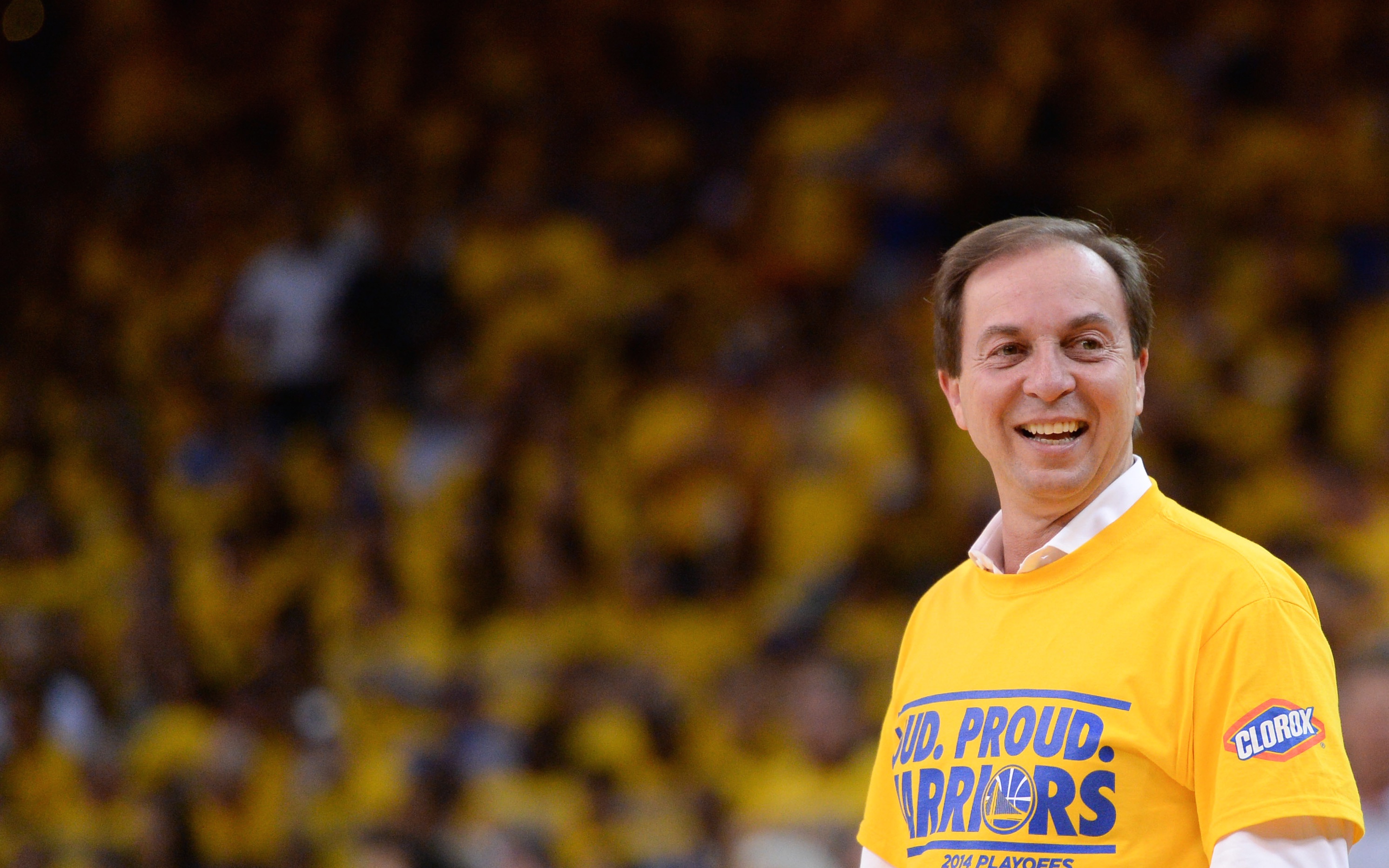 Golden State Warriors owner Joe Lacob lit up former coach Mark Jackson in a public appearance Wednesday. It's not known whether Lacob was aware media was in attendance, but it was a public meeting, and he went pretty hard in listing the reasons why Jackson was fired despite two playoff appearances and a second-round jump in 2013, and comparing the situation the Warriors are in now with Steve Kerr: 
"Right now, [Kerr] looks great," Lacob said at the Western Association of Venture Capitalists/National Venture Capital Association luncheon Wednesday. "I think he will be great. And he did the one big thing that I wanted more than anything else from Mark Jackson he just wouldn't do, in all honesty, which is hire the very best.

"Carte blanche. Take my wallet. Do whatever it is to get the best assistants there are in the world. Period. End of story. Don't want to hear it. And [Jackson's] answer ... was, 'Well, I have the best staff.' No you don't. And so with Steve, very, very different."

"You can't have a staff underneath you that isn't that good," Lacob said. "And if you're going to get better, you've got to have really good assistants. You've got to have people that can be there to replace you. We all know this from all of our companies. It's ... Management 101. A lot of people on the outside couldn't understand it when we [fired Jackson]."
via Warriors co-owner Lacob lists reasons for firing Mark Jackson - Inside Bay Area.
Well, that's a little harsh on Jackson's assistants, who didn't do anything wrong, though Inside Bay Area does note only one of his assistants is still in the NBA: Darren Erman. Erman was fired for reportedly recording conversations of other assistants about him, and then was hired by the Celtics. 
But at least there's nothing more about Jackson himself, right? Oh, wait. 
"Part of it was that he couldn't get along with anybody else in the organization," Lacob said. "And look, he did a great job, and I'll always compliment him in many respects, but you can't have 200 people in the organization not like you."

Jackson, now an ESPN broadcaster who did not immediately return a message seeking comment, had successes Lacob said made the decision to fire him "a really tough call."

"We all make the decision to change the CEO too late, right?" Lacob said. "No matter how many times you've done it, we're always in the situation. We're always waiting longer than we should wait. And I'm very cognizant of that after all those years [as a venture capitalist]. And in sports, it's no different than a business. You really kind of have to get ahead of it."
via Warriors co-owner Lacob lists reasons for firing Mark Jackson - Inside Bay Area.
This has seemed petty to some people. You trash the guy after you fire him? Well, yes and no. Speaking to a group of investors in relation to a management decision is pertinent, and there were real questions about why you would fire your coach after he lead the team to two playoff berths, 50-plus wins, and who his players absolutely adored. So it's relevant to the conversation, and Lacob even tied it into a management decision. 
The results in December are not something you want to draw any conclusions from. How will this look in April if the Warriors flame out of the playoffs in round one? You can bet Jackson's allies in the media, of which there are about 700,000 it seems like, will come crowing. 
But let's look at it not from a results perspective but from a process. Does the Warriors offense look better? No doubt. Is there less isolation? Absolutely. Has the defense taken a step back? It's the best in the league. Are there some players who aren't thriving now that their spiritual leader is gone? I though Draymond Green might suffer. He's better than ever. Kerr has gotten the most out of this roster 1-12 for the past six weeks. They are better not just in record with Kerr, they looke like a contender. 
There was talk that how Jackson treated outside of the locker room shouldn't matter. But that ignores nearly any research done in the past 20 years into workplace dynamics. Everything is better when people get along. And Jackson, no matter how many motivational speeches he gave, was never good enough at his job to get past those concerns. 
I don't blame Lacob for being honest about it. If it's unnecessary, then so is the rampant criticism for a decision that was sound in process and result, and which the benefits of are simply astounding so far. 
The Warriors, 16-2, have won 11 straight, have been the second-best team against the spread (12-6), and are No. 1 in point differential (plus-10.9) and points-per-100-possessions differential (plus-12.4). 
For more on this, check out Yahoo Sports writer Kelly Dwyer's excellent take.