2013 NFL season preview: Philadelphia Eagles
Preseason was pretty hard on the Eagles, including the Riley Cooper scandal and ACL injuries to four different players. Here's a preview of the Eagles' 2013 season.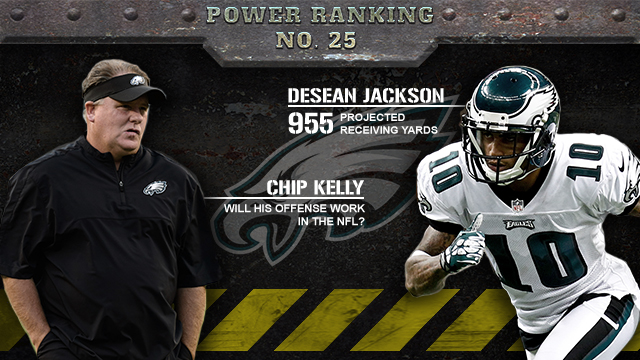 If you felt like every time you read an Eagles headline during training camp, it either had the words "ACL tear" or " Riley Cooper " in it, you're not that far off.
Cooper made national headlines -- and not good kind of national headlines -- in July when a video emerged of him using a racial slur at a Kenny Chesney concert. The Eagles excused Cooper from team activities for a few days to seek counseling and the team also fined him an unspecified amount of money, but in the end, Philadelphia decided to keep the fourth-year wide receiver.
Keeping Cooper may turn out to be a good thing for the Eagles, who have lost four players to torn ACL's in training camp, including two receivers. The Eagles will be without receivers Jeremy Maclin and Arrelious Benn and linebackers Jason Phillips and Phillip Hunt, who all suffered ACL tears.
Losing Jeremy Maclin for the season will hurt the most. Maclin led the Eagles in receiving yards (857), receptions (69) and touchdown catches (7) last year. Maclin had the potential to thrive in new coach Chip Kelly's offense.
Speaking of Kelly, in between fanning the flames that Cooper caused and dealing with the ACL injuries, he's had to install a new offense and judge a quarterback competition.
The biggest question on everyone's mind is: Will Kelly's uptempo, fast break offense work in the NFL?
Offense:
Thanks to both bad offensive line play and poor decision-making on his part, Michael Vick has spent a good deal of his career running for his life. It also doesn't help that Vick likes to hold on to the football -- he held on to the ball for an average of 3.07 seconds per throw in 2012, according to Pro Football Focus, the fourth highest number in the NFL.
Eagles' Rivals: NFC East


2013 Preview • Schedule
Cowboys @ Eagles: 10/20 (1 p.m. ET)
Eagles @ Cowboys: 12/29 (1 p.m. ET)


2013 Preview • Schedule
Giants @ Eagles:10/27 (1 p.m. ET)
Eagles @ Giants: 10/6 (1 p.m. ET)


2013 Preview • Schedule
Redskins @ Eagles: 11/17 (1 p.m. ET)
Eagles @ Redskins: 9/9 (7:10 p.m. ET)
However, everything that's caused Vick to struggle in the past, theoretically shouldn't be a problem in Philadelphia.
If everyone stays healthy, the Eagles could have one of the top offensive lines in football with left tackle Jason Peters , left guard Evan Mathis , right tackle Lane Johnson , right guard Todd Herremans and center Jason Kelce . Staying healthy isn't a given though: Kelce (ACL tear) and Peters (ruptured Achilles) are both coming off serious injuries suffered in 2012.
Let's get back to Vick. Holding on to the ball for 3.07 seconds won't be an option for him because Kelly won't tolerate it. Kelly wants his quarterbacks to get the ball out quickly. If Vick can speed up his release and decision making, he becomes almost the ideal mold for a Kelly quarterback in the NFL.
Although most of the talk in Kelly's system revolves around the quarterback, don't forget about the running back. Just check LaMichael James ' stats at Oregon if you want to know how important the running back is in Kelly's system. James led the NCAA in rushing in 2010 and finished second in 2011. This all bodes well for LeSean McCoy , who could have a career season, if he can stay healthy. DeSean Jackson should put up strong numbers too.
Defense:
Under new defensive coordinator Billy Davis, the Eagles will be making the move from a 4-3 defense to a 3-4. Any change is probably good for Philadelphia, a team that struggled with basic things last year like tackling. The Eagles also struggled to force turnovers and rush the quarterback. The Eagles recorded only 30 sacks in 2012, a number that ranked tied for 25th in the NFL. Forcing turnovers was a bigger problem: Philly only forced 13 last year, a number that ranked dead last in the league.
The Eagles also ranked dead last in touchdown passes allowed: The defense surrendered a league-high 33 of those in 2012. Out from last year are cornerbacks Nnamdi Asomugha and Dominique Rodgers-Cromartie . Replacing them in 2013 are free-agent signees Bradley Fletcher , Patrick Chung , Kenny Phillips and Cary Willams, four players who should see extensive playing time in the secondary.
As far as the 3-4 defense goes, outside linebacker Trent Cole probably has the biggest transition to make. Cole has spent his entire eight-year career playing defensive end and lining up with a hand on the ground. Training camp wasn't easy for Fletcher Cox either, who's making the transition from 4-3 defensive tackle to 3-4 defensive end.
Philadelphia Eagles

: 2013 schedule predictions
Date
Opponent
Time (ET)
Pete Prisco's Pick
John Breech's Pick
Sep. 9
at Washington
7:10 p.m.
Sep. 15
San Diego
1 p.m.
Sep. 19
Kansas City
8:25 p.m.
Sep. 29
at Denver
4:25 p.m.
Oct. 6
at N.Y. Giants
1 p.m.
Oct. 13
at Tampa Bay
1 p.m.
Oct. 20
Dallas
1 p.m.
Oct. 27
N.Y. Giants
1 p.m.
Nov. 3
at Oakland
4:05 p.m.
Nov. 10
at Green Bay
1 p.m.
Nov. 17
Washington
1 p.m.
Dec. 1
Arizona
1 p.m.
Dec. 8
Detroit
1 p.m.
Dec. 15
at Minnesota
1 p.m.
Dec. 22
Chicago
1 p.m.
Dec. 29
at Dallas
1 p.m.
Philadelphia Eagles' 2013 projected record:
5-11
7-9
Final Thoughts:
Chip Kelly is such a curiosity that it's going to be hard not to watch the Eagles this season. The combination of Kelly and Vick means Philadelphia should be a fun team to watch and one of the most fascinating teams in the league.
The big question is -- and the only thing Eagles fans really care about -- does fascinating and fun translate into wins? Kelly has found success everywhere he's coached and he has an innate understanding of the game that few others have -- the guess here is that the Eagles improve two to four games on last year's 4-12 record.
More 2013 NFL season previews: Select a team
AFC North
AFC South
AFC East
AFC West
NFC North
NFC South
NFC East
NFC West
The former Buccaneers kicker did not have things start well for him in Chicago

Bears special teams showed up in a big way against Arizona

Beast Mode got loose with Oakland and looked pretty impressive in the early going
Beast Mode was one of several players to sit during the Raiders-Rams game

The cleaning staff in Houston missed a couple of things while cleaning up after Super Bowl...

Marvin Jones had some serious fun in the end zone after scoring against the Jets