Jaromir Jagr: Boston's sleeping giant
The Bruins' Jaromir Jagr has yet to score a goal this postseason, but he's probably long overdue to start getting some.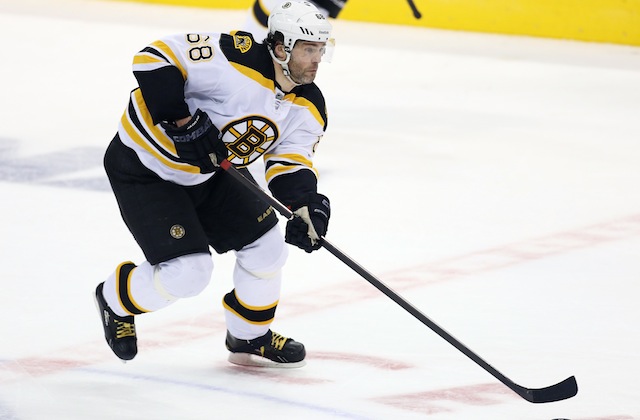 More NHL Playoffs: Scores | TV Schedule | Expert Picks | Odds | Mock Draft | Rumors
When the Boston Bruins failed to land Jarome Iginla from the Calgary Flames just before the NHL trade deadline, watching as he shockingly went to Pittsburgh, they went out and did the next best thing.
They traded for a different future Hall of Famer -- Jaromir Jagr -- and ended up giving up less in return than they were originally going to give up to get Iginla. All things considered, it worked out quite well for Boston even if the current box-score numbers might try to tell you a different story.
As the Bruins prepare to face the Penguins in the Eastern Conference finals, Jagr enters the series having yet to score a goal in these playoffs through 12 games.
Cause for concern in Boston? The sign of a declining veteran who's struggling and playing poorly?
It shouldn't be.
Jagr's lack of goal scoring this postseason isn't an example of a player who's struggling or hurting his team. He actually has been quite good for the Bruins, perhaps even one of their best forwards.
His luck, on the other hand, has been dreadful.
He's still getting his chances and shots and has actually been getting more pucks on net per game than he did during the regular season. Quality shots, too.
Jagr clearly isn't the same player that he was 10 years ago, but he's still an incredibly skilled forward with great size and tremendous playmaking ability who is nearly impossible to get the puck away from. When he has been on the ice this postseason, the Bruins have actually been carrying the play against their opponents, owning a 60-40 edge in terms of possession (based on Corsi percentage, a plus-minus number that takes into account total shot attempts instead of just goals) and Jagr is at the center of a lot of it.
What's happening with Jagr isn't all that different than what happened with Chicago's Jonathan Toews before he finally broke through against Detroit and Pittsburgh's James Neal before he went off with five goals in two games against the Senators.
Sometimes, even for the best players, the puck just doesn't go in.
The work is there, but the results simply are not.
At least not yet.
Jagr is averaging more than three shots per game (he averaged just 2.3 during the regular season a year ago and only 2.56 this season). He enters the weekend with 36 shots on goal, which is good enough for a top-20 ranking in the league.
Based on his 2013 shooting percentage (13.9 percent), 36 shots would usually result in around five goals. But so far this postseason, none of his shots have found the back of the net.
It's certainly not for a lack of effort or being in a poor position.
In the series against the Rangers, things like the following happened to him, where he had an empty net and the puck just flat out rolled off his stick:
Give Jagr a shot like that 10 times, and he probably puts nine of them in.
And then there were saves like this.
It's pretty unheard of for a player, especially one as skilled and talented as Jagr, to go this many shots without scoring a goal in the postseason. Since 1990, only two players went at least 36 shots without a goal during their playoff run: Alexander Semin went 44 shots without a goal in his seven playoff games in 2010 for the Washington Capitals (an incredible six shots per game), while Carolina's Kevyn Adams went 36 shots without a goal in 25 playoff games in 2006.
This season, only five players have gone more than 20 shots without a goal: Jagr (36), Brandon Saad (28), Corey Perry (24), Daniel Winnik (22) and Tommy Wingels (20).
Again, the chances are there, and that should be a positive sign that it's not a matter of if he breaks through and starts scoring but simply a matter of when.
The former Boston Bruin was the first black player to play in the NHL

Inclement weather led to the Charlotte Checkers and Bridgeport Sound Tigers playing in front...

The NHL chose the Detroit rocker as its All-Star Game entertainment and not everyone is th...
NHL fans from all over seem to agree on one thing: Hating Kid Rock

The team tweeted on Monday that Shaw would be re-evaluated in 7-10 days

The Montreal forward was hospitalized after taking a Zdeno Chara slap shot to the head