PHOTO: Patrick Kane, Brandon Saad bring back playoff mullets
The Blackhawks' good luck charms are back. That would be the mullets for Patrick Kane and Brandon Saad.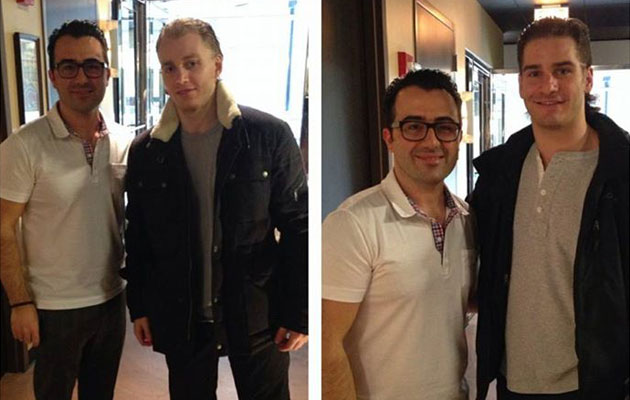 More NHL Playoffs: Schedule, TV listings | Expert Picks | Bracket | Scores | Odds
Good news Blackhawks fans; they're baaaack!
No, we don't mean the playoffs or even Patrick Kane and Jonathan Toews. Those are all well and good but the bigger news is that the mullets are back! Kane and Brandon Saad got their now apparently annual cut on Wednesday meaning it is officially playoff time in Chicago.
It all started in 2010-11 before Saad was even a glimmer in the Blackhawks' eyes. Kane took a different approach to the playoff beard, adding a rockin' mullet to the mix. It was business in the front and part in the back but also had all-out fun on the sides.
Let's reminisce.
Kaner went away from the mullet and the Blackhawks were quickly bounced the next year so the mullet came back. Last season he was joined by the rookie Saad and two proved to be better than one as the Hawks won their second Cup in the Kane mullet era.
So if it works don't change it, right? Right. Kane and Saad visited 316 Club Barber Spa in Chicago to get their playoff look set. You can't see the mullets well from the above picture (profiles, people!) but especially on Saad you can see that tail will be flapping in the wind.
As a child of the 1980s, I was once a proud wearer of a mullet as well so all I can say is rock on, guys.
S/t CSN Chicago
Buffalo's 20-year-old phenom pulls off the highlight of the night against Vancouver

The North American love affair with Edmonton's superhuman center continues to grow

The defending Western Conference champion Predators are also heating up early in the year
The Oilers' young star remains seriously unfair

David Kelly, a Toronto-born hockey analyst, has strong advice for Edmonton vs. Chicago game...

Gary Bettman says otherwise, for the time being, but Houston could be primed for a team