Senators earning pesky tag with another comeback win to even series
The Rangers are a blue-collar team. But so are the Senators, four games in this series have shown that much. That's why we have a 2-2 series.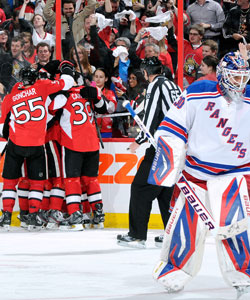 The Sens are even in the series 2-2 despite never leading a game. (Getty Images)
Before the series begain between the Rangers and Senators, Brad Richards joined a conference call with the media along with some of the other big names in the playoffs. When Richards was asked to describe his Rangers team in one word, he answered "Blue collar."
It's an interesting comment to review with four games of the series as a point of reference. Because if that phrase were used to describe any team in this series so far, it'd be the Senators.
To be fair, it fits the Rangers still. They are what you would describe as blue collar, doing all the dirty work to keep the puck out of the net. They step in front of pucks the way Kevin Costner jumped in front of bullets in the Bodyguard.
It's just the Senators have worked every bit as hard. They've been every bit as plucky, or pesky, or whichever pest-like word you want to use.
Say what you want about Game 2 that became a mess in the nastiness and physical department, but that proved that the Senators won't be pushed around by the Rangers and just take it.
For an example of their blue-collar attitude, if you will, take the Game 4 winner from Kyle Turris. The play was started in the defensive zone when Sergei Gonchar was able to get the puck out of the zone and start a 2-on-2 rush up ice. Eventually Turris was left a drop pass Jim O'Brien that he rocketed past Henrik Lundqvist.
NHL Playoffs
More NHL coverage
The Senators have essentially won two games without their captain, Daniel Alfredsson. He went down during Game 2 when the game was still in the balance. Without him the Sens went on to win in overtime. They outplayed the Rangers in Game 3 except for Lundqvist. On Wednesday night they fought back from a quick two-goal hole for the win in overtime, 3-2. Since Alfie went down, this series has been played pretty much at a draw. When you're the No. 8 seed, that doesn't sound too bad.
This team was underestimated before the season and they made the playoffs. They were underestimated coming into this series and here they are, now in a best-of-3 series with the vaunted Rangers.
I don't want to pump this up about the Senators wanting it more or any of those other silly cliches you see in sports. It's none of that. What it is is a team that getting production from all over the lineup. Consider this: the Sens have scored eight goals in this series. No one player has scored two of them.
So yes, the Rangers are a blue-collar team, I won't dispute that. But the Sens are every bit as much a blue-collar team. That's why they match up so well in this particular series and won the season series vs. New York.
For more hockey news, rumors and analysis, follow @EyeOnHockey and @BrianStubitsNHL on Twitter and like us on Facebook.
Why walk with skate guards when you can rollerskate instead?

This will not leave your memory any time soon

Vegas isn't being quiet about its hot start to the NHL preseason
The blue-liners are set for another big push, but Edmonton's rise is hard to ignore in the...

Meanwhile, the Devils' Brian Boyle isn't sweating his recent cancer diagnosis

Limited-time Warriors-colored jerseys are apparently on the way in January