VIDEO: Tim Thomas reflects on Boston tenure before facing Bruins
Tim Thomas will return to the ice in Boston on Tuesday night but first talked a bit about his time in Boston and the infamous White House hubbub.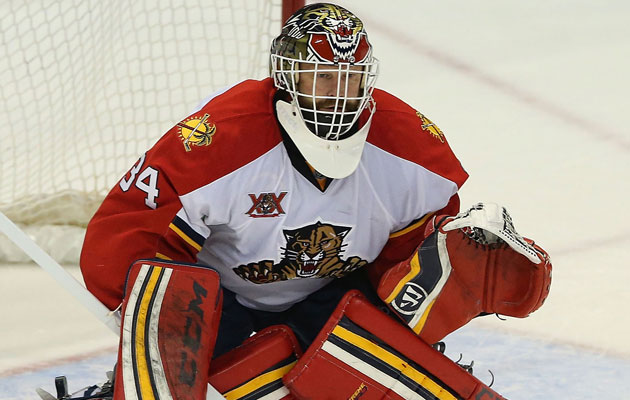 More NHL: Scores | Standings | League Leaders | Odds | Injuries | Power Rankings
The Florida Panthers will make their second visit to Boston this season on Tuesday night but it will be the first time that Tim Thomas will be starting in Boston opposite the Bruins, a team he led to the Stanley Cup in 2011. It's a juicy little subplot for a game in late January.
Ahead of the game he did a little reflecting on his Bruins days and more specifically, the infamous White House flap that preceeded his sabbatical while once again mentioning how much that season off rejuvenated his career.
Thomas hasn't talked a ton about his decision to pass on the Bruins' visit to the White House, but he said he didn't think that was a problem at all with his Bruins teammates. Also, when talking about being rejuvenated from a season off, he didn't shut the door on continuing to play beyond this season.
He is playing in Florida so it gets lost at times, but Thomas really hasn't been bad this season at all. He has a 14-14-3 record and a .915 save percentage behind a defense that isn't exactly as stout or sound as the group in Boston.
The first time the Panthers were in Boston this season, Thomas was dinged up and didn't play. However he was there and the Bruins didn't miss the chance to recognize him. Nor did the fans, who gave Thomas a big ovation for his years of excellence in the Spoked B.
"That was awesome," Thomas said Monday afternoon (via ESPN Boston). "I was very honored. It was a great tribute. The way it worked out, I'm happy I didn't play my first game back here because it gave me time to come back. I did get a flood of emotions -- all good.
How the fans in Boston treat Thomas on Tuesday will be interesting. Now that he has had the initial welcome back and especially now that he'll be playing against the Bruins, it very well could be business as usual as far as opposing goalies go.
Some familiar faces are back, but a cap-strapped summer left Chicago a little shakier than...

The Pittsburgh Penguins will put politics aside and visit the White House out of 'respect'...

NBC will reportedly be devoid of NHL game broadcasts between Feb. 7-26
The Winnipeg winger suggests Trump is going after 'the principles the U.S. was founded on'

League gets excited about exhibition matches in Beijing and Shanghai

NHL players are still disappointed they won't be going to skate in PyeongChang