2014 Impact Prospects: American League Edition
With young players becoming more and more important, here are some prospects who could have an impact for each American League club in 2014.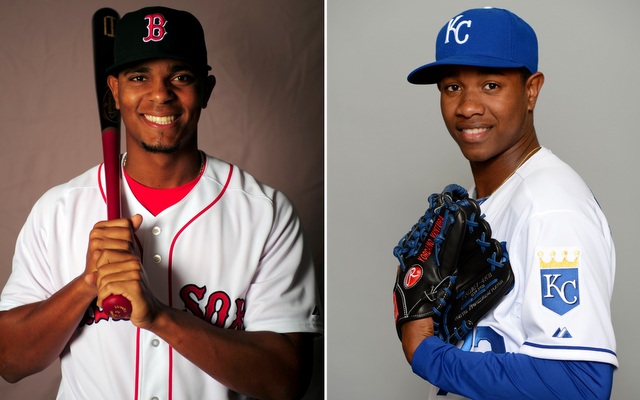 MORE: Spring Training | Scoreboard | Team previews
Over the last few years, young players have become more important than ever before. Teams are emphasizing the draft and international free agency, developing their prospects into useful big leaguers, and siging them to long-term contract extensions through their prime years. It's not just one or two clubs doing it anymore. Every club is in on it.
So, with that in mind, we're going to look at some prospects who have the potential to come up and be an impact player for their team in 2014. Not everyone is a Jose Fernandez or Mike Trout, sometimes they're a Juan Lagares or Paco Rodriguez. Impact comes in many different shapes. Some of these prospect choices will be pretty obvious, many will not. The National League was covered Monday, so this post will focus on the American League.
AL EAST
Blue Jays - RHP Marcus Stroman: Stroman, 22, was the 22nd overall pick in the 2012 draft, but he was suspended 50 games shortly after turning pro because he tested positive for a banned stimulant. He returned to the mound last May and finished the year with a 3.30 ERA, 10.4 K/9 and 2.2 BB/9 in 111 2/3 innings across 20 Double-A starts. Stroman is undersized (listed at 5-for-9 and 185 lbs.) but he has a big four-pitch arsenal, including a mid-90s fastball and an out-pitch slider. He will start the season in Triple-A and there is plenty of opportunity in Toronto's rotation. Honorable Mention: RHP John Stilson, a reliever who had a 2.09 ERA and 47 strikeouts in 47 1/3 Triple-A innings in 2013.
Orioles - 2B/SS Jonathan Schoop: The second base position is wide open in Baltimore and it's only a matter of time until Schoop runs away with the job. The 22-year-old from Curacao hit .278/.330/.460 with 14 home runs at three different levels last season, playing mostly at Triple-A. A stress fracture in his lower back limited him to only 81 minor league games. Schoop has power from the right side -- he's hit at least 13 homers in each of the last three years, including his shortened 2013 campaign -- and he's a capable defender. That second base job is there for the taking. Honorable Mention: RHP Kevin Gausman, who made his MLB debut last summer and should get a longer look in the rotation sometime this year.
Rays - LHP C.J. Riefenhauser: The Rays seem to crank out quality pitchers every year, though most are starters. Riefenhauser, 24, is a reliever and a good one at that. He managed a 1.22 ERA with 8.6 K/9 and 2.3 BB/9 in 73 2/3 innings split between Double-A and Triple-A last year, holding lefties to a .122/.182/.171 batting line with 37 strikeouts and only six walks. The former 20th round pick (2010) should dominate same-side hitters thanks to a low-90s fastball/slider combination, so although his ultimate ceiling may only be a lefty specialist, Riefenhauser projects to be excellent in that role. He'll open the season back in Triple-A. Honorable Mention: RHP Jake Odorizzi, who won a rotation spot and improved his changeup this spring.
Red Sox - SS Xander Bogaerts: Pretty obvious, huh? Bogaerts is slated to be the team's everyday shortstop after taking over as the starting third baseman during their World Series run last year. The 21-year-old hit .297/.388/.477 with 15 homers in 116 games between Double-A and Triple-A before being called up, then managed a .296/.412/.418 line in October. Bogaerts can do just about everything offensively -- hit for average, hit for power, draw walks -- except steal bases. His defense at short is solid but some think he's destined for third base down the line. For now he's a shortstop and a prime Rookie of the Year candidate. Honorable Mention: C Christian Vazquez, who might not hit much but is an elite catch-and-throw guy. He's ticketed for Triple-A.
Yankees - RHP Dellin Betances: Technically, RHP Masahiro Tanaka is a rookie and a prospect. He also has over 1,300 innings of experience in Japan, so I think it's a bit unfair to include him here. The 25-year-old Betances gets the nod instead after finding a niche in the bullpen last year. He struggled to throw strikes for the first seven years of his career, but as a reliever he managed a 2.15 ERA with 90 strikeouts in 62 2/3 innings in 2013. He's a huge guy (listed at 6-foot-8 and 260 lbs.) with a mid-90s fastball and a hard curveball, and in a post-Mariano Rivera world, Betances has a chance to pitch important innings for New York in 2014. He has all but locked up a spot on the opening day roster with his strong spring. Honorable Mention: IF Dean Anna, who hit .331/.410/.482 in Triple-A last year and could find a spot on the team's weak infield.
AL CENTRAL
Indians - RHP Trevor Bauer: RHP Danny Salazar exhausted his rookie eligibility last year, so Bauer is the guy. The third overall pick in the 2011 draft has had some troubles over the years, mostly with command and reduced stuff, but mechanical improvements have his fastball back humming in the mid-90s this spring. Bauer, 23, had a subpar 4.15 ERA in 121 1/3 Triple-A innings last year -- he also walked more batters (16) than he struck out (11) in 17 MLB innings -- but the improved stuff gives the Tribe renewed hope. He'll get another chance to help the rotation at some point this summer, no doubt about it. Honorable Mention: LHP Scott Barnes, a potential matchup left-hander who is now two years removed from knee surgery.
Royals - RHP Yordano Ventura: Ventura, 22, has been the talk of spring training thanks to his triple-digit fastball and 15/1 K/BB in 15 1/3 innings. He had a 3.14 ERA in 134 2/3 innings split between Double-A and Triple-A last year before making his MLB debut late in the season. Ventura has a put-away curveball in addition to the big heater, so he's not just a one-trick pony. With a rotation spot already locked up and the team's blessing to throw 180+ innings this year, Yordano is going to be right in the thick of the Rookie of the Year race. Honorable Mention: LHP Donnie Joseph, a reliever who has manhandled lefties throughout his career.
Tigers - 3B Nick Castellanos: The Prince Fielder trade opened up first base for Miguel Cabrera and in turn opened up third base for Castellanos. Castellanos, 22, has hit everywhere he's played, including a .276/.343/.450 batting line with 37 doubles and 18 homers in 134 Triple-A games last summer. He's not going to win any Gold Gloves at the hot corner -- he spent some time in the outfield last year as the club looked for a way to get his bat in the lineup alongside Cabrera and Prince -- but he can mash and that will be enough to put him in the Rookie of the Year conversation. Honorable Mention: RHP Jose Ortega, a reliever who has struck out 124 batters in 111 Triple-A innings the last two years.
Twins - C Josmil Pinto: Few minor league catchers put up numbers comparable to the 24-year-old Pinto last season. He hit .309/.400/.482 with 32 doubles and 15 home runs in 126 games between Double-A and Triple-A before a big September call-up (165 OPS+). Pinto's defense is improving but not great. Joe Mauer is a first baseman now, opening up the catcher position for Pinto in both the short and long-term. Backstops who can hit for power are rare and valuable. Honorable Mention: OF Byron Buxton, the game's top prospect. He may not play in MLB this season, but he's so good that he's worth a mention just in case.
White Sox - RHP Erik Johnson: Like Tanaka, it's tough to consider 1B Jose Abreu a true rookie given all his time as a pro in Cuba. He is my Rookie of the Year pick though. The rules say he's eligible. Johnson, 24, has a rotation spot locked up after posting a 1.96 ERA and 3.28 K/BB in 142 innings between Double-A and Triple-A in 2013. He also had a successful September call-up (133 ERA+). Johnson isn't going to wow anyone with pure stuff -- he's a low-90s fastball guy who also throws a slider, curveball and changeup -- but he's a no-doubt big league innings eater. The ChiSox and pitching coach Don Cooper also have a history of squeezing every last drop of production out of a pitcher. Honorable Mention: IF Marcus Semien, a speedy contact hitter who could wind up playing everyday at second or third at some point this year.
AL WEST
Angels - LHP Nick Maronde: The Angels have the consensus worst farm system in baseball, so the pickin's are slim. Maronde, 24, has spent the last two years bouncing back and forth between Double-A and MLB (he's never pitched in Triple-A), and last season he held Double-A lefty hitters to a .181 average with 30 strikeouts in 104 plate appearances. Maronde's low-to-mid-90s fastball and hard slider make him a classic lefty specialist, and he is expected to be the team's top southpaw reliever in 2014 as Sean Burnett continues to battle elbow problems. Honorable Mention: RHP Ryan Brasier, a hard-throwing reliever who has struck out 137 batters in 143 1/3 Triple-A innings over the last three years.
Astros - OF George Springer: Had he accepted the team's seven-year, $23 million contract offer in September, Springer would have started this season in the big leagues rather than going back to Triple-A to have his service time manipulated. The 24-year-old was the 11th overall pick in 2011 and last summer he hit .303/.411/.600 with 37 doubles and 45 home runs in 135 games split between Double-A and Triple-A. Springer has a big swing, so he's going to strike out a ton, but he'll also hit for a ton of power, steal bases and play excellent defense. He'll be a Rookie of the Year candidate if he's called up relatively early. Honorable Mention: 1B Jonathan Singleton, who is a year removed from hitting .284/.396/.497 with 21 homers in Single-A.
Athletics - SS Addison Russell: Russell, 20, reached Triple-A last season even though he was drafted out of high school as the 11th overall pick in 2012. He hit .269/.369/.495 with 29 doubles, 10 triples, 17 homers and 21 steals in 110 minor league games at two levels last year, and his tools are just as impressive. Russell is a heady player with an explosive bat and the quickness to play short after some worried he'd outgrow the position as a pro. The Athletics are not shy about throwing prospects into big roles, and Russell could take over at shortstop at some point this year with Jed Lowrie moving to second base. Honorable Mention: OF Billy Burns, a speedster with a career .420 OBP in the minors (148 BB, 143 K) and 125 steals against only 17 caught stealings.
Mariners - LHP James Paxton: Since RHP Taijuan Walker has been dealing with a shoulder issue, I'll go with Paxton. The 25-year-old had an unimpressive 4.45 ERA and 2.26 K/BB in 145 2/3 Triple-A innings last season, though his mid-90s fastball and hammer curveball give him impact potential. Some mechanical tweaks have led to promising results with his command this spring, which could go a long way towards helping him reach his ceiling. Paxton has a rotation spot pretty much in the bag and will be another Rookie of the Year candidate. Honorable Mention: Walker, assuming the shoulder is nothing serious. He's one of the top two or three pitching prospects in the game.
Rangers - RHP Wilmer Font: Most of Texas' top young players are either in the big leagues (IF Jurickson Profar, LHP Martin Perez) or still two years away from the show (IF Rougned Odor, C Jorge Alfaro), so there's no obvious candidate for 2014. Font, 23, has a huge power arm, sitting in the mid-to-high-90s with a hard mid-to-high-80s slider. He had a 1.04 ERA in 52 relief innings between Double-A and Triple-A last season, and since returning from 2011 Tommy John surgery, Font has 209 strikeouts in 150 2/3 minor league innings. He'll get a chance to be a bullpen factor this summer. Honorable Mention: OF Engel Belte, a toolsy outfielder who can struggle to make contact but does many other things well.
The former Braves star served as a race official for the Daytona 500

He'd be a good fit in the Bronx, but can they make it work and still stay under the luxury...

The slugger had shoulder surgery in November
Tebow reported to spring training with Mets position players on Sunday

Santa Clara senior Jake Brodt did the honors Saturday

Eric Hosmer's eight-year contract with San Diego has wide-ranging ramifications