3 to Watch: The 'Heading for a wild September' edition
September is about to begin, and 15 of baseball's 30 teams are within 3 1/2 games of a playoff spot. There's plenty to play for, and 3 to Watch says it shows the two wild-card system is working.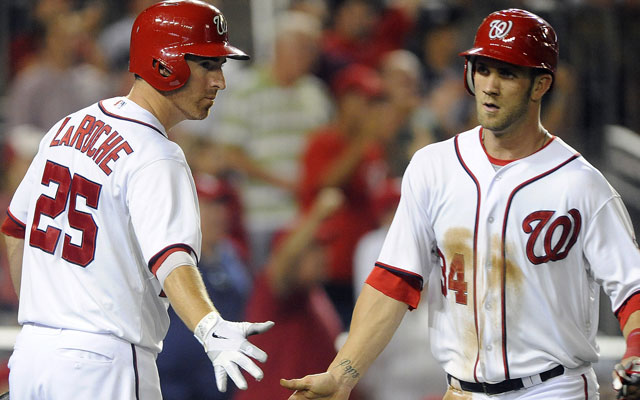 Teams like the Nationals, who are all but assured a playoff spot, are still highly motivated to win their division.
(US Presswire)
The two wild-card system is working.

Hold off before you start screaming. Hold off, and hear me out.

It's working, because as we head to September, 15 of the 30 teams are within 3 1/2 games of a playoff spot.

It's working, because even teams that seem fairly sure of making the playoffs (Yankees, Rangers, Nationals) still have plenty to play for, because this year a division title means a lot more than a wild card.


It's working, because even a team with the division title all but wrapped up (Reds) still has an incentive to gain the league's best record, because that means playing a presumably weakened wild-card team in the Division Series.

The old system worked just fine last year, with maybe the most exciting finish to a regular season in memory. But the Cardinals came from 9 1/2 games back in the final 30 days of the season.

By that reasoning, even the Brewers and Mariners still have a chance this year. By that reasoning, it's not 15 teams about to play meaningful September games, but 18.

Last year gave us the wildest final night ever.

This year could give us the wildest final month ever.

It starts this weekend, with first vs. second matchups in the American League East (Yankees vs. Orioles) and the American League Central (White Sox vs. Tigers).

So many teams are alive that only three of this weekend's 15 series begin with neither team as a true contender.

Maybe you still hate the new system.

Maybe by the end of the month, you'll change your mind.

On to 3 to Watch:

1. A month ago, Matt Thornton of the White Sox said the one thing he knew about the AL Central was that the White Sox would need to beat the Tigers head to head. Soon after, the Sox went to Detroit and lost three straight, in the process losing their division lead. Within days, they were back in front, and they've stayed there. It still feels like they'll need to win their share of the seven remaining head to head meetings, which begin with White Sox at Tigers, Friday night (7:05 ET) at Comerica Park. This first one is a big one for the Tigers, because Doug Fister returns after missing a start with a strained muscle. Fister has been very good when healthy, but not always healthy. Speaking of which, White Sox fans will keep fingers crossed that Friday starter Jake Peavy's healthy season continues.

2. We started thinking we should take the Orioles seriously when they came to New York the first weekend of May and took two of three. We started thinking the Orioles might not go away when they came to New York the last week of July and won two of three again. Now September is about to begin, and here they are, for a series that concludes with Orioles at Yankees, Sunday afternoon (1:05 ET) at Yankee Stadium. Chris Tillman, who won at Yankee Stadium in July and has won his last two starts overall, starts Sunday against David Phelps, who was supposed to be the CC Sabathia fill-in and stayed around in the rotation when Ivan Nova got hurt.

3. The Stephen Strasburg countdown is real now, with Nationals manager Davey Johnson telling reporters that he has now told Strasburg he has just two or three starts remaining. The first of those comes in Cardinals at Nationals, Sunday afternoon (1:35 ET) at Nationals Park. The Cardinals held onto the second wild-card spot as of Thursday morning, which means they don't need a 2011-like comeback. Then again, if they make one, perhaps they can catch the Reds and win the National League Central.
Wright was arrested at his home Friday

The former Tigers teammates were voted into Cooperstown by the 16-person Modern Era Commit...

The Yankees still have room for a good-sized signing even after Saturday's trade with Miam...
St. Louis gets some much needed help for their bullpen

Keep tabs on the top 50 free agents right here

Morrow thrived with the Dodgers last season