Bryce Harper is already great, but here's how he's getting even better
So far this season Bryce Harper is making more contact and showing more plate discipline than he did during his MVP season a year ago. The kid is getting better.
Sunday afternoon, during the Nationals loss to the Phillies (PHI 3, WAS 3 in 10 innings), reigning NL MVP Bryce Harper hit his sixth home run of the season. Last year Harper did not hit home run No. 6 until May 6, in his team's 29th game of the season. He hit No. 6 in game No. 11 this year.
Harper's home run Sunday was impressive and not just because it was his fourth straight game with a homer, and not even because it landed in the bullpen bathroom. It was impressive because Harper kept the at-bat alive on the previous 3-2 pitch:
There really is nothing too exciting about a foul ball, but context is important. That's a nasty 86 mph changeup with fade that Jeanmar Gomez located perfectly down and away. It's a great strikeout pitch. Look at the pitch location (pitch No. 6), per Brooks Baseball: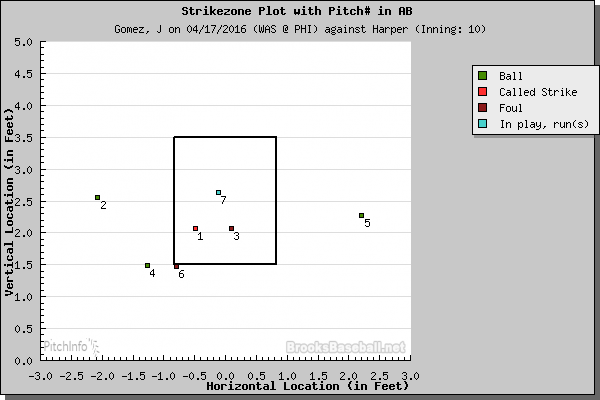 As great as he was last season, those down and away pitches gave Harper fits. He swung and missed 10.9 percent of the time at pitches in that general location last year, according to Statcast data at Baseball Savant. This season he has that down to 8.0 percent.
A drop of nearly three percent sounds small, but it is significant, especially since that is only one small location. Harper's overall contact rate on pitches down in the zone is up considerably this season, which is one reason why the 23-year-old wunderkind appears to be getting even better.
Here are two heat maps, via FanGraphs, showing Harper's contact rate on pitches at various locations in and around the strike zone. In a nutshell, the brighter the red, the more contact on pitches in that location. The brighter the blue, the less contact. White is league average.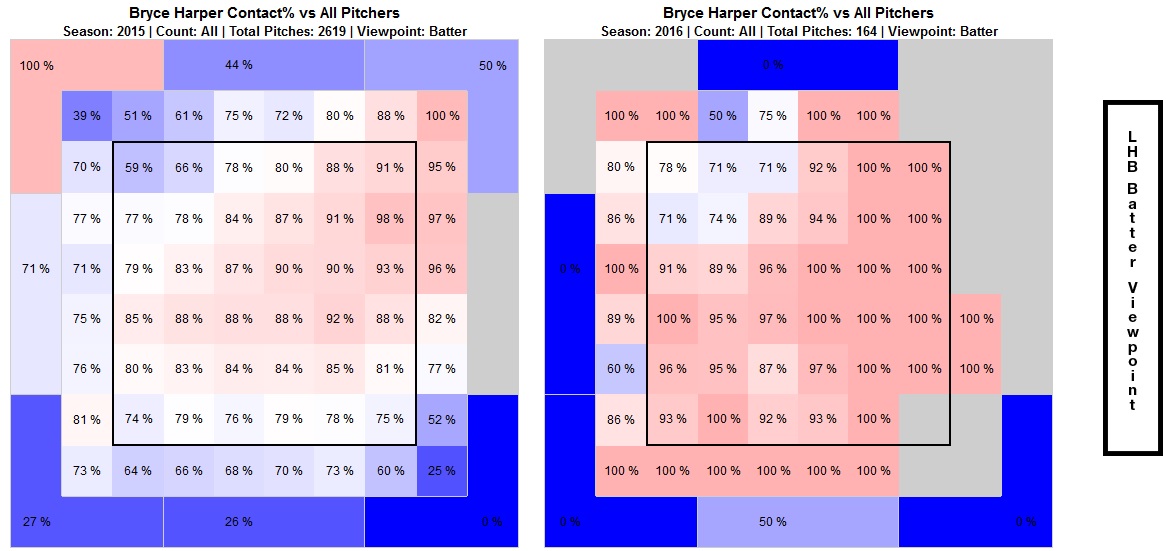 (Click here for a larger view).
The 2015 season is on the left and 2016 is on the right. Right away you can see the difference at the bottom of the zone. Last season Harper's contact rate on pitches in the lower third of the strike zone sat between 74 and 85 percent. It was 60 to 73 percent on pitches just below the zone.
This season, Harper has made contact between 87 and 100 percent of the time on pitches in the lower third of the zone. It's 100 percent on pitches below the zone, which means he's getting the bat on those nasty pitcher's pitches that dive out of the zone, like Gomez's changeup Sunday. (Harper's contact rate on all pitches in the zone jumped from 83.7 percent in 2015 to 92.9 percent in 2016.)
You hear it all the time. If a pitcher can keep the ball down, he'll be successful. And generally that's true. Hitters have a hard time going down and squaring up pitches in the bottom of the strike zone. Pitches in that location, especially pitches with some movement, are tough to lift in the air, and when you keep the ball on the ground, good things happen.
Last season Harper had a tough time making contact with pitches down in the zone. That was a place pitchers could attack. In the early going this season he's closed up that hole, as Gomez learned Sunday. He made a good pitch in a good spot, Harper fouled it off to keep the at-bat going, then he took him deep on the next pitch.
Harper's game has improved beyond pitches down in the zone, however. His plate discipline has taken another step forward, one year after he led baseball in on-base percentage (.460) and was second to Joey Votto in walks (143 to 124). So far this season he has a .458 on-base percentage with eight walks and only four strikeouts.
According to PitchFX data at FanGraphs, Harper chased 33.2 percent of the pitches he saw outside the zone back in 2014. It was 28.0 percent last year and 20.7 percent this year. The league average is 29.4 percent. So not only is Harper making more contact on pitches in the strike zone, specifically the lower third, he's swinging at fewer pitches out of the zone as well.
How do you attack a hitter who won't expand the zone and chase off the plate, and won't miss when you come into the strike zone? You can't, really. That's why Harper is the best in the business right now, the same way Albert Pujols and Barry Bonds were so fearsome in their primes. They give off the impression of having no weakness at the plate.
Throughout the offseason I said I think Harper can still get better -- here is our team preview, to show I'm not making it up -- mostly because I figured he would he would make the jump from 42 home run hitter to 50-plus home run hitter at some point. He very clearly has the power to do that at some point.
I did not, however, expect Harper to improve his contact rate and plate discipline. Especially the latter since it was so good already. The kid drew 124 walks and got on base 46 percent of the time last season. How could anyone reasonably think he would become even more disciplined going forward?
It is still super early in the season, of course. That's the big caveat here. That said, Harper is already a 23-year-old MVP caliber player. He's proven that. Now it appears he is getting even better because he's gaining experience and doing a better job understanding how pitchers attack him. That should be terrifying for the rest of the NL.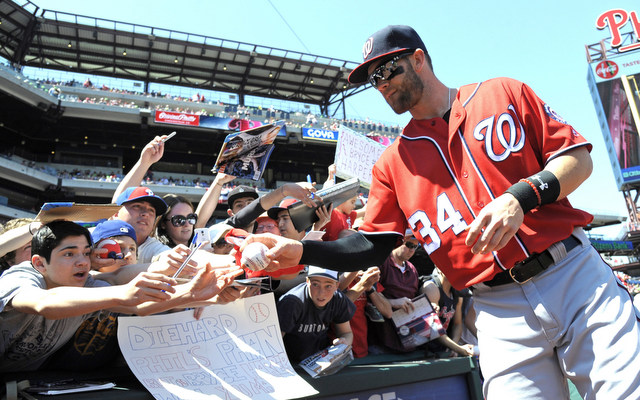 deGrom is set to become a free agent after the 2020 season

Perkins missed most of the last two seasons due to injury

Jonathan Singleton was suspended after a third positive test for a drug of abuse
Rodriguez will join Jessica Mendoza and Matt Vasgersian on the "Sunday Night Baseball" boo...

Jeff Wilpon talked about payroll on Tuesday, and it won't make any Mets fan happy

Yelich's agent recently asked the Marlins to trade him before the spring