Dodgers' Hyun-Jin Ryu bounces back in a big way
Hyun-Jin Ryu's first start of the postseason didn't go so well. His second start went very, very well.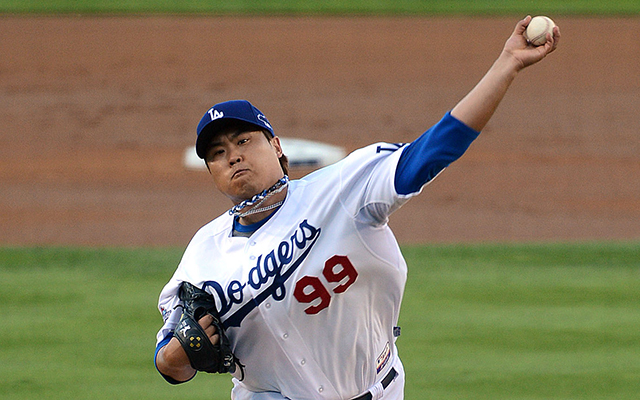 MORE: Game 3 Quick hits | One hit, two celebrations for Puig
LOS ANGELES -- Dodgers' lefty Hyun-Jin Ryu has now made two starts in the 2013 postseason, one against the Braves and one against the Cardinals in Game 3 of the NLCS on Monday night. Those two starts have but the sparest of similarities.
After all, against the Braves in Game 3 of the NLDS, Ryu gave up four runs on six hits in just three innings of work, and he struck out only one batter. Against the Cardinals on Monday, however, he threw seven scoreless frames, didn't allow a hit until the fifth and whiffed four against only one walk. 
To be sure, part of it is that the Braves have a better offense against lefties than the Cardinals do, and that's especially the case without Allen Craig in the St. Louis lineup. It goes beyond "mere" match-ups, though. 
First, Ryu went to his breaking stuff a bit more against the Cardinals. Against Atlanta, he threw his curve and slider just 14.7 percent of the time. Versus St. Louis in Game 3, Ryu went to his breaking pitches exactly 25 percent of the time. Ryu's definitely a fastball-changeup pitcher, but a deeper mix of offerings, which he showed against the Cardinals, make his four-seamer and his changeup even more effective. Of course, those breaking pitches are effective in doing so only if Ryu has command of them. On that point, they were certainly more tantilizing to Cardinal hitters, who swung at his breaking pitches almost half the time. The Braves, meanwhile, offered at just 25 percent of Ryu's sliders and none of his curves. 
As well, Ryu against the Cardinals flashed improved velocity. His fastball averaged better than 93 mph on the night versus a season-long average of 91 mph, and even touched 95 in the early innings of Game 3. Overall, that doesn't sound like a huge difference, but, to hear Don Mattingly tell it, it's a good portent. "... [T]he day that he's feeling good and you start seeing 95, just touch it to 94 now and then," the Dodger manager said of Ryu after Game 3, "he's got enough velocity to get guys having to speed up a little bit and then it makes everything better."
As for Ryu himself, he knew very early that his heater would be there in Game 3. "I realized it today warming up in the bullpen that my fastball was on point," Ryu said Monday night. "But I was trying to focus in a little more today, and I think I added a little more to the game."
What may have also helped Ryu on this front is the layoff; his Game 3 start was his first in eight days. Or it may have been, as Mattingly hinted, that Ryu was "amped for" a home playoff start. Whatver the reasons, Ryu had the velocity baseline to maintain a good spread between his fastball and changeup (81.6 mph for Game 3) deep into the night. 
Good mix of pitches, good radar gun readings on Ryu's part -- That's the biggest reason the 2013 NLCS is a series once again. 
(Wink of CBS eye: Brooks Baseball, for the pitch data used above)