June 7 Prospect Watch: Mark Appel's 'comical' season continues
This week's Prospect Watch looks at two second basemen on the rise and a pair of top right-handed pitching prospects having rough seasons.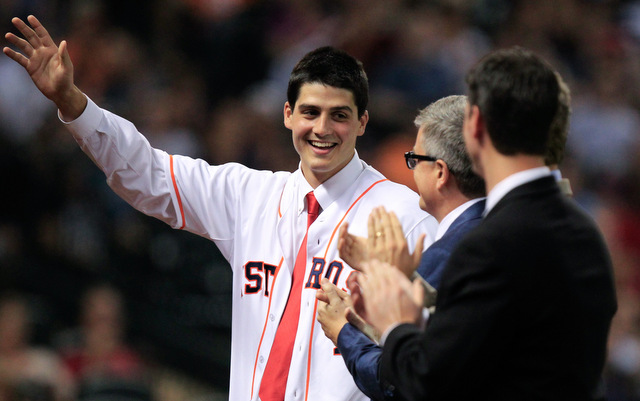 More MLB: Power Rankings | Expert Picks | Latest news & notes | Fantasy news
The 2014 Rule 4 Draft wraps up on Saturday, and in the coming weeks a whole slew of new prospects will sign professional contracts and begin their careers. There are plenty of players in the minor leagues right now though, so here's a look at three on the rise and three on the way down, relatively speaking.
THREE UP
3B Jake Lamb, Diamondbacks: Lamb, 23, was an unheralded sixth round pick in 2012, but he's done nothing but rake since turning pro. He is showing last season's success was no California League fluke by hitting .316/.393/.561 with 22 doubles and eight home runs in 58 Double-A games. In his last six games, Lamb has gone 14-for-25 (.560) with six doubles, two triples and a homer. On top of the obvious hitting ability, he's also a top notch defender at the hot corner. A midseason promotion to Triple-A is in the cards and it wouldn't be a surprise if Lamb makes his MLB debut later this season.
2B Jose Peraza, Braves: The Braves finally moved on from Dan Uggla and called up Tommy La Stella a week or two ago, but Peraza is coming for second base the job long-term. The 20-year-old is hitting .328/.354/.449 with 11 doubles, eight triples, one homer, 28 steals and a tiny 10.5 percent strikeout rate in 58 High Class-A games, where he is a whopping three years younger than the average player according to Baseball Reference. Peraza has a ton of speed, excellent bat-to-ball skills and the defensive chops to remain on the middle infield. La Stella is the short-term answer at second in Atlanta. Peraza is coming for the job in about two years.
2B Rob Refsnyder, Yankees: There might not be a hotter hitter in the minors right now than the 23-year-old Refnysder. New York's fifth round pick in 2012 has gone a ridiculous 47-for-110 (.427) with 13 doubles, four triples and three homers over the last calendar month. His overall season batting line sits at .335/.377/.548 in 58 Double-A Games. The Yankees moved Refnsyder back to his high school position of second base after he spent three years playing the outfield in college, and he's taken well to the infield. As you might have heard, the Bronx Bombers now have a big long-term opening at second base, and Refsnyder is in position to get the job as early as Opening Day 2015.
THREE DOWN
RHP Mark Appel, Astros: To use his own words, this has been a "comical" season for Appel, the first overall pick in last June's draft. The 22-year-old right-hander has an 11.93 ERA and a 2.23 WHIP in 14 1/3 High Class-A innings this season (10 runs in 1 1/3 innings last Saturday) while dealing with finger inflammation and also struggling to adjust to the organization's tandem starter system. Rather than use one starter and a bunch of relievers per game, the Astros use two "starters" for 4-5 innings each in the minors. Appel, who is used to starting once a week after four years at Stanford, has had trouble with the modified schedule. When Houston drafted the right-hander first overall last year, I think many expected he would be in MLB by now. Or at least Triple-A. Instead he has a 6.02 ERA in 52 1/3 minor league innings. Yikes.
OF Yorman Rodriguez, Reds: If you've been following prospects for a while, it feels like Rodiguez has been around forever even though he's only 21. He made his pro debut as a 16-year-old in rookie ball way back in 2009. Yorman finally appeared to break out with a .259/.324/.427 batting line and 13 homers split between High-A and Double-A last year, but this season he is down to .226/.269/.311 with two home runs in 43 Double-A games. He is currently mired in a hideous 6-for-66 (.091) with 19 strikeouts slump. Concerns about Rodriguez's ability to recognize breaking balls and make consistent contact have existed forever, and this year's poor showing only heightens those concerns.
RHP Noah Syndergaard, Mets: First came Matt Harvey, then came Zack Wheeler, and next it was supposed to be Syndergaard. The 21-year-old was expected to make his debut in the second half as the next great Mets pitching prospect, but instead he has a 4.47 ERA with a 1.49 WHIP in 54 1/3 Triple-A innings. He's also had two brushes with injury: a flexor pronator strain in his elbow and a left (non-pitching) shoulder strain. The shoulder injury was a fluke he suffered covering home plate. Still, it was a physical scare in a season that is not exactly going according to plan. Syndergaard may soon develop into the third wheel behind Harvey and Wheeler, but right now it looks like his debut will be a little later than anticipated.
Keep it locked right here for everything you need to know about the world of baseball Tues...

There have been several racially charged incidents at Fenway Park this year

Washington's right fielders have sputtered offensively since Harper went down
The good news? Wichita still has a chance to win the series Tuesday night

Soon more home runs will have been hit in 2017 than in any other season in MLB history

Ferrell somehow avoided going to the ground