Mark Buehrle has a 1.91 ERA and an 83.4-mph fastball
Let us now praise veteran Blue Jays lefty Mark Buehrle.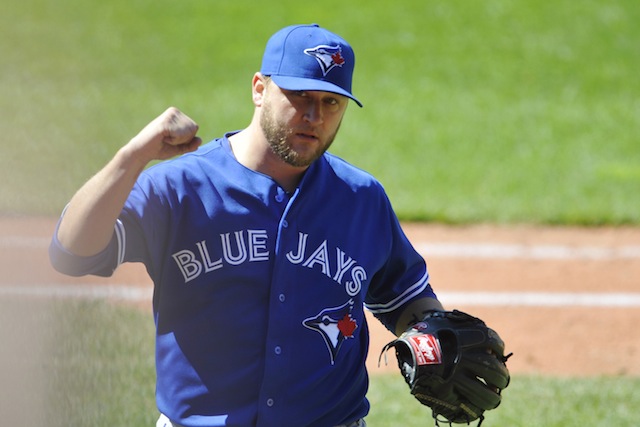 More MLB: Power Rankings | Expert Picks | Latest news & notes | Fantasy news
By my count, there are no fewer than five things to appreciate about veteran Blue Jays lefty Mark Buehrle ... 
1. He blessedly works very quickly, averaging just 16.7 second between pitches for his career;
2. He's a veritable pack mule (i.e., he's on pace to log at least 200 innings for the 14th straight season -- that's every full season of his career);
3. He fields his position exceptionally well (four career Gold Gloves). In fact, he's done this before ... 
4. He's very good at his chosen craft (he'll have a reasonable Hall of Fame case by the time he's done);
5. He's the exemplar of the "crafty lefty."
It's the last observation that's of interest at the moment. You see, Buehrle this season sports a four-seam fastball that checks in at just 83.4 miles per hour. In the Pitchfx era (i.e., from 2007-ish onward), that's the lowest average fastball speed of any qualifying pitcher not named Tim Wakefield, R.A. Dickey or Jamie Moyer.  
Let is also be said that this is not a case of "Adorable: He's Clinging to a Roster Spot Despite a Radar-Gun Reading That Would Not Even Yield a Speeding Ticket in Montana." Buehrle and that 83.4-mph "heater" presently rank second in the AL in ERA, second in ERA+ and third in runs-based WAR. As well, Buehrle's notched a quality start in five of seven outings. 
There's nothing new about the way he's doing it. Buehrle, as ever, has a varied pitch mix (he throws five pitches for strikes, this season none more than 29 percent of the time and none fewer than 13 percent of the time), and he's especially adept at inducing weak contact, thanks in large part to his ability to change speed and location and get swings outside of the heart of the zone. When we invoke "crafitness" in baseball, that's the kind of thing we're talking about. 
In an era of increasing strikeouts and increasing velocity, let's appreciate that Buehrle gets it done by atypical and enjoyable means. May he pitch until he's 50. 
If the MLBPA wants to fix MLB's economic system, it should push for more money for young p...

Fans aren't happy Gerrit Cole and Andrew McCutchen have been traded away

Acuna is arguably the best prospect in baseball
Kent had a good career, particularly with the bat

This would undoubtedly be the worst trade in Miami Marlins history

The Pirates recently shipped Gerrit Cole and Andrew McCutchen to Houston and San Francisco,...