Post-deadline deals: Who could still be traded?
Though the MLB trade deadline has passed, here are 20 names that could still be moved before the end of the season.
More: Trade Tracker | Heyman's latest | Heyman on Twitter
As we were all reminded two years ago, trades can come after the July 31 non-waiver trade deadline. Sometimes even big deals.
Two years ago this August the Dodgers and Red Sox made a trade that sent high-priced players Adrian Gonzalez, Carl Crawford and Josh Beckett out west for prospects and enough savings to build a new team. One year later, the Red Sox won a World Series. This year, the Dodgers are a favorite to reach the World Series.
There's nothing to say a trade of that magnitude could possibly occur again. But some trades surely will be made.
Some players will go unclaimed and clear waivers, making them eligible to be traded this month, as Crawford and Beckett were two years ago. And maybe a player or two who is claimed, as Gonzalez was in that case by the Dodgers, can be traded, too -- though that is much, much more difficult as only the claiming team can make the trade (and they have to do it within three days).
With consultation with four major-league executives, here's a rundown of 20 trade candidates broken down into three groups -- players who should be claimed, players on the bubble to be claimed and players who should clear waivers become eligible to be freely traded.
The Claimers (Players likely to be claimed)
1. Cole Hamels, SP, Phillies. Sure, he has $104 million to go for four more years. But he's well worth it -- at least to a big-market club. No shot he gets past the Red Sox, Yankees or Dodgers, all of whom showed interest. If Philly loves all its players, they especially love Hamels, as he is basically their only bargain.
2. Ben Zobrist, INF/OF, Rays. With a $7.5 million team option for next year that's sure to be exercised, there's no way he clears. There's only a small chance the Rays trade him as he's a valuable piece to their puzzle, reasonably priced and important to a clubhouse that's already been rocked by the loss of David Price.
3. Ian Kennedy, SP, Padres. As with Hamels, everyone figures Kennedy will be claimed with his three-to-one strikeout-to-walk rate, $6.1 million salary and arbitration eligibility after the year. At that rate almost any contender would take a chance.
4. Joaquin Benoit, RP, Padres. He's having another very nice season, and while his 2015 salary of $8 million isn't necessarily cheap for a reliever, he'd have to warrant claims from the Yankees, Dodgers and others.
The Bubble Boys (Players who may be claimed)
5. Alexei Ramirez, SS, White Sox. One exec thought he would clear waivers, but most felt the offensive shortstop would be claimed by someone. One possible reason for him to clear is that most contenders have shortstops.
6. Justin Morneau, 1B, Rockies. The near All-Star with the .853 OPS just came off the DL. Since folks aren't necessarily overwhelmed by good but not great numbers in Colorado, he has a chance to make it through. His $6.75 million salary doesn't seem overwhelming.
7. Marlon Byrd, OF, Phillies. Despite 21 home runs and a reasonable $8 million salary, he was a split decision. The issues included the $8 million salary for next year, the vesting option for another $8 million based on plate appearances for 2016, the age (37 later this month) and the PED past. Philly allegedly had a big price tag on him, with team officials countering that the offers were "embarrassing." No shock, then, that folks don't agree over his fate.
8. Drew Stubbs, OF, Rockies. There wasn't much buzz about him as the trade deadline approached, but his .851 OPS, speed and $4.1 million salary would seem to suggest someone may put in a claim.
9. Bartolo Colon, SP, Mets. That $11 million salary for 2014 doesn't seem very steep considering Colon's solid performance, but some teams seemed to react badly to it. A pitching injury or two can sway folks to claim.
10. A.J. Burnett, SP, Phillies. A couple of execs thought he could be claimed, as they recall his big performance in Pittsburgh last year. However, a player option for 2015 that's likely to reach $12.75 million, which is nothing short of outrageous, should discourage almost everyone. Still, there are a few true believers.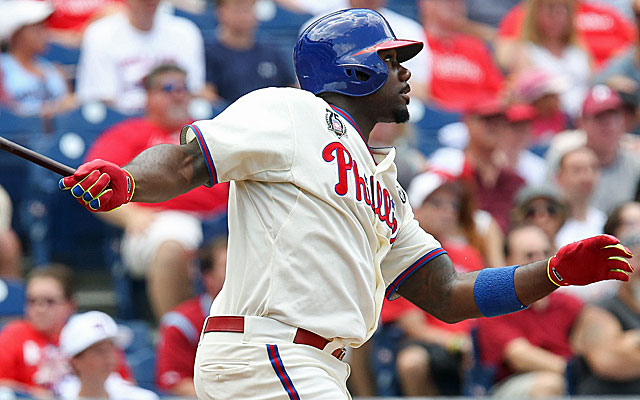 The Clear Guys
11. Josh Willingham, OF, Twins. Most (but not all) suggested he'd clear, based on the .219 batting average and 41 games missed earlier after being hit on the wrist with a pitch. He's healthy and hitting better lately, so it's possible he and his $7 million salary gets claimed. The Mariners and Yankees were among those interested.
12. Aaron Hill, 2B, Diamondbacks. The $12-mlllions salary seems high for someone with a sub-.700 OPS. There is a fair amount of need at second base (San Francisco, Oakland, Toronto, Cincinnati), but the price is still high.
13. Alex Rios, OF, Rangers.  He's hitting .304 but teams are shying away due to his $13 million salary and a $2 million buyout on a $14 million team option for next year. He seems fairly reasonably priced, but perhaps diminishing power (four home runs) hurts his case. The Giants, Mariners and Royals were among the interested teams.
14. Nate Schierholtz, OF, Cubs. His $5 million salary doesn't sound too bad considering how well he performed last year. But so far, this year isn't last year. If he gets going, maybe he acquires a market.
15. Jonathan Papelbon, RP, Phillies. His $13 million salary for next year plus $13 million vesting option for 2016 makes him basically impossible to claim. The best chance to trade him was before the Tigers and Angels traded for quality relievers. There's no seat left now.
16. Adam Dunn, DH, $12M, White Sox. He can still provide power, but the $5 million left through the end of the year still seems a tad steep.
17. John Danks, SP, White Sox. He's a solid starter, but that $33 million to go through 2016 is too high considering the diminishing velocity.
18. Carlos Quentin, OF, Padres. There was little talk of a Quentin trade with him struggling below .200 at the deadline and $12 million remaining through next year, He has a full no-trade clause but the good news is he'd waive it for the right AL team.
19. Scott Feldman, SP, Astros. Houston started to dangle the veteran right-hander who has two years to go on his $30 million, three-year contract. No chance he is claimed.
20. Ryan Howard, 1B, Phillies. He has zero chance to be claimed, With $70 million to go through 2016, no one will go near him. But perhaps he could help an AL club, provided the Phils pay down his salary by 80 percent, or more.
Granderson heads north of the border for his age-37 season

What did the Pirates get in return for their franchise player?

Rivero could remain in Pittsburgh for some time to come
The White Sox, Angels, Athletics, Orioles and Marlins are the holdouts after Blue Jays fol...

The Pirates have several attractive trade chips if they decide to go into a full rebuild

Gerrit Cole was traded over the weekend and now McCutchen is on the move