Racial tweet bothers Angels' Jerome Williams
Angels starter Jerome Williams said a tweet with strong ethnic slur got to him, and he's isn't sorry for retweeting the offender's phone number.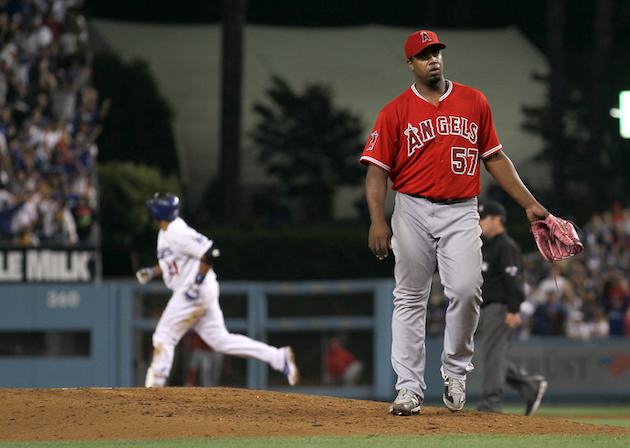 One of the great things about social media is how ordinary people can interact with those they may never get to run across in real life, such as celebrities and athletes. However, a total lack of a filter makes many regret being so open and available.
Angels
pitcher
Jerome Williams
got a hateful, ugly tweet following his last start on Tuesday, when he allowed five runs on six hits in 7 2/3 innings in a 5-2 loss to the Dodgers. Williams retweeted the message, something I won't do. But
here is the link to his tweet
. Williams added "let's let this guy know its [sic] never ok to use hateful words."
The account that sent the offending tweet has since been deleted. However, one of Williams' followers found a name and phone number for the person who had registered that Twitter account. Williams retweeted that, which prompted this interaction:
@Kody_Mac sorry bro. The message that was sent to me is uncalled for. And I want people to know who this guy is.

— Jerome Williams (@pinkpuka57) June 13, 2012
The number was not in service, when CBSSports.com tried to call it for comment.
Williams was asked about the incident before Wednesday's game, and said it hurt.
"It's shocking," he
told the Orange County Register
. "I thought those days were over with, and when that was said it kind of bothered me. … It hurts me to have people say that to me, but when I grew up and I kind of figured out what was going on, I kind of let it go. Let it go and blow it off and keep on going with my life."
His teammate,
LaTroy Hawkins
also chimed in on Twitter.
Tweeps this person @jgaae007 thinks its ok to to travel back to the 50's&60's let him know Times hv changed an he's a RACIST Prick #angels

— LaTroy Hawkins (@LaTroyHawkins32) June 13, 2012
Williams noted that growing up in Hawaii, he was one of very few African-Americans in his school and he was often teased.
"When I was younger I dealt with that in a different way than how I deal with it now," he
told the OCR
. "Back in the day, I'd lash out and try to hurt somebody. My dad (Glen Williams Sr.) instilled in me, he said, 'Don't even worry about it. Those type of words will come, especially with the color of your skin, especially when you're in Hawaii.'
"He dealt with it when he was in Hawaii. I try and blow it off, but in the back of my mind it gets to me."
For more baseball news, rumors and analysis, follow @EyeOnBaseball on Twitter, subscribe to the RSS feed and "like" us on Facebook.
Gallardo spent the first eight years of his career in Milwaukee

MLB revenues are at a record high right now, but teams aren't spending it on players

Chicago added Tyler Chatwood earlier this offseason but might not be done adding to the ro...
The Dodgers and Braves pulled off a whopper on Saturday

Sabathia will reportedly spend a 10th season in the Bronx

Fowler suffered a knee injury at Chicago's Guaranteed Rate Field