Red Sox should send Adrian Gonzalez, Josh Beckett to Dodgers
There are reports that the Red Sox and Dodgers are working on a deal that would send Adrian Gonzalez and Josh Beckett to Los Angeles, and perhaps Carl Crawford, too. Any deal that results in those three contracts out of Boston should be welcome news for the Red Sox.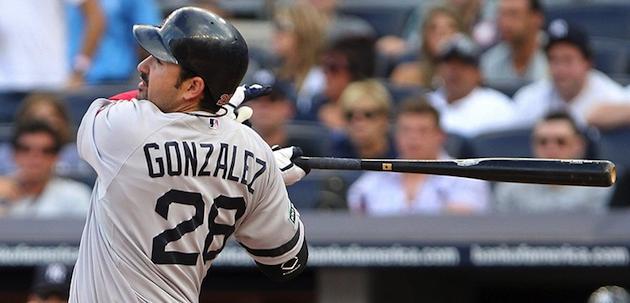 The Dodgers claimed Adrian Gonzalez, and the Red Sox should let him go even if they get nothing in return. (US Presswire)
Now's not the time to quibble over a Double-A reliever, if you're the Red Sox, you say a little prayer of thanks to the deity of your choice and tell the Dodgers, you want Josh Beckett and Adrian Gonzalez? You got 'em. 
Because the Dodgers claimed both players off of waivers from the Red Sox, the ball is in Boston's court. If the Red Sox brass says the word, Gonzalez is a Dodger and Beckett could be with his consent. There's no reason to worry about what they get back or actually ask for anything in return, instead look at it as hitting a $158 million-plus jackpot.
Gonzalez has six years remaining on his mega contract that pays him $127 million over that time, plus what he's owed for the rest of this season. He has a limited no-trade clause, but reportedly the Dodgers aren't one of the teams he can block.
Meanwhile, Beckett would need to approve any deal with the Dodgers -- even a straight waiver claim -- because he has 5-10 right, five years with the same team and 10 years overall of service. Still, Beckett doesn't seem to be enjoying himself in Boston and who has ever said no to playing in Los Angeles? The Red Sox owe Beckett $15.75 over each of the next two seasons and he'd still get that and what's owed of his $15.75 million salary for this season, so there's little reason for him not to accept it.
But even, let's say, Beckett doesn't go, the Red Sox could still waive goodbye to the 30-year-old Gonzalez and his diminishing power.
CBSSports.com Insider Jon Heyman confirms the report from Gordon Edes of ESPNBoston.com that the Red Sox and Dodgers are talking about not only sending those two players to Los Angeles, but also Carl Crawford (who is owed $102.5 million over the next five years) and Nick Punto (who will make $1.5 million next year) to Los Angeles -- if you're the Red Sox, you don't ask for ketchup and mustard on your Dodger dog, you say yes. (For the record, Bill Shaikin of the Los Angeles Times tweets the Dodgers have talked about sending the team's top two prospects, right-handers Zach Lee and Allen Webster, along with right-handed reliever Rubby De La Rosa and outfielder Jerry Sands to Boston, while Heyman notes any deal would include Boston sending cash to L.A. and having to take free-agent-to-be James Loney for the rest of the season.)
Any deal with Crawford or Punto in it (including the one referenced above) would be a trade, not a waiver claim, so Boston would likely have to send some money over to Los Angeles to cover some of the monster contracts the Dodgers would be absorbing.
Either way -- by trade or waiver claim -- the end of the Gonzalez and Beckett eras in Boston need to end, and this is as good of an escape route as the team will ever see.
Fans in Boston may get up in arms about the Red Sox giving up on the season, but it's Boston, they'll be up in arms about something. It's better that they're upset about a supposed fire sale and you have an extra $158 million or so to throw around in the offseason on different mistakes than to be stuck with past gambling losses.
In 2009 the White Sox claimed outfielder Alex Rios off of waivers from the Blue Jays and had to pick up six years of a seven-year, $69.35 million deal. The next year the White Sox took on a small commitment in claiming Manny Ramirez for $3.8 million from the Dodgers.
In the end, even if a trade isn't worked out, the Red Sox should see the waiver claims as a "get out of jail free" card and cash it in without passing go.
For more baseball news, rumors and analysis, follow @EyeOnBaseball on Twitter, subscribe to the RSS feed and "like" us on Facebook.
Then again, three trades in four days might be behind Jerry Dipoto's usual pace

Ohtani is arguably the best hitter and pitcher in Japan

The O's need rotation help, and Cobb is available for hire
The Red Sox and Cardinals are expected to make trade offers next

The free agent first baseman may be a fit in St. Louis

The front office changes in Atlanta continue