Scouts from Orioles, Braves, four others disappointed about Greinke ejection
The ejection of Brewers star Zack Greinke deprived several interested teams from seeing him pitch beyond two batters two Sunday.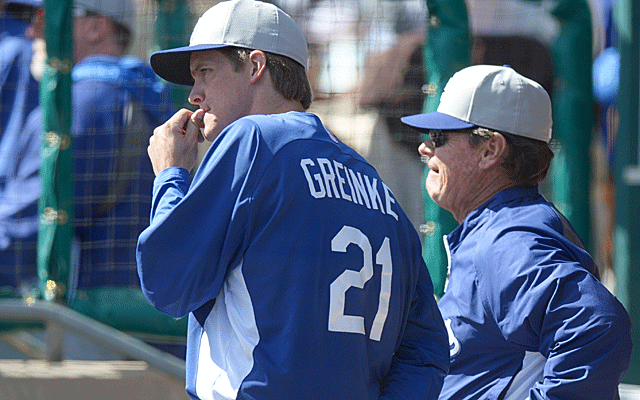 Scouts for at least six teams were disappointed when Zack Greinke was ejected two batters into the game.
(Getty Images)
Scouts for at least six contending teams were disappointed when Brewers star right-hander Zack Greinke was ejected two batters into Saturday's game, thus depriving them of seeing a pitcher of trade interest.
Scouts from at least the Orioles, Rangers, Braves, Diamondbacks, Giants and Blue Jays were in Houston for the game, though one or more of those teams may also have interest in Astros' starter Wandy Rodriguez, who opposed Greinke, or may simply have been performing regular coverage.
Greinke, 9-2 with a 3.08 ERA, was ejected by first-base umpire Sam Holbrook almost immediately after slamming the ball to the ground following a safe call at first base as Greinke tried to out-race the Astros' Jose Altuve to the bag. "The ump should be reprimanded,'' one disappointed scout said. Brewers manager Ron Roenicke was ejected quickly after coming out following Greinke's ejection.
The Orioles and Braves are seen as the early favorites to land Greinke, as was pointed out in this space Friday. The Rangers prefer Cole Hamels but have Greinke second on their list, Danny Knobler of CBSSports.com recently reported.
While it isn't known if Greinke is technically available yet, the Brewers are seen as likely sellers.
Our Black Friday FA shopping guide includes a starting pitcher, slugger, super sub, and re...

Get 15 percent off any order of more than $75 at CBS Sports Shop

Need a gift for someone who loves baseball? We're here to help as the holidays approach
Several prominent Japanese-born Mariners and ex-Mariners have said they will help as well

Get your sports fans something that they'll wear all year

No, you're not imagining things. This MLB offseason has been very slow compared to the last...