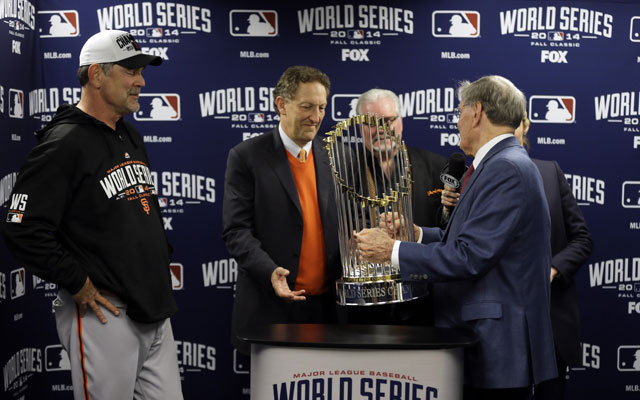 KANSAS CITY, Mo. -- DYNASTY, n.
1. a sequence of rulers from the same family, stock, or group:

2. the rule of such a sequence.

3. a series of members of a family who are distinguished for their success, wealth, etc.
In sports, though, dynasty is a label thrown on teams with extraordinary success in a period of time. It's a subjective term with no rules, so there's bound to be argument about it.
With the San Francisco Giants winning the 2014 World Series, they've now won three of the last five World Series.
"I'm numb, really, through all of this," manager Bruce Bochy said after the game. "You're so blessed or fortunate to get to the World Series and to get one, it just doesn't happen that often. To look at this and see that we won three times, I mean, I'm amazed with what these guys did and the fact that we have won three times in five years."
The word dynasty has been bandied about throughout the series, and now that they've won it, let's run down both sides.
The case for calling the Giants a dynasty
They've won 60 percent of the championships in the past five seasons. Generally speaking, that feels worthy of being called a dynasty.
What other elements might one look for? A dominant pitcher? Madison Bumgarner's been a key contributor on all three teams and the earlier series also had different variations of dominance from Tim Lincecum and Matt Cain.
A superstar? Buster Posey fits the bill, as he was Rookie of the Year for the first title, MVP for the second and will be a top-five finisher for MVP this year.
How about the leadership? This is general manager Brian Sabean's ship and manager Bruce Bochy steers with it outstanding precision.
Transcendence is key, too. Some may disagree -- like I said, this is subjective -- but I think 20 years from now if you mention "the Giants dynasty" to a hardcore baseball fan, they'll immediately think of Posey, Bumgarner, Lincecum, Cain and Bochy. That stands even if this group never even sniffs the postseason again (which is a longshot).
We could also blame 2011 on Buster Posey's broken leg. They were 86-76 with him gone for most of the season and that injury changed everything.
In all, there's little arguing this assertion from Royals manager Ned Yost:
"That's a special group of guys over there."
Indeed.
The case against calling the Giants a dynasty
They haven't gone back-to-back at all and even missed the playoffs two of the five years. They were under .500 in one of those seasons. Many would argue that a true dynasty involves a sequence of dominance and with these Giants, the sequence was broken each time.
There's also the second wild card thing that irks some people. The Giants failed to win 90 games this season and were the second wild card. They were tied with Pittsburgh for the fourth-best record in the NL. Four AL teams also had better records.
So is that really dominant?
Those against dynasty talk would probably say no, it's not.
There's also the sentiment that three of five just isn't enough. I don't buy it, but I'm sure some would peddle it. Maybe three straight or four of five would be good enough. Maybe if they win one next year, four of six with two straight would be good enough. It's all in the eye on the beholder.
---
So what is it? Are the Giants a dynasty right now, or do they need to do more? Discuss with impunity. My vote is yes, but, again, it's all subjective.
While you're at it, consider the measured words of first baseman Brandon Belt.
"You can all us whatever you want to," he said when I asked him if they were a dynasty. "We're a great team, I know that."
I don't think there's a way to argue.