Chris Bosh continues to be the Heat's most important player
Miami Heat big man Chris Bosh continues to get praise heaped upon him even if the outside world is slow to recognize his importance.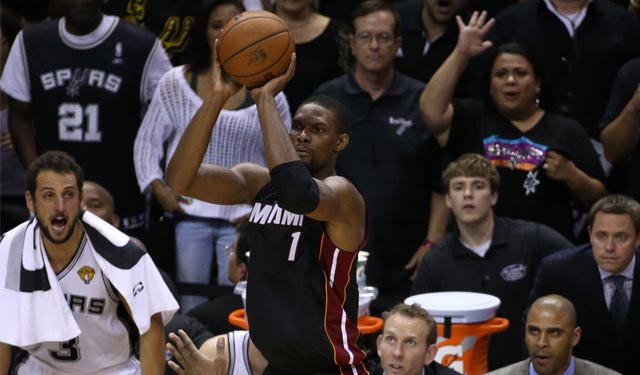 More postseason coverage: Playoff schedule, results | Latest news, notes
MIAMI -- By now, it's well documented just how important the Miami Heat feel Chris Bosh is to their success. Mention his name to any teammate or member in the organization and they seem to perk up about his play. They understand the sacrifices he's made for this team, going from a 20-and-10 guy in Toronto to a tertiary threat on the Heat in the offensive scheme of things. There are times in which he's asked to step up and there are times in which he's asked to do a lot of the dirty work that won't show up on the stats pages we use to judge a player's worth.
Bosh's worth can't be measured all that easily, and it's part of the reason people still have a hard time figuring out just how good he is. While pundits and fans may have a hard time judging Bosh's rank amongst players in the NBA and at his ever-evolving position, it's ignorant to deny just how essential he is to this team's success and their chances at completing a three-peat.
"We've said that since Year 1 because of his versatility on both ends of the court," Heat coach Erik Spoelstra said at shootaround on Tuesday. "With what we do defensively, there's very few bigs that can do that in this league -- defend the pick-and-rolls out to 30 feet, defend the post, help with your defense with great intelligence. And then offensively, we've had to tap into his versatility a little bit more to help us, to help our game, and to make it work. But knowing that he'd be probably criticized for some of the sacrifices he's had to make for our offense."
In taking Bosh away from being a more traditional big man while trying to turn him into a more evolved big man in the current NBA, the Heat have asked a lot out of him. His responsibilities seem unreasonable and his sacrifices are purely superficial. His numbers will rarely impress, but you walk away knowing he's greatly impacted the victories on most nights. It's these demands of Bosh that have led to the Heat organization heaping praise onto him. 
"We wouldn't have put these responsibilities on him if he wasn't mentally stable," Spoelstra said, "because he has to take how our game is where sometimes he's involved, sometimes he has to facilitate, and sometimes he has to space. But he also has to stay aggressive and be who he was for so many years and then deal with all of the outside noise because of those adjustments. He's great with his stability."
The outside noise is something he's had to figure out how to deal with on a nightly basis. His manhood was constantly diminished. His contributions were dismissed. He wasn't a star in this league anymore, not by choice but he was retroactively removed from the conversation. It was as if he never existed in that realm of basketball discussion, despite being highly coveted as a free agent in 2010. That was something that he didn't know how to deal with immediately.
"When we first got here, I didn't understand everything that was going on," Bosh admitted. "I wanted people to like me, and it seemed that they didn't. After a while, you just see it's not going anywhere and you see that the game is still there and the game is what matters. Winning is what matters. I put all of my heart and soul into that. It allowed me to just let go of everything. I was able to be myself. If you said I took too many jumpers, I'm going to take more. It's just something that's helped me in releasing everything I needed to release and not caring about it. The only thing I care about is being happy and playing basketball.
Ignorance is bliss. There were a lot of shows I stopped watching certain times of the year. Only if I do good, if I do good then I watch it. You just have to leave it where it is. It's just a part of the game. You just take it and move on. People are always going to be criticized."
His offensive responsibilities will fluctuate on a weekly, nightly, and even quarterly basis. You never know if he's going to take 18 shots in a game or eight shots, but you know his responsibility on defense will remain high. He bangs with bigger players and he covers quicker guards. He is the resistance on pick-and-roll plays, only to be asked to quickly retreat to being a bigger, stronger player than he actually is in the same position. It's a versatility they've asked of him, cultivated, and benefitted from.
"I think it starts on the defensive end," Bosh explained. "They ask me to do a lot of things sometimes like switching on point guards. We have that luxury knowing I have to keep the guy in front of me. Rebounding opportunities, of course. And really just guarding the screen-and-roll because that's such a huge play in really in the Finals for sure but in the league. Tonight we're going to face 60 screen-and-rolls. You have to be able to defend."
His teammates join in with Spoelstra in praising Bosh because they recognize the things he's willing to do to make their jobs easier. They know that just because he doesn't strut around with his chest puffed out it doesn't mean he's not as hungry to win as anybody he's matched up against on any given night.
"CB is a great teammate, first of all," Shane Battier said. "He's a unique teammate. He's the most introspective teammate I've had in my career and that can be misconstrued in the public eye. This is a guy who is fiercely competitive and cares about winning. That's all that matters."
They know the sacrifices to his scoring and overall numbers are going to make him less important on the surface, but knowing he's capable of stepping up and knocking down big shots like he did from the right corner at the end of Game 2 gives them confidence. He doesn't know when his number is going to be called like when he was in Toronto, but he knows staying ready to seize the opportunity is the type of focus necessary to winning championships.
"On offense, just being able to function without play calls," Bosh admitted. "That's the most difficult thing I've had to do in my career but you get a feel for it. I'm just continuing to try and get better at it."
What might be another reason Spoelstra is so quick to call Bosh the most important player on the Heat?
"I think the other thing is he just tries to make me feel special," Bosh joked. "It's nice though."
The Pacers believe the Lakers tampered with Paul George before they traded him

Among the questionable decisions by Jackson was signing Noah to a long-term, lucrative dea...

This Akron store doesn't want their hometown hero to leave again
Milwaukee's star did not get cleared to play for his national team due to a painful knee i...

Ball, the second overall pick in the NBA Draft, is receiving even more hype

Rap mogul supports the vision the outspoken father has for his brand and sons