Draft Options: What can the Celtics do with the sixth pick?
The Celtics want a star but don't think there are any in this draft. So who do they take and what happens to Rondo?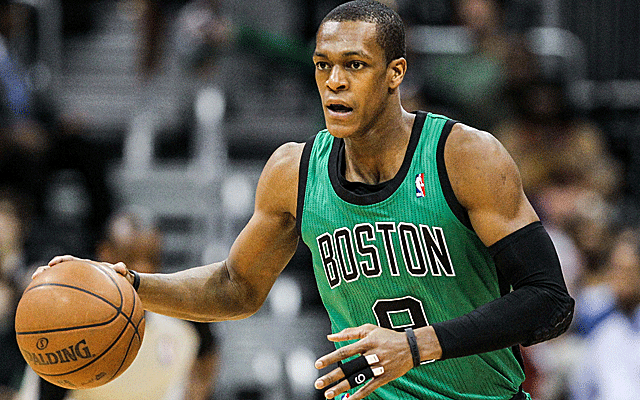 More Draft: Mock drafts | Draft news
From now until the NBA Draft on June 26, we'll be looking at the options of the teams picking based on their likely menu of choices, draft or trade. We continue today with the Boston Celtics and the sixth pick in the draft. The Celtics want to rebuild their empire through trade, and Danny Ainge has lambasted this trade for months, be it smokescreen or not. So what do they do?
Previous Draft Options: Cavaliers | Bucks | 76ers | Magic | Jazz
DRAFT OPTIONS
Let's assume Joel Embiid, Andrew Wiggins, and Jabari Parker are off the board at this point. If any one of them falls, it would be a pretty good idea to grab them, but then, Danny Ainge doesn't like this draft so maybe he would just "meh" one of the top three guys anyway. We'll keep Australian prospect Dante Exum on the board and start there, but just know that's very unlikely. If Exum falls here, you almost have to take him just from a best player available standpoint.
Draft Dante Exum: OK, this makes things really interesting in a hurry. You can draft Exum and play he and Rondo together. It's not a perfect fit, but they both have so much skill, talent, and size, you can make it work, short-term or long-term. Exum at shooting guard isn't a tremendous fit and it means you need a lights out shooter at the three in order to keep the offense where it needs to go.
Let's be clear, Exum can develop into a shooting guard, but doesn't have the perimeter range right now. That's huge. Athletic guards who can't shoot from the perimeter are basically DeMar DeRozan two years ago.
Of course, drafting Exum also gives you your point guard of the future after you finish your rebuild, which means you can let go of Rondo more easily. There are several teams with top-15 picks and assets that would likely be interested in Rondo as a target. The Celtics could conceivably draft Exum and then pair him with a frontcourt player in that kind of scenario, ironically similar to what the Sonics did with Ray Allen when they traded him to Boston.
Either way, Exum being available makes things very interesting.
Draft Noah Vonleh: This wouldn't fit much of the Ainge plan. Vonleh's raw, and the Celtics seem to like Jared Sulinger at the power forward spot, and drafted Kelly Olynyk last year and keep hope for him to develop. But Vonleh might have the most value as a trade chip log-term, much the way Derrick Favors held value for the Nets in the Deron Williams deal. Vonleh off the bench could be interesting, but the best combination might be at smallball center lineups with Brandon Bass or Sullinger.
Draft Marcus Smart: This one has had wheels for a few months now. Smart fills an immediate need at shooting guard. He's big, strong, skilled, and can handle the ball. Rondo is ball-dominant, but also knows how to give he ball to a primary scorer (Paul Pierce) and get out of the way. Smart's tough and aggressive, two things Danny Ainge is big on, and is more established than a lot of the prospects on the board. You've got he same possibility as Exum here, in that you can move Rondo subsequently and play Smart at point, only he also allows you to play alongside Rondo a bit more seamlessly. Smart's weaknesses in terms of shot selection and patience are virtues in Boston, and while I'm not as big a Smart fan as many are, he does make for terrifying defender on the wing next to Rondo. If any team should pull the trigger on Smart in the top seven, it's Boston.
Draft Aaron Gordon: Power program, athletic, defensive upside. Gordon fits the Celtics bill and makes sense for their roster, too. Jeff Green is trade bait and Gordon in pick and roll with Rondo is a tantalizing prospect. You can play him at smallball four with Jared Sullinger or go big with him at the three. His height and wingspan are serious drawbacks, but if you feel that Brad Stevens can capitalize on his talents, you've got something special here.
Gordon can stuff stats on a team that doesn't produce a lot of them.
Draft Julius Randle: Randle's killer attitude is the big draw here, as well as his post scoring. He'd be an upgrade on Sullinger, who then becomes movable much the same way Al Jefferson was..The drawback is whether you think you can legitimately count on Randle being better than Sullinger, and pass on options at other positions of need. Randle, like Gordon, doesn't have great size, but is a bully down low and can work through double-teams, a rare gift. He would give Brad Stevens a scorer to build the team around, and Randle's transition work is really underrated.
Draft Dario Saric: 6-10 with ball-handling skills may be too much for Ainge to pass up. If he's not big on this draft class, why not go with someone from outside the US? Saric has refined skills at 20 years old, can score, pass, and rebound. He's aggressive, athletic and long. Stevens can play him at the three or four and he's good enough to try and build around. And if he's a Euro bust because his game didn't translate, oh well, Ainge didn't like this draft anyway.
Draft Doug McDermott: Because the crushing weight of Larry Bird comparisons never hurt anyone.
TRADE OPTIONS
Trade up: Ainge is not a fan of the draft, they want to acquire a veteran star, and they have no one who excites the teams above them anyway, outside of Rondo, and even then, there's not much chance a top-five pick is moved for Rondo in this draft. This seems highly unlikely, but if you want to go all-in on a young core, this is the chance.
Trade down: This seems much more likely. Ainge is soft on the draft, there are teams with veteran talent that want to move up, and Ainge is always looking for starpower. A less sexy trade than normal would be something like, and this is just speculation, Arron Afflalo and the No. 12 for the No. 6. Gives the Magic two top six picks and gives the Celtics a top flight shooting guard and keeps them in the top 15. Even if they just move back to the teens to pick up future assets, it's not a bad move. There's not a guy here that's going to change their fortunes dramatically, most likely. (Though there are some candidates.)
Trade for a vet: The preferred approach. Since the Big 3 broke up, Ainge has been orchestrating to make a move similar to those he made in 2007. He wants to pull off another big trade for stars. The Celtics believe they can get love. Is Jared Sullinger, the No. 6, and multiple first-rounders from themselves and the Nets really all it takes? There are other options but not great ones. Ainge could be aggressive here but may have to take the talent (Vonleh) and then try to swap him later.
CBS Sports HQ Daily Newsletter
Get the best highlights and stories - yeah, just the good stuff handpicked by our team to start your day.
Please check the opt-in box to acknowledge that you would like to subscribe.
Thanks for signing up!
Keep an eye on your inbox for the latest sports news.
Sorry!
There was an error processing your subscription.
Dealing with pressure and expectations instead of doubt, the Pacers are trying to block out...

Ingram was suspended four games for his role in Saturday night's brawl, while Rondo got three...

The Bucks opened up their new arena, Fiserv Forum, this season
The outspoken 76ers star grew up dreaming of being an astronaut

The Red Hot Chili Peppers' frontman was seen yelling and flipping the bird on the floor after...

Carmelo Anthony was seen suspensions for fighting be a lot longer than two games