Knicks' J.R. Smith: 'No more bench for me'
New York guard J.R. Smith tweeted early Tuesday morning that he was done with coming off the bench.
• 1 min read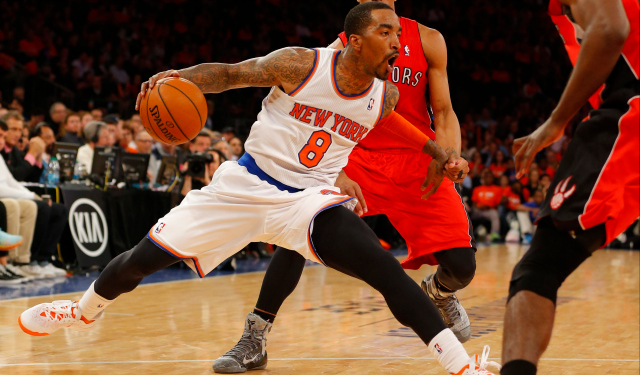 More Offseason Analysis: Coaching changes, news | Free Agency | Draft
New York Knicks guard J.R. Smith, who won the Sixth Man of the Year award in 2013, apparently wants a new role next season:
Nope no more bench for me!! RT @Stangg_ @TheRealJRSmith getting 6th man this coming season, mark my words

— JR Smith (@TheRealJRSmith) June 10, 2014
Smith had a wildly up-and-down year in 2013-2014, and the Knicks unsuccessfully tried to trade him. He averaged 14.5 points, four rebounds and three assists per game, shooting 41.5 percent from the field and a puzzling, career-low 65.2 percent from the free throw line. He found himself in then-head coach Mike Woodson's doghouse, and took quite the public-relations hit. He remains one of the Knicks' most talented players and is under contract for another two seasons, but it's unclear how the gunner will fit into new head coach Derek Fisher's system. If the triangle offense is installed as expected, there's no word on whether or not Smith would buy in.
His ability to score in bunches means he's suited for his role as a bench sparkplug, but it appears that is not what he wants to do anymore. It's not the wisest thing to say publicly, but Fisher and New York president Phil Jackson will have to deal with it. There is never a shortage of storylines with these Knicks.
The Pacers believe the Lakers tampered with Paul George before they traded him

Among the questionable decisions by Jackson was signing Noah to a long-term, lucrative dea...

This Akron store doesn't want their hometown hero to leave again
Milwaukee's star did not get cleared to play for his national team due to a painful knee i...

Ball, the second overall pick in the NBA Draft, is receiving even more hype

Rap mogul supports the vision the outspoken father has for his brand and sons