Report: LeBron James 'interested' in playing with Carmelo Anthony
Heat star intrigued by possibly playing with former 2003 draft classmate, but where?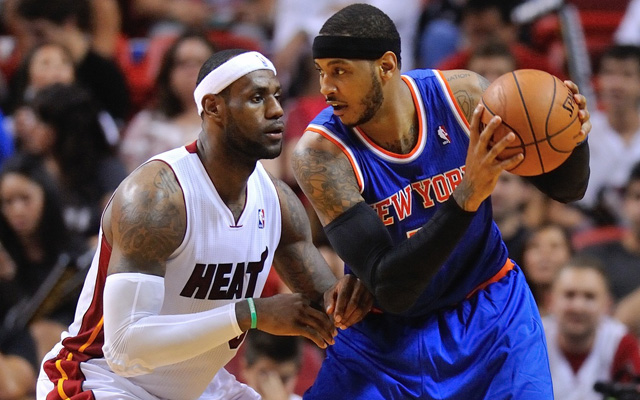 More Offseason Analysis: Coaching changes, news | Free Agency | Draft
USA Today, in the same report that indicates the Lakers are going slow with their coaching search to help sign LeBron James, Carmelo Anthony, or both, reports James is keenly interested in playing with his longtime friend and 2003 draft classmate, Melo: 
Yet according to two people with knowledge of the situation, Anthony's part in this fluid free agency situation is worth monitoring as James is known to be interested in eventually playing with his close friend. Anthony also has a player option on his deal for next season (worth $23.5 million), and his connection to James has teams like the Lakers, Knicks and even the Heat wondering whether he may be able to join the four-time NBA MVP. The people requested anonymity because of sensitive nature of free agency talk.
via Lakers delay coaching hire with LeBron James in mind.
This has been rumored for a long time, years, really, given Anthony and James' closeness, but this is the first report in a significant amount of time and in advance of free agency later this month. In ths scenario, James has already helped his friend Dwyane Wade (and Chris Bosh) win titles. Now he could spread that love to Anthony, since Anthony is apparently, um, ill-equipped to get it done as the best player on the team. Whether Anthony wants James' charity or not remains to be seen.
But where? The Lakers are an option, if both wanted to take significant, major paycuts seperately in 2014 and 2015 respectively, and make less than Kobe Bryant, and have to defer to Bryant as the face of the franchise. That certainly sounds appealing, I'm sure.
Then there's New York, should James opt in for 2014 and choose to join the Knicks in 2015 when the Knicks have cap space after Amar'e Stoudemire and Andrea Bargnani's deals come off the books. James could join Melo in New York much the same way he joined Wade, and play under Phil Jackson (and Derek Fisher, I guess, if you're into that sort of thing).
I guess theoretically James could return home to Cleveland and Anthony could join ... bwahahaha, sorry, couldn't finish that one. Ask yourself what the face of LaLa Anthony, Melo's wife, would like if he told her they were moving to Cleveland. Good luck with that. Dallas will have cap space, a great coach, an engaged owner, and there's no state income tax in Texas. But there has been no indication of interest there.
It remains interesting that there's this talk of James' interest in teaming up with friends, but that the Clippers don't show up on the list more. They can't sign James outright, but a sign-and-trade would net the Heat the best assets of any deal and keep them in contention even after Wade re-signs for his last big-money deal. James is reportedly closer with Chris Paul than Anthony, but perhaps some square pegs just can't be jammed into round holes.
We're 20 days from July 1 and the 2014 free agency summer and already, the rumors are growing in anticipation of a similar team-up as in 2010 down in "South Beach."
Wade, recently bought out by the Bulls, could finalize decision as early as Wednesday

James said nothing has changed from 2014 when he said he'd retire a Cav

The Warriors are in control, but every team has reason for optimism as the preseason begins...
The Celtics point guard wanted to clarify his stance on whether the Earth is flat

Magic vows not to step in unless the rookie's off-court antics affect his on-court perform...

Russell was awarded the Presidential Medal of Freedom in 2011 by Barack Obama