RIP Pelicans: Monsters, Anthony Davis, and you
Looking back at the Pelicans' star-cross'd season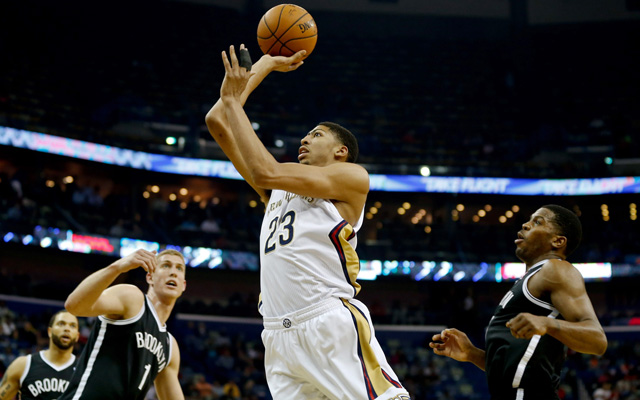 More NBA: Power Rankings | Expert Picks | Latest news, notes
With the New Orleans Pelicans eliminated from playoff contention, it's time to look back on their lost season and the injury-marred 2013-2014 campaign. It's also time to look forward and ask whether this team needs a new roster, a new coach, or just some time healthy together.
What went right: Since Chris Paul left just three years ago, the Pelicans have looked for a franchise player, someone to build around. They structured their rebuild to acquire that player and in 2012, landed the top pick in Anthony Davis. Davis showed flashes his rookie season but there were injury concerns and you still didn't know if he would be "the guy." Damian Lillard won Rookie of the Year, after all.
Nope, no more concerns here. Davis erupted into not only the Pelcians best player, but a legitimate top-15-to-top-10 player in the entire NBA. He is a force of nature. He is a mechanized dinosaur that shoots lasers from his eyes. He is a tree person that swats shots into neighboring kingdoms. He is the thing under the bed that the things under the bed are afraid of.
After that, there were some signs that this team, when healthy, could compete. Ryan Anderson drastically changed their offense and provided spacing, which helped them get back to set their defense. The book on Tyreke Evans was that he was bad this year, but that was only if you focused on his shooting percentage. Once he found his groove (which may be attached to him starting), he really showed out, and his overall contributions in both rebounds and assists should matter more, too.
Austin Rivers looked like an actual NBA player this year. No kidding.
What Went Wrong: There are a lot of teams in the league that can talk about their injury woes. The Lakers, the Nuggets, the Bulls, it's been a bad year for them. But the Pelicans may be able to trump them all.
Let's start here.
Their preferred lineup of Jrue Holiday - Eric Gordon - Al-Farouq Aminu, Ryan Anderson, and Anthony Davis? It played eight games together. Eight.
Jrue Holiday missed 36 games, out for the year with a stress fracture.
Eric Gordon missed six games with his usual knee and hip ailments.
Ryan Anderson missed 48 games; broke his toe, and then suffered a herniated disc in his neck in a terrifying collision and was lost for the year. Seriously, the universe needs to get off Ryan Anderson's back.
Anthony Davis missed nine games for various injuries.
Jason Smith missed 39 games, gone for the year.
Tyreke Evans missed time for ankle and shoulder issues.
I'm not kidding, this team was a M*A*S*H* unit by season's end. They had to have run out of tape at some point. And all this for a team that was integrating new pieces and dealing with young players coming together. You need time and repetition to get good under such circumstances. The Pelicans had the luxury of neither.
Still, there are legitimate concerns. Monty Williams' credentials were that he would be a tough defensive coach who could bring young players and some veterans and make them into a tough unit with the athleticism at his disposal. Instead the Pelicans are a forest fire on defense, raging out of control no matter how much water you dump on it. They are inconsistent, undisciplined, and struggle with essential assignments. Last year was one thing, given the lack of perimeter speed. Maybe having Holiday for a full season along wih Evans would have helped. But the results are still poor.
In related news, there's still not a clear sign of how to use Anthony Davis. The Pelicans reportedly wanted to move Eric Gordon over the summer, couldn't do it, and wound up moving Robin Lopez. The result was Anthony Davis playing at the five a lot, which is... weird. It works because Davis is insane, but it's still not ideal. Jason Smith was injured, and struggled prior to the injury. Greg Stiemsma... no. Just no.
Can Jrue Holiday-Eric Gordon- Tyreke Evans work as a three-headed monster in the backcourt? Don't know, too many injuries. Is Al Farouq-Aminu good enough to start for a playoff team with his hustle and defense, despite his inconsistency and offensive struggles? Don't know, too many injuries. Do the Pelicans need a real five next to Davis? Don't know, too many injuries. That's the worst part of this season for New Orleans. Not only was it a monster disappointment in terms of wins, but you don't know whether they're inherently flawed or not.
Too many injuries.
Oh, and they made this thing. 
MVP: Anthony Davis.
When I was a kid I used to draw monsters in class. And I'd always make them unnecessarily complicated and over-powered, a product of watching too many Godzilla movies. "Oh, let's give him wings. And laser eyes. And missile launchers on his arms! And a tail with an axe on it!"
Anthony Davis is like if you took one of those drawings and made him into an NBA player.
He had the wingspan coming in. We knew he'd be a god pick and roll player, throwing down lobs, blocking shots. But in just his second season, Davis has added the face-up mid-range jumpshot, the turnaround fadeaway out of the post, the pump-fake up-and-under, the weakside rotation, return-to-your-man block, the chasedown, the pick-and-pop, nearly everything. If he's hitting that jumper, there's nothing you can do. Nothing.
Anthony Davis averaged 21.8 points, 10.5 rebounds, 1.5 assists, 1.4 steals, and 2.9 blocks (!) per game. He shot 53 percent from the field and 79 percent from the line with a 27.2 PER. The Pelicans scored 120 points per 100 posessions with him on the floor, surrendering just 104, for a net rating of plus-16.
He turned 21 this month.
LVP: I don't honestly have enough of a sample to pick from. Eric Gordon shot just 44 percent from the field, but 39 percent from three. Brian Roberts is a defensive nightmare, but he's a backup point gaurd forced to start half the time and working with the leftovers of an operating room. Austin Rivers? Rivers improved and even though he still can't shoot, showed good signs.
How about this, I'll go with Monty Williams. I like Monty Williams a lot. I think he's a good man and a good coach that works hard. He's also about as hard on his players as any coach I have ever seen covering this league. Every compliment laced with criticism, every encouragement sounds more like a beratement. I don't think he lost the locker room, the team hung together. But there's just no way their defense should be this bad given his reputation.
I don't think it's necessarily Williams' process, but instead just tweaks and his inflexibility. If he's retained this summer, a different approach is advisable going into next system, schematically or otherwise.
Gameplan headed into the offseason: Interesting test out of the box for new owner Tom Benson. Do you pull the usual new-NBA-owner, freak out over the disappointment, fire the front office and coach, demand a bunch of trades, and generally go overboard? Or do you look at the roster and say "sometimes, you just get hurt?" I say give it one more year. The Pelicans may have a lot of money tied up in an underperforming roster but they have the highest upside of any team in that situation and most importantly, they have players with trade value. They can make the moves they need to.
They won't have their pick, unless they win the lottery, which is a shame, but Jrue Holiday is still a damn fine player.
They need to get a five next to Davis. I won't abandon this concept. He'd be much better able to play the four and not have to bang down low with guys with more weight. Use him as an omega-four, able to do whatever's called upon for him, and if you need to go small, you have Ryan Andrson right there
It may not sit well with impatient Pelicans fans, but the best course of action is minor tweaks, improve the defense, figure out if Monty Williams isn't the right fit for this roster (George Karl is available, after all), and try and get everyone healthy next season.
Sometimes there are no easy answers. Most of the time, really.
Ridiculously premature prediction for 2015: Are we assuming they don't get plagued by a dark spell this time?
I still think this is a playoff roster. If an offer for Eric Gordon comes in, sure, move him. But you've got the pieces and Anthony Davis is only going to get better. Bear in mind the Pelicans are 1.5 games back of the playoffs in the Eastern Conference and had flashes where they were competitive.
I'll put them in for 44. Maybe I'm a sucker, but I'd rather take the good roster I know can do better than a different one I don't.
The Cavaliers are ready to reset everything if they have to. Their interest in Lou Williams...

It sounds like the Cavaliers are going to be active before the NBA trade deadline on Feb....

We've got all the scores, highlights and news for Friday night
George Hill, who is unhappy in Sacramento, could be a solution to Cleveland's backcourt si...

Shaquille O'Neal and Sir Charles cruise to an easy victory over some hot peppers

If Charlotte indeed moves its star guard, there's going to be more people impacted than just...