Russell Westbrook doesn't need to change, just needs to be better
The Oklahoma City Thunder are down 0-2 in the Western Conference Finals and they need Russell Westbrook to be the star he is.
More postseason coverage: Playoff schedule, results | Latest news, notes
A lot of people want to change Russell Westbrook. They want him to be less of a chucker and more of a fluid player. They want him to defer to Kevin Durant while still taking over games when it's working. They want him to be a passing point guard. When it comes down to it, the Oklahoma City Thunder don't want Westbrook to change his game and they don't really need him to change his game. His game is a perfect amalgamation of fury and athleticism.
You don't really want to change it because the polarizing fashion in which he plays brings us everything we love about the spectacle of sports. He can wow us and frustrate us on the same play in spectacular fashion. He can wow and frustrate us with his "spectacular fashion" as well. But his game is explosive because he is a flying powder keg on the court, which is part of what gives him such a huge impact in these games.
The problem with the Western Conference Finals so far is that he hasn't had much of an impact. His 25-point effort in Game 1 was good, but it came on 21 shots and it needed to be more. In Game 2, he was so much worse. He had just 15 points on 7-of-24 shooting. He didn't attempt a single free throw and the team only attempted 10. Including the playoffs, Westbrook has had at least 10 free throw attempts in a game 13 times and the Thunder have won nine of those games.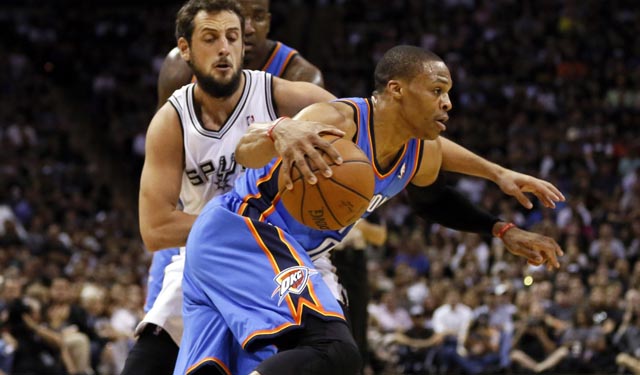 I don't want Westbrook to change his game, just like Tom Ziller doesn't want Westbrook to change his game. I'm on board with "Let Westbrook be Westbrook" and celebrating his style of play as something good for the league and good for his team. I don't want Westbrook to be somebody else; he just has to be better than what he's been. Without Serge Ibaka helping spread the floor, attack the glass, and turn away shots at the other end, the Thunder are being forced to figure out another identity on the fly without a safety net because the Spurs keep burning it up.
His shots weren't terrible, but they weren't great either. He did manage to get 10 attempts in the restricted area, making just four of them. He's getting to the basket a fair amount of times, but he's not finishing. When he finishes at the rim, the defense gets worried about him dominating the paint on his drives. When that happens, it gives him space for the jumper. When he has space for the jumper, it makes the defense uneasy and they start cheating up on the jumper. Then he drives past them and starts dominating the paint.
This is the vicious cycle of Westbrook attacking and being effective, and defenses rarely can handle it. But the Spurs are handling it right now and they're forcing him to be ordinary on the court. That's not how we know him, good or bad. We know him as the lightning rod of the Thunder. 
If he can't be better, then it's unlikely his teammates can be better. And they'll be wishing the Spurs good luck on their return to the Finals, something the Oklahoma City Thunder are struggling to reach.
The Warriors new Nike classic uniforms will be revealed Thursday

Joel Embiid doesn't want to call what the 76ers are doing a minutes restriction

The Mavs played a tribute video to the American flag prior to their opening game on Wednes...
The Suns stink, but this was cool!

Melo makes it clear on Twitter that playing his ex-team is much more than just a regular game...

Warriors fans can breathe a sigh of relief, although Green isn't ready to return to action...