The Phoenix Suns' offense: Then and now
The Suns were a good shooting team last year, but it turns out their offensive performance was more complicated than we thought.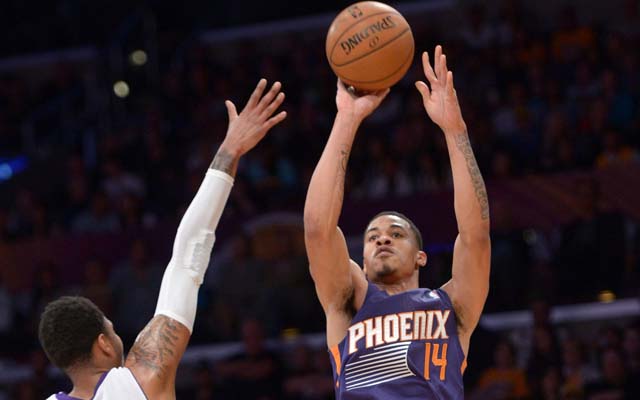 Offseason: Free Agency | Latest from Ken Berger | Rumors
The Suns were a revelation last season. As we covered in the offseason report, they were supposed to tank out the year. They were supposed to be terrible, and not in a Cavaliers-Pistons-Knicks kind of way. Terrible in a Philadelphia-Orlando-Utah kind of way.
So what happened?
If we take a broad, anecdotal, eye-test approach, it's hard to avoid boiling it down to two things. One, Jeff Hornacek's system changed everything. Not only did the players move the ball in smarter and better ways, but he gave them the confidence to shoot and transformed players like Gerald Green and Marcus Morris into crack scorers. Two, Goran Dragic and Eric Bledsoe, unleashed under Hornacek's system, transforming the Suns into a dynamic, attacking, efficient offense.
Phoenix ranked eighth in offensive efficiency (points per possession) last season according to Basketball Reference. That's pretty good, especially for a team that didn't feature an elite star (coming into the season at least; you could argue Goran Dragic got there). Based off the eye test you'd think that the Suns' success was a Spurs-ian marvel of ball movement, a dizzying array of sharing.
And that's kind of the case, but not really. Let's start off with where the Suns ranked in some key offensive areas, courtesy of Synergy Sports and the NBA.com SportVU database.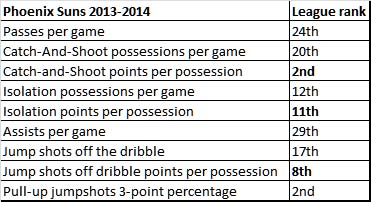 Some key takeaways from those numbers:
The Suns being 24th in passes per game, when they were a pretty fast-paced offense, is kind of shocking. That's just not what you expect from a team that seemed to define itself by its selfless nature and ability to share the ball.
The isolation possession number isn't necessarily shocking when you look at their offense. The Suns ran the pick and roll far more often than they executed in isolation, but with their constant running of two-guard sets, and with the kind of explosive, rangy guards that they have, you're just going to have some situations where they're able to create one-on-one, especially in mismatches off the switch when they reset. That they were so efficient at it (11th) is a testament to not only their talent, but the spacing that kept help defenders from attacking from multiple angles.
And yet, there the Suns are, 29th in assists per game.
So how does this correlate, beyond their transition game? Well, the easy answer is that they just shot really well. The Suns were 8th in field goal percentage. Making a lot of their shots is going to help with the whole "scoring" thing, you would think. But when you take a deeper look at the numbers above and some further analysis, you reach the conclusion that it's not just a matter of how many shots the Suns made, but that they made the ones they needed to make, from the right spots.
For all the backlash against the idea that mid-range jump shots should, in general, be converted into three-point shots, the Suns are a pretty good indication that a good offense still features a healthy dose of three-point shots and fewer mid-range jumpers. (The exception to this is when you have an elite mid-range shooter, like Dirk Nowitzki, LaMarcus Aldridge, or Kevin Garnett circa 2010; basically, do what your personnel is good at, but if they're just as good or nearly as good at shooting 3's as they are at shooting mid-range jumpers, why not take the extra point?)
The following, via NBASavant, is a map of the Suns' jumpers last season. Hover over for GIFS and notes on where the different Suns shot well. 
So the Suns spaced the floor, but mostly they used pick and roll to create their shots. The interesting part of this is that it wasn't that the Suns were elite shooters overall or that they created a huge amount, comparatively, of spot-up shots. Again, they were 20th in catch-and-shoot possessions. And while they were 12th in the league in field goal percentage on those catch-and-shoot looks, it wasn't some crazy percentage. 
But, they took mostly threes on spot-up shots and on their pull-up jumpers. It wasn't that the Suns created a super-high volume of threes or that they shot the lights out. It's that they hit the shots that were crucial for them to make. 
The biggest weapons for the Suns in terms of off-ball creators were P.J. Tucker, Gerald Green, and Channing Frye. 
Green was a surprise last season, finally putting his considerable athleticism to good use as he became a 3-and-D guy, as in, 3-pointers and dunks. Of course, Green also was part of that trend of how many pull-up jumpers the Suns took last year. One Suns blog broke down his heat checks and came to this conclusion: 
Looking specifically at that last sentence, how much do Green's heat checks matter? As long as they keep going in, how much do we really care about how bad these shots are? Well, as you can tell by my tone in certain screenshots, I do. I'm not a fan of the bad shots Green takes even if they go in. I think that he can be a much more selective and effective offensive player next year. Even if Green takes these sorts of shots, as long as he adds a little bit more playmaking to his game then that makes him a better player as well.

With Isaiah Thomas and rookie T.J. Warren now in the Suns second unit, Green won't need to command the second unit scoring like Example 4 under Attacking/Playmaking when Ish Smith and Shavlik Randolph were on the floor with him. Even more so, these bad shots are going to be much worse now that he is surrounded by multiple offensive weapons on the bench. I'm not really looking for a delicate balance here because that's clearly not Green's game. I would just like to see a little less of the bad shots and a little more of the better ones with some assists. Something of that sort would dramatically change Gerald Green's game and turn him into a much better player. This is something one might want to consider in a contract year. Taking all of this aside, the Suns still had a very good bench weapon last year and there's no reason to think that would change for next season.
via Film Study: Gerald Green's Heat Checks - Bright Side Of The Sun.
The question that's somehow bigger than Green is P.J. Tucker. The Suns re-signed Tucker, but there is some question of whether a third-year 29-year-old veteran who jumped seven percentage points on 3-pointers can replicate his perimeter performance. 
The Suns let Frye go in free agency when the Magic put together a considerable offer of $8 million per year for him. They added Anthony Tolliver, who isn't the shooter that Frye is, but is still a great perimeter weapon. Maybe most interesting, Tolliver's outside shooting last season was focused on the corner, but he did cover some of the ground that the Suns will be missing in terms of a pick-and-pop option. 
A crucial element to keep in mind in all of this is how much the Suns use the pick and roll to force the defense to pick their poison, and when they are forced to stop Dragic or Bledsoe attacking the rim, we return to what we talked about earlier. Those are the shots that they make you pay for. If you lose contain in your pick and roll coverage or sag down too much, the Suns obliterate you, as seen here: 
And because of the attention the guards draw, like on inbounds plays: 
And this is really the crux of what made the Suns good offensively in 2014. Yes, Dragic was supremely great and yes, Hornacek's staff gave the players confidence and awareness to play within themselves. But the Suns also showed an amazing confidence in hitting key shots. How they're able to replicate that, how Tolliver is able to fill in for Frye, how the Bledsoe situation resolves itself, all of these things will be key for Phoenix to get back to its 2014 level of success which almost resulted in a playoff berth -- let alone improve. 
If anything, the Suns are supporting evidence to the ideas the Spurs taught us last year. It's not about the style of play, it's about the execution thereof. 
Paul may be getting a late start in Houston, but he promises to unlock some key role playe...

Lonzo doesn't want to throw away money for a tech, which isn't a great look for the rookie

Davis left the Pelicans' game against the Nuggets in the third quarter
Popovich was upset about an out of bounds call

Wall went 3-for-12 from the field, and had just eight points in the Wizards' loss

Noah was reinstated from his 20-game suspension on Monday, but is yet to play for the Knic...