With latest Sterling threat, is this shell game finally revealed?
Adam Silver says the Donald Sterling saga is over, but Sterling vowed again on Monday to continue waging legal warfare against the NBA. What does it all mean? The shell game finally is clear.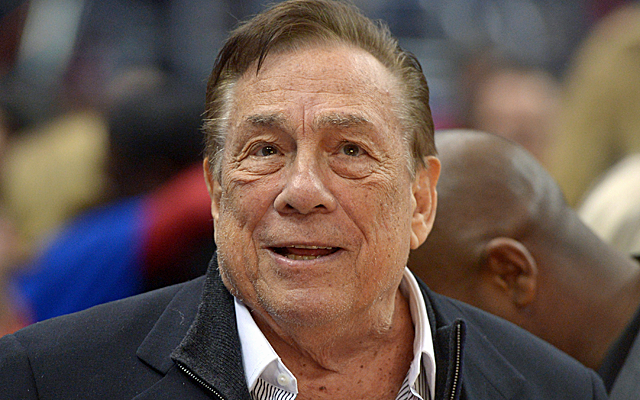 More: Sterling moves forward with suit | Sterling banned for life | Latest updates
In his NBA Finals media address, commissioner Adam Silver said the Donald Sterling saga is effectively "over" and vowed there is "absolutely no possibility" that the lifetime ban and $2.5 million fine levied against him would be rescinded or changed.
There was one inconvenient problem remaining: a $1 billion lawsuit by Sterling against the NBA and Silver. On Monday, barely 24 hours after Silver's comments, Sterling's lawyer said the lawsuit is back on.
"The deal is off," attorney Max Blecher told ESPN.com.
There are so many questions here it would take a cross examination to cover them all.
What deal? The deal struck by Sterling's wife, Shelly, to sell the team to Steve Ballmer for $2 billion? Surely, it's not that one, because that arrangement already is before the NBA's ownership committee in charge of such things and will go to a vote by the full Board of Governors in July, or perhaps earlier, Silver said Sunday.
Shelly Sterling had authority to sell the team once Donald Sterling -- by the guidelines governing the family trust -- was found incapacitated, according to a league executive familiar with the situation. Donald Sterling cannot call off a deal he has no authority to influence.
If Donald Sterling's lawyer was under the impression that his lifetime ban or $2.5 million fine were up for negotiation, that isn't right, either. Those were disciplinary actions taken by the commissioner, who under the NBA's Constitution and By-Laws was the only person with authority to take them. They are demonstrably separate from the actions by the league's Board of Governors to attempt to force the sale of the team.
"There was never a discussion involving the NBA in which we would modify Mr. Sterling's penalty in any way whatsoever," league spokesman Mike Bass said. "Any suggestion otherwise is complete fabrication."
Which brings us to the next point: The sale of the team, by virtue of Shelly Sterling's agreement with Ballmer, was not forced in a legal sense once the league agreed to suspend its forced-sale proceedings. It was a negotiated deal between Shelly Sterling and Ballmer.
If Donald Sterling's lawyer is referring to the deal to drop his lawsuit against the NBA and Silver, what does that even mean? Does he know whom he is suing? On Sunday, Silver was all too eager to offer his point of view on this matter, since Shelly Sterling -- as part of the deal to sell the team to Ballmer -- agreed to indemnify the league against a lawsuit by her husband.
"So in essence, Donald is suing himself and he knows that," Silver said. "While I understand he is frustrated, I think it's over. I think it's just a matter of time now."
So after these weeks of absurdity -- the most embarrassing episode for the NBA since the Tim Donaghy officiating scandal -- it has finally all come full circle. I can't believe it's taken me this long to figure this out; I have been too engrossed in hydration.
Let's go back to the implausibly above market-value price for the Clippers, nearly four times the going rate. Silver tried to downplay that in his remarks before Game 2 of the Finals on Sunday night, but I think I've figured out the shell game.
"The market is what it is, so I don't think it's overinflated in any way," Silver said. "And there were several other bidders, in addition to Steve Ballmer, as you know, for the Clippers. And many came fairly close to the price he ultimately paid. So I have confidence that's what the market is."
Yep, that's what the market is: $1 billion for the Clippers and $1 billion of insurance against a lawsuit from Donald Sterling.
Follow me: Donald Sterling is suing the NBA for $1 billion. Shelly Sterling is selling the Clippers to Ballmer for $2 billion. She has agreed, as part of the deal, to accept liability from any lawsuit filed by her husband. If Sterling were to win a lawsuit, say, for $1 billion, where would the money come from?
As noted litigator Vincent LaGuardia Gambini once said, don't be shy; just shout it out when you know the answer.
Correct: From Shelly Sterling, who has agreed to indemnify the NBA against the lawsuit.
So really, this deal that is off and lawsuit that is supposedly going forward against the NBA is a Ponzi scheme whose beneficiary and victim will, in the end, be one in the same.
Note that this is simply an opinion/epiphany on my part. But as the great legal scholar Mona Lisa Vito once said, I think it holds water.
If Donald Sterling does, in fact, agree to change his mind again and drop his lawsuit, would the negotiated price for the Clippers come down to a more reasonable facsimile of market price? If I'm right, one would assume that would be the case.
For now, this concludes our latest Donald Sterling legal update. Please enjoy our regularly scheduled programming.
The Pistons put out a long list of details regarding their new uniforms

The Pacers traded the forward to OKC for two former lottery picks who have yet to reach their...

Gilbert said what was expected, but didn't necessarily sound all that confident
Altman addressed the media about Irving during his introductory news conference

Toronto's center has an uncertain future; can we still talk about this 25-year-old's poten...

Oakley was vague with his response on when he'd attend another Knicks home game