Remember When: Van Brocklin's 554-yard day has lasted 6 decades
Quarterback Norm Van Brocklin threw for 554 yards against the New York Yanks in 1951. Nobody has topped that mark since.
• 4 min read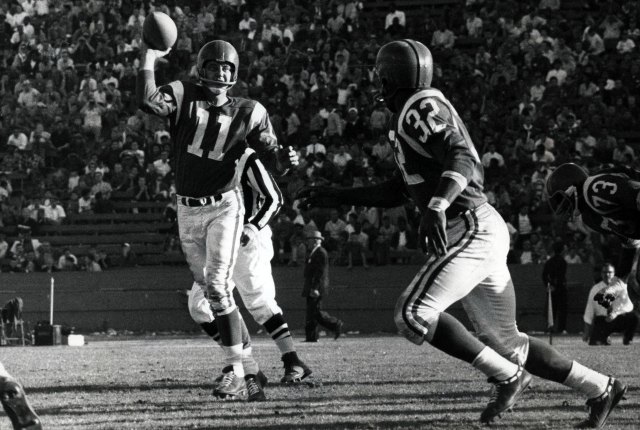 If I gave you five guesses to answer this basic question -- who holds the NFL record for the top single-game passing performance in league history? -- you'd probably go with someone like Tom Brady. Or Drew Brees. Or a Manning brother. Maybe even Joe Montana, Dan Marino or Brett Favre.
The answers would go no, nope, negative, not really, nosir, nein, no chance and not so much.
You probably wouldn't guess the quarterback who actually has the record, the same quarterback who ranks No. 73 on the all-time career passing list. That would be Norm Van Brocklin -- who put together a 554-yard passing performance on Sept. 28, 1951 when he and his Los Angeles Rams teammates faced the New York Yanks in Week 1 of the regular season.
You might know Van Brocklin was inducted into the Hall of Fame in 1971 and that he was a nine-time Pro Bowler, but if you didn't know about his epic performance, you'd be forgiven, because he never threw for more than 2,700 yards in a season. Of course, the league's season lasted only 12 games in those days (Van Brocklin played from 1949-1960 with the Rams and Eagles), but it was also a different game in which the quarterbacks were absolutely amazing if they completed 55 percent of their passes.
You also might be surprised to know that Van Brocklin's week 1 performance in the Rams 54-13 win against the Yanks constituted 32.1 percent of his throwing yards for that entire season.
So, what the heck happened? How did Van Brocklin threw for so many more yards in that one game than the quarterbacks who follow him in the record books, as you can see in the Pro Football Reference graphic below?
Well, Van Brocklin wasn't even necessarily supposed to start that day. He and Bob Waterfield, also a future Hall of Famer, were battling for the starting spot, but Waterfield had been injured, leaving Van Brocklin as the quarterback to take advantage.
On the day, Van Brocklin -- who would start only one more game the rest of the season after Waterfield returned to health -- completed 27 of 41 passes for five touchdowns, four of which went to future Hall of Famer Elroy "Crazy Legs" Hirsch. Another future Hall of Famer, Tom Fears, caught seven passes for 162 yards in that contest.
"We didn't rush him at all," George Taliaferro, a halfback, quarterback and defensive back for the Yanks, told the NY Times in 2011. "We didn't have that kind of a defense, so he could sit in the pocket and let it go. He didn't have to scramble. Once he got back in the pocket, they were talented enough to divert us around the pocket. He took the ball from center, put it up beside his right ear and when he saw that the receiver had the defender beaten, he could let it go. It wasn't that he threw a five-yard pass and then the runner ran 95 yards. He was throwing it 50 and 60 yards.
Here's how the AP saw it the next day: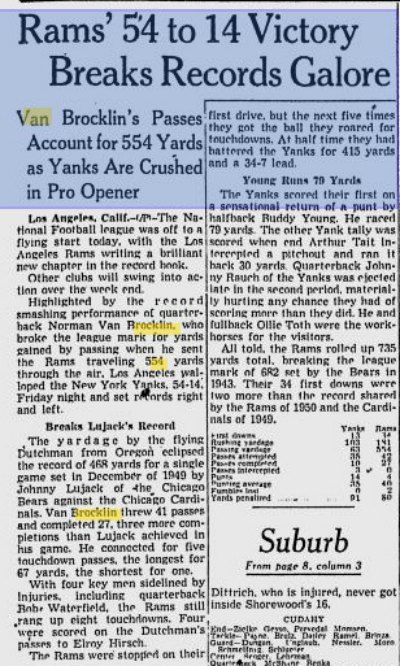 As an aside, Van Brocklin ended up becoming a head coach for the Vikings and Falcons, and he wasn't exactly friendly with the media. The fabulous Lewis Grizzard tells this story in his book If I Ever Get Back to Georgia, I'm Gonna Nail My Feet to the Ground.
One night as Van Brocklin ate dinner with a couple of Falcons beat writers, the feisty former quarterback who went 66-100-7 in his coaching career, said this to Frank Hyland, a writer for the Atlanta Journal Constitution: "Hyland, you're a whore writer."
The scribe responded by saying, "I may be a whore writer, but you're a loser." Van Brocklin colorfully disagreed, and Hyland said, "Oh yeah, check your record." Naturally, Van Brocklin tried to choke him before the fight was broken up by others.
After the Falcons fired him, Van Brocklin returned to his farm in a small Georgia town. After a reporter called to ask for an update, Van Brocklin's wife said, "Can my husband be happy on the farm? Let me put it this way: pecan trees don't drop touchdown passes."
Anyway, after one of the greatest passing performances in his career, Taliaferro approached Van Brocklin following the game to congratulate him for his play.
"You did it all, but why didn't you do something really extraordinary? Run and catch it yourself," Taliafero joked.
"That," Taliafero told the Times 60 years later, "is the only thing he didn't do."  


Follow Josh Katzowitz on Google+
It sure looks like Bortles will be benched heading into the regular season for Jacksonvill...

Someone asked him to start the press conference of course

Derrick Johnson wants to discuss players' First Amendment rights amidst the protests
High praise from one of the most athletically gifted quarterbacks ever to step on a football...

Nobody will mistake Joe Looney for his star teammates

Osweiler is being benched in favor of DeShone Kizer