Report: Four teams interested in trading for Andre Johnson
Will Texans receiver Andre Johnson end up with another team this season?
• 2 min read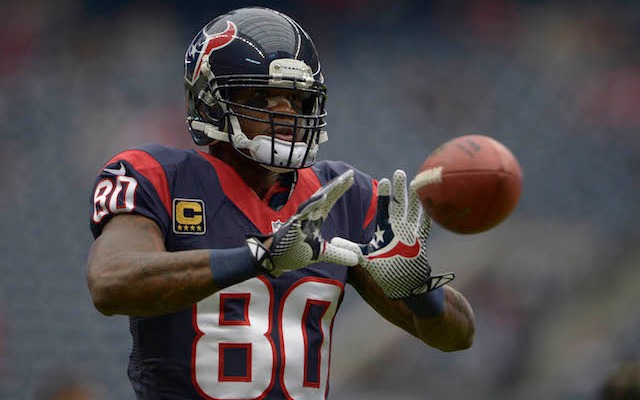 Texans receiver Andre Johnson is not sure he wants to play for Houston anymore, saying "I don't know. I can't answer that question" in response to whether he'd be playing in Week 1 this season.
It's not difficult to understand why Johnson would want to leave. He wants to play for a contender, and considering the Texans are going back in for another rebuild, Johnson doesn't want to be part of yet another massive undertaking to get the team back into playoff form.
That's why he reportedly wants to be traded, according to NFL.com's Ian Rapoport, and four teams apparently are interested. The Texans, though, reportedly aren't ready to make a swap.
According to Rapoport, one issue revolves around a $1 million workout bonus. Although he missed offseason workouts, negating his ability to earn that money, Johnson reportedly wants to work out extra so he can get paid. The team reportedly has said no.
Johnson, scheduled to earn $10 million this season, has already restructured three times during his 11-year stay in Houston, where he made himself into one of the league's top receivers, and he apparently feels like he's been loyal enough to be rewarded back. Brian McIntyre, though, is quick to point out that Johnson didn't actually lose any money in his restructured deals.
Taking $18.5M in signing bonuses benefited the player. Now team should pay $1M when player doesn't abide by terms of deal? Bad precedent

— Brian McIntyre (@brian_mcintyre) July 10, 2014
True, but restructuring a deal usually makes you more susceptible to getting cut later in the deal when that player's cap number shoots higher and higher.
There also is this.
I normally scoff at players who hold out, but Andre Johnson has done his good samaritan work with that franchise. Fitzpatrick? Get out.

— Darren Page (@DarrenPage15) July 10, 2014
The biggest issue for the Texans in not wanting to trade Johnson, besides his potentially-elite on-field performance, is the fact that they'd be on the hook for about $12 million in dead money combined in 2014 and 2015 if they trade him.
Either way, Johnson still hopes he's in somebody's training camp later this month.
"Hopefully. We'll see what happens," Johnson said. "Training camp's three weeks away, so we'll see what happens."
As to where that might be ...
Two teams make a ton of sense for Andre Johnson: Panthers, Patriots. Both would have to re-work his deal to get him under their cap.

— Dave Richard (@daverichard) July 10, 2014
Another team that might make sense is the Browns and Cleveland running back Ben Tate -- a former teammate of Johnson's -- is already pushing for it. 
Dre in Cleveland would be dope I can't lie but that's just me being selfish

— Ben Tate (@BenTateRB) July 10, 2014
Breaking down why the underdogs are very dangerous against the Patriots

All of the information you need to know about the 2018 Super Bowl

Here's all the details you need to know on watching Super Bowl LII between the Patriots and...
No one wants to give the Eagles any respect

Here's a look at the NFL's entire postseason schedule for 2018

Here's everything you need to know about Super Bowl LII