Report: Sunday Ticket to be available without satellite subscription
Imagine a world where you can watch any NFL game you like without using your TV.
• 1 min read
More NFL: Photos |   Videos & GIFs |  Stories | Training Camps | Johnny Manziel watch 
While DirecTV will offer a new NFL Sunday Ticket channel exclusively devoted to fantasy football, you might not have to sign up for the satellite provider in order to see any NFL game you'd like.
That's because appleinsider.com reports that the 2014 season package will be offered on Apple iOS devices that can be watched without an actual DirecTV subscription.
There hasn't been an announcement made in regards to any of this -- it's also unclear if you could stream the package from an Apple device to your TV set -- but a DirecTV promotion page shows this.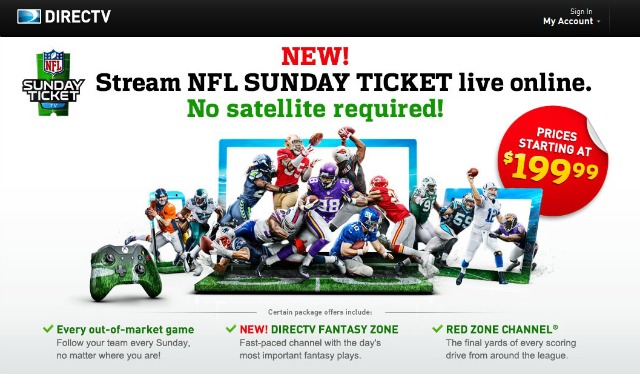 Also on that promotional page is this description: "Now you can access live, out-of-market NFL games without a DIRECTV satellite TV account—no matter what team you follow! NFLSUNDAYTICKET.TV lets you stream games on your computer, tablet, phone, or game console. All while keeping up with real-time player stats and your fantasy teams."
So, why would this be a big deal?
As appleinsider.com explains, "The ability to subscribe to NFL Sunday Ticket without a corresponding DirecTV subscription is a major victory for would-be cord cutters, who often cite live sporting events as the number one reason for keeping an active television subscription. A similar package was previously available only to consumers who could not be connected to DirecTV because of coverage issues, though the company did trial a more wide-open subscription model last year in a partnership with the Madden NFL franchise."
That $199.99 subscription would allow you to watch the Sunday Ticket apps on phones and computers. A $239.99 subscription would add access on gaming consoles. For $329.99, you could combine both services as well as get access to the Red Zone and the Fantasy Zone channels.
Of course, since this is DirecTV, there are restrictions. According to NFL.com, the service is only available to the following potential customers:
1. People who live in apartment buildings where DirecTV service is unavailable.
2. People who live in metro New York, Philadelphia or San Francisco.
3. Students who attend college at the University of Michigan, Alabama, Washington, Texas, Southern California, Florida, Colorado, Syracuse, Ohio State or Harvard.
Here's an up-to-date look at the 2018 Pro Bowl roster

New England is 3-0 wearing white in Super Bowls under Bill Belichick

Bettors are favoring the Eagles to keep Super Bowl LII close, but the Patriots remain clear...
No one wants to give the Eagles any respect

The three-time Grammy winner will sing before Super Bowl LII on Feb. 4

Here's a look at the NFL's entire postseason schedule for 2018