What to look for in Week 10
It might surprise you, but Seattle's Russell Wilson might wind up with the most impressive numbers of all the rookie quarterbacks.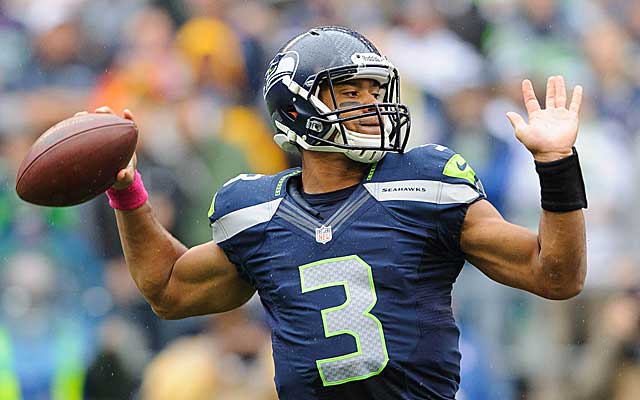 Russell Wilson has not thrown in interception at home this season, and has nine TDs. (US Presswire)
The NFL's rookie quarterbacks are setting all kinds of records for passing attempts. The five rookie starters are probably going to combine for 2,600 attempts and 18,000 yards.
Which rookie quarterback already has the most touchdown passes and the fewest pass attempts? Not Andrew Luck, not Robert Griffin III, but Russell Wilson of the Seahawks.
Wilson is home again this week, where he already has nine touchdown passes and no interceptions. Luck played Thursday night and did not throw a touchdown, RG3 is on a bye week as is Brandon Weeden. That leaves Ryan Tannehill, who is eight touchdown passes behind Wilson.
Russell Wilson has five TD passes in the last two games and is on his way to 20 for the season.
FOUR OF THE FIVE ARE GONE
No wonder the Eagles' offense is in trouble and Mike Vick is under siege. Go back and look at the projected Eagle offensive line in the late spring when the roster was set -- 80 percent of the starting offensive linemen are gone.
Jason Peters, Jason Kelce, Danny Watkins and now Todd Herremans are on the sidelines. No wonder the Eagles can't run, pass or score. Don't put all of the problems on Vick. Nonetheless the Eagles have to find a way to win and the Cowboys have eight sacks against Vick in their last three meetings -- and that was when the offensive line was much better.
NO PICKS, PLEASE
John Fox returns to Carolina as the head coach of the Denver Broncos. Panthers owner Jerry Richardson recently fired Fox's friend, GM Marty Hurney, and now has to watch his 2-6 Panthers battle the red-hot Broncos.
The Panthers have another issue besides the haunting presence of Fox. Cam Newton is having a tough second season and he needs to be careful with interceptions. Newton is 8-3 when he doesn't throw a pick but 0-13 when he throws to the other team. Denver has eight interceptions and will be ball-hawking in this game.
ONE TAKES IT AWAY THE OTHER NEVER GIVES IT AWAY
The Chicago Bears are going to break the record for defensive touchdowns. They already have seven and only need two in the final eight games to tie the record. The Bears have forced the most turnovers (16 forced fumbles by six different players and 17 interceptions by seven different players). but the Texans protect the ball better than any team in the league with just six giveaways.
We are probably going to find out just how good the Bears' offense is without defensive turnovers. We are also going to find out if Houston can win when playing from behind.
WILL HE BOUNCE BACK THIS WEEK?
Eli Manning has been struggling in the last few weeks with three games under 200 yards passing but only one loss in the last five games. The Bengals have a good pass rush but getting to Eli is hard to do. He is sacked just once in every 41 attempts and I suspect the Bengals will struggle to get to him.
The Bengals have never beaten a playoff-caliber team since Andy Dalton has taken over at quarterback. This is a statement game for the Bengals because they are slipping away almost as fast as the Cardinals.
This year when the Giants have lost they bounced back the next week twice with 41-point games.
QUICK OBSERVATIONS ABOUT THE 2012 SEASON
There have been 14 blocked punts this season nine all of last season. Twelve games have been decided in the last 30 seconds of regulation (fourth most since 1983). Sloppy play in the goal-to-go area of the field has led to 27 giveaways, the most since 2004, and there are eight weeks of games left.
Last week there was a slight dip in field goals made, but the NFL is still on record pace in making 86.3 percent of attempts.
Everything you need to know about the Redskins-Saints matchup this weekend

Here's every official injury designation for each NFL team for Week 11

The Dolphins took another blow amid a rough stretch of football
Our computer model simulated every Week 11 NFL game 10,000 times with very surprising resu...

The NFL on CBS broadcaster also broke down the differences between Dak, Goff and Wentz

The Legion of Boom is getting older and injuries are taking their toll