Alex Kovalev wants to return to NHL
Alex Kovalev spent the 2011-12 season playing in Russia, and he's still looking to take one more shot in the NHL. Will anybody give him a chance?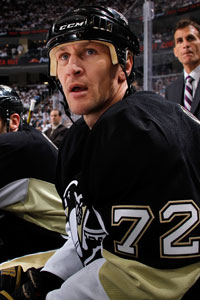 The last time we saw Alex Kovalev in the NHL he was struggling through a late-season run with the Pittsburgh Penguins in 2011. The Penguins acquired him at the trade deadline in an effort to boost an offense that was crushed by injuries after losing its two best players, Sidney Crosby and Evgeni Malkin, for the remainder of the season.
It was clear very early on that Kovalev at that time was a shell of his former self.
After spending last season in the KHL playing for Atlant Mytishchi (he recorded just one goal and five assists in 22 games) the 39-year-old forward is still looking to give the NHL one more shot.
Kovalev told TVA Sports this week that he's looking to a return to the NHL this season (assuming it's played) and has already had a couple of offers for tryout contracts.
"I've received invitations to training camps and hopefully can begin skating towards the end of August to be ready for next season," Kovalev told TVA, via TSN.
Kovalev was always one of the most underappreciated players of his era, and he always seemed to be the guy that was (unfairly) labeled as the "enigmatic Russian." I think sometimes people forget just how talented and productive he really was. His skill was always off the charts, he produced, and he was a Stanley Cup champion while playing a big role on the 1994 Rangers team. He recorded 21 points in 23 playoff games that season ... as a 20-year-old.
Still, his last NHL appearance was not exactly a great one (34 points in 74 games split between Ottawa and Pittsburgh) and he has not only spent a year away from the NHL, he's also going to turn 40 this February. That's not exactly a great recipe for success at this point.
There isn't in any harm in giving a player like Kovalev a camp tryout, and you can't blame the guy for trying, but it all goes back to wondering what he still has left in the tank.
Based on what we saw from him two years ago: not much.
For more hockey news, rumors and analysis, follow @EyeOnHockey and @agretz on Twitter and like us on Facebook.
The team tweeted on Monday that Shaw would be re-evaluated in 7-10 days

The Montreal forward was hospitalized after taking a Zdeno Chara slap shot to the head

Tampa Bay is still No. 1 and Vegas is still up there, but a few others are finally catching...
Army filed an opposition to the use of 'Golden Knights' on the last day that it was permitted...

The NBC rinkside reporter is hoping to return in time for the 2018 Olympics

Here's who wade the cut for the 2018 NHL All-Star Game on Jan. 28 at Amalie Arena in Tampa...