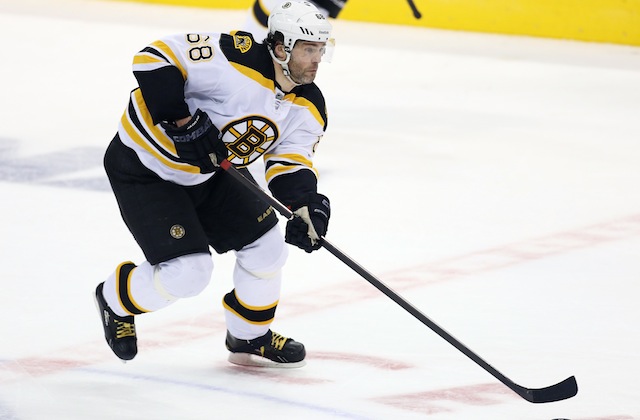 More NHL offseason: Rumors | Top 50 Free Agents | Top 50 Prospects | Mock Draft
We still don't know if Jaromir Jagr will return for another NHL season. But if he does, it's not going to be with the Boston Bruins.
Jagr said on Wednesday that the Bruins "probably" won't want him back, while also adding "Maybe if I scored 20 goals in playoffs. But I was 20 short."
Bruins general manager Peter Chiarelli confirmed that Jagr will not be re-signed this offseason.
Jagr said he wants to keep playing in the NHL and he's not ready to go back to the Czech Republic.
The Bruins certainly have some work to do this offseason with Tuukka Rask's contract being at the top of the list. Defenseman Andrew Ference also revealed on Wednesday that he won't be returning to the Bruins next season due to the Bruins' salary cap situation and need to re-sign Rask.
Jagr, who will turn 42 in February, still seems to have something left in the tank for somebody in the NHL, and I'm not sure his 2013 postseason performance will get the respect that it deserves. All of the focus will be on his zero goals, but he was always around the play and generated more than his fair share of shots and chances.
The Bruins acquired Jagr from the Dallas Stars just before the NHL trade deadline after missing out on Jarome Iginla.