Joffrey Lupul turned away by restaurant owned by Maple Leafs
Joffrey Lupul just wanted to eat at Real Sports but couldn't because of its ties to his team, the Toronto Maple Leafs.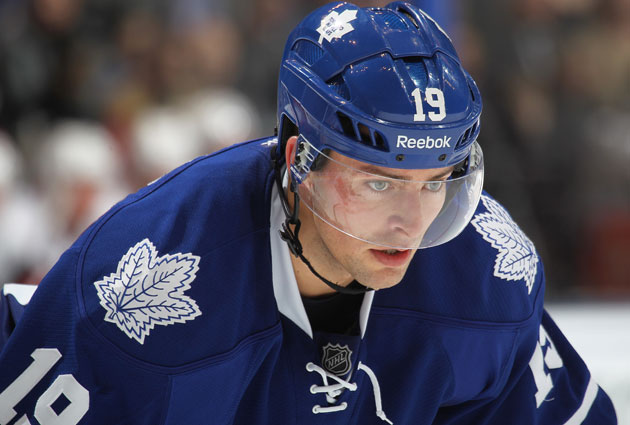 Joffrey Lupul can't eat at Real Sports in Toronto. (Getty Images)
NHL players are not able to contact their team personnel or use the team facilities during the lockout. That much makes sense. Communication is completely cut off between employees and bosses.
What doesn't make much sense is that ban on contact and use of facilities extends all the way to restaurants. No, really. It does, as Maple Leafs forward Joffrey Lupul found out the hard way over the weekend in Toronto.
On Sunday, Lupul shared his frustrations with one particular restaurant on Twitter with a tweet that he has since deleted and apologized for. Here is how his initial tweet read, followed by the retraction.
.@realsports is not allowed to take reservations from Leafs players during the lockout but will continue selling our jerseys for $300 a pop
In hindsight twitter was probably not the right place to voice my displeasure w @realsports. That's not why I use twitter. Was just rattled

— Joffrey Lupul (@JLupul) December 16, 2012
Frankly, I'm not sure why Lupul felt the need to backtrack and delete that tweet. It wasn't offensive or terribly damning. In fact, what he tweeted was probably worthy of bringing to light as it's head-scratching, really.
You see, Real Sports is a restaurant owned by the Maple Leafs' controlling company, much the same as how the Flyers are owned by Ed Snider, who owns Comcast and thus the connection they have with the media giant. They are all tentacles of the same company.
But isn't it just a bit extreme to stop a player from eating at a restaurant? The guy just wants to enjoy a good meal (I assume it's good. I've never been, though.) with some suds; why can't he do that? I'm assuming, of course, that the lockout hasn't reduced Randy Carlyle, Brian Burke and Larry Tannenbaum to waiting tables at the restaurant.
I suppose this is a downside to playing in a hockey-crazy place like Toronto. Imagine if this same scenario had happened in, say, Tampa Bay with the Lightning. The chances that the staff wouldn't have been able to recognize Teddy Purcell, for example, are much higher.
As to his jersey-selling complaint, well, I suppose he has a point. But there aren't many places selling a lot of jerseys right now, even in Toronto.
Every time you think we've hit the new point of silliness, something like this comes along and reminds you how incredibly stupid this lockout is.
UPDATE: Then again, perhaps Lupul was in the wrong here, not the restaurant or the Leafs. Lupul wasn't denied into the restaurant because he's a Leafs player, but because the Real Sports had no more reservations and the place was booked. That's what President and COO of Maple Leafs Sports and Entermaint said Tom Anselmi told the Toronto Sun in an e-mail.
In that case, it's perfectly understandable why Lupul deleted his tweet.
Please, we beg of you, end this lockout now.
H/t to PHT
For more hockey news, rumors and analysis, follow @EyeOnHockey and @StubitsCBS on Twitter and like us on Facebook.
NHL players are still disappointed they won't be going to skate in PyeongChang

With Artemi Panarin in the mix and a Vezina winner headlining the defense, Columbus can be...

The league's crackdown on faceoff infractions and slashing penalties isn't without some cr...
Joffrey Lupul spent last season on long-term IR but seems to be saying he's healthy

Early playoff trouble has been evident, but the Wild tout an offense capable of making another...

Why walk with skate guards when you can rollerskate instead?