Marc-Andre Fleury injured as Penguins extend streak
The Pittsburgh Penguins extended their winning streak to 13 games on Tuesday night but lost starting goaltender Marc-Andre Fleury to an injury late in the second period.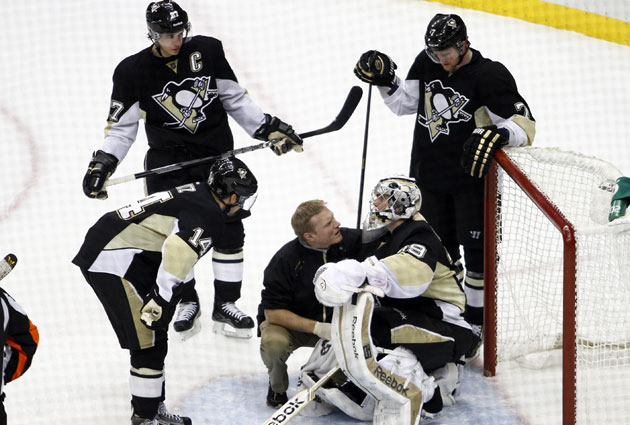 More NHL: Scores | Standings | Odds | Fight-O-Meter | League Leaders | Rumors
PITTSBURGH -- This winning streak for the Penguins, which is now up to 13 games following their 1-0 win over the Canadiens on Tuesday night, started with a wild back-and-forth game in Montreal more than three weeks ago.
There was little defense, even less quality goaltending, and scoring chances galore for both teams.
This game against the Canadiens was the exact opposite of that run-and-gun performance, and it took two separate goalies for the Penguins to record the win and the shutout to keep their streak alive and allow them to continue chasing history.
Starting goalie Marc-Andre Fleury had to leave after the second period after he was on the wrong end of a collision with his teammate, Tyler Kennedy, late in the period. Kennedy was tied up with Canadiens forward Brian Gionta around the net and ended up crashing into his own goalie after Gionta and Kennedy ran into each other. Whether or not it was intentional on Gionta's part was a matter of which team you were on.
Here's the play (gif via The Pens Blog)
Fleury remained in the game for the final 50 seconds, but did not return for the third period.
Penguins coach Dan Bylsma did not specify what the injury was that Fleury suffered and only said that he was not able to return and will be evaluated more on Wednesday. The Penguins didn't seem pleased with the play and took exception  to the fact Gionta pushed Kennedy into the Fleury and made a point to go after him a little in the third period, even taking a penalty early in the frame.
"I don't like that we took a penalty," said Penguins coach Dan Bylsma. "But it was clear we took exception to it. But the guys were up to killing that penalty."
The Canadiens didn't think Gionta did it intentionally.
"I don't think that Gionta had a purpose to hurt Marc-Andre, that's for sure," said Canadiens coach Michel Therrien after the game.
For the first two periods, Fleury was playing what might have been one of his best games of the season and was the biggest reason the Penguins still had a chance. Montreal was controlling the tempo and pace of the game and not only outshooting the Penguins, but drastically outchancing them. On some nights Fleury tends to get credit for "stealing" games that he might not actually be stealing. This was not one of those nights. He was outstanding and made a number of highlight-reel saves to keep Montreal off the board just long enough for Sidney Crosby to score what proved to be the deciding goal on a partial breakaway in the second period.
Tomas Vokoun came on in relief of Fleury in the third period and stopped all 12 shots he faced. If Fleury has to miss an extended period of time (or even just a game or two) Vokoun would take over. Fortunately for the Penguins, he should be more than capable of handling it.
The Penguins, after all, acquired Vokoun this offseason and gave him a two-year, $4- million contract to not only serve as a capable backup that could give Fleury more nights off (and maybe even push him a little after another bad postseason showing a year ago) but also serve as some insurance for situations like this.
Vokoun has been a starter (and one of the best starters) in the league about eight years now. There are worse backup options to have. This is why they acquired him.
As for the streak, it is now the longest in the NHL this season and just four away from tying the NHL record that was set by the 1992-93 Penguins. Looking ahead to the Penguins next four games, they're home against Winnipeg, the New York Islanders and Buffalo before traveling to New York to take on the Rangers.
The streak has pushed Pittsburgh to the top spot in the Eastern Conference, now seven points ahead of Boston and Montreal, and an incredible 15 points ahead of New Jersey in the Atlantic Division race, which now seems to be pretty much over.
Just to put that into perspective, when the streak began back on March 2 the Penguins were three points behind Montreal and only two points ahead of New Jersey.
It seems it's all as wild as it sounds, with Canadian actor Zack Ward heading a 'West Coast...

Lots of moving parts may be the biggest hurdle for Carey Price and Co., a defensively geared...

The Penguins have some fun with the names of some Ducks linemen
Rookie Tyler Wong scores a hat trick to lift the NHL's newest team in its exhibition debut

Depth is a concern, but Edmonton is all in on its young, speedy stars with Stanley Cup pot...

The longtime Olympics enthusiast and Capitals standout releases a statement on the 2018 Ga...