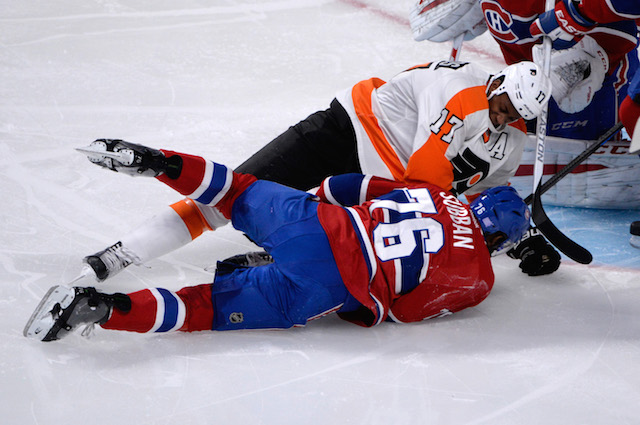 One of the best parts about the NHL Winter Classic is the behind the scenes look you get of the two teams both leading up to the game, and the game itself, with the Epix documentary Road to the NHL Winter Classic.
Now that the 2016 game has been completed with a 5-1 Canadiens win over the Bruins at Gillette Stadium on New Year's Day, we are getting some of the sound from the game itself.
One particularly funny moment came from an exchange between Canadiens teammates Max Pacioretty and P.K. Subban on the bench as they discussed the toughness of Bruins forward Matt Beleskey.
That resulted in Subban issuing a warning about not fighting a different player in the NHL.
"Is he tough? You've played with him, right?" asks Pacioretty.
"Yeah, he's tough ... he's not like, Wayne Simmonds tough, but he's tough."
When Pacioretty responds by saying, "Oh, so I can get him on my card," Subban pauses for a minute and then says, "No. You can not fight Wayne Simmonds."
Good advice, @PKSubban1. (via @EpixHD) pic.twitter.com/T8oAmb7Zyg

— Philadelphia Flyers (@NHLFlyers) January 7, 2016
He's probably not wrong.
Simmonds might not be the biggest guy in the league, but there are few players in the league that are tougher, whether it's a fight or standing in front of the net and taking a beating from opposing defenders. And he is no stranger to dropping the gloves. The hockeyfights.com database has Simmonds with 55 fights in his NHL career. The website has a feature that allows fans to vote on the "winner" of the fight and (as unscientific as this may be) Simmonds has only been declared the "loser" in 13 of them.
So. Yeah. Maybe don't fight that guy.