Thomas Vanek traded to Canadiens for draft pick, prospect
At the last minute, the Islanders found a deal for Thomas Vanek, sending him to Montreal for a second-round pick and a prospect.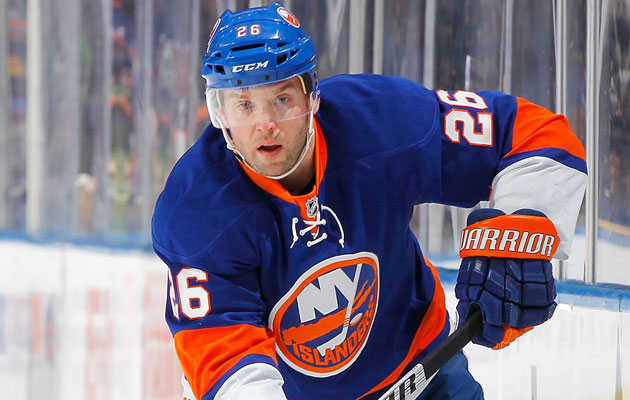 More NHL: Trades | Scores | Standings | League Leaders | Odds  | Power Rankings
It came down to the wire but the New York Islanders found a new home for Thomas Vanek. The high-scoring winger is now a member of the Montreal Canadiens.
The Islanders have been working on dealing Vanek for a while but the market was reportedly only going down as the deadline approached. How low did it go? The Canadiens only gave up prospect Sebastien Collberg. There are some draft picks in play here too; if the Habs make the playoffs (very likely), they send a second-round pick to the Isles. If they miss the playoffs, New York sends a fifth-round pick to Montreal.
Let's just call a spade a spade here and say the Islanders were taken to the cleaners. That's such a small return for player of Vanek's caliber, even if he is a free agent this summer. It beats getting nothing, sure, but not by much.
Collberg might be a fine player some day, we'll have to wait and see. But unless he becomes the next John Tavares or anywhere near that level, this is disappointing. Consider that the Islanders traded Matt Moulson, a first-round draft pick and a second-rounder to get Vanek. That first-round pick is for either this season or next and it very well could be this year with Connor McDavid available in the 2015 draft. Either way, it's going to be a very high draft pick and that stings enough.
In the end it looks like this in the grand scheme for the Islanders from the start of the season until now: They traded Matt Moulson, a first-rounder and a second-rounder and all they have to show for it is Sebastien Collberg and a potential second-round pick from Montreal.
One word fits that: Ouch.
You know it's bad when former Islanders ... boss John Spano is criticizing the operation.
Dear C. Wang. It is a privilege to own the NY Islanders. Maybe it is time for u to sell. We have caused this fan base enough heartache.

— John Spano (@MrJohnSpano) March 5, 2014
From the start the idea to get Vanek was questionable. While it was nice to see the Islanders getting serious and making a move to go for it, the difference from Vanek to Moulson wasn't tremendous from the beginning. That ignored the fact that the Islanders' pressing issue was on defense and in net, not on Tavares' wing. It was an easy argument to say they got the wrong Sabre on the block (Ryan Miller).
So the Islanders went big and it didn't work out. That happens. It's always difficult to criticize teams too harshly in hindsight for that but in this case, it's not tough at all. Especially if you read through the lines with what GM Garth Snow had to say on Wednesday.
"It wasn't a very active market. Speaking for today, this was the best deal that was tabled."
The key words in there: "Speaking for today." Now Snow probably couldn't have known the market would become a buyer's market this year but it sounds like he could have had a better return earlier in the process. Just another frustrating part for the Isles faithful, a strike against this deal.
Let's put it this way: The return the Islanders got for Andrew MacDonald was arguably better than what they landed for Vanek. Again: ouch.
For the Canadiens, how can you not absolutely love this deal? They've had trouble scoring this season and so they get an elite scorer for almost nothing for the remainder of this season? Talk about a coup. GM Marc Bergevin swooped in and landed one of the biggest fish available.
Instantly he becomes their leading scorer with 21 goals and 32 assists this season, not to mention he's a noted Bruins killer. The Canadiens just became a lot more interesting in the Northeast.
Los Angeles isn't rushing to sign the 45-year-old forward any time soon

The University of Denver star and Hobey Baker Award winner is drawing interest

Intrigue is high in Arizona after a wild offseason, but expectations should still be tempe...
Players are set to give personalized messages for Adidas' former hockey equipment brand

The 40-year-old center is returning to the Wild after a successful run in Pittsburgh

Edmonton locks up its 21-year-old RFA a month after McDavid's historic extension