Week 12 schedule analysis
What does the NHL schedule have in store for us in Fantasy? Brian Rutherford breaks it all down in his Week 12 analysis.
With a slow holiday week (84) on the horizon, it will be important to grab as many points available to you this week. Let's get to it…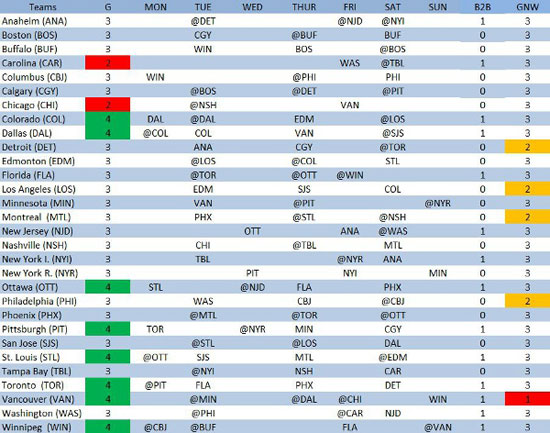 Regional Rivals
In Regional Rivals, we focus on six teams playing a geographical rival in consecutive games. The fair assumption is the usage of both goaltenders under these circumstances, but always keep an eye on the goalie grid for definitive starting information.
Dallas Stars vs. Colorado Avalanche (Avalanche lead season series 1-0-1)
Penalties have not been a huge factor (averaging eight per game) thus far, leaving special teams with little impact as the Stars have the only power play goal on six attempts by each team. The first game will be on Monday night in Denver with the fourth out of five (January 27th) total matchups on the year coming the next night. Peter Stastny and Matt Duchene have two goals apiece while Tyler Seguin and Rich Peverly each have a goal and two assists in each of the first two games. Jan Hejda returned on Saturday to the tune of 25-minutes of TOI.
Columbus Blue Jackets vs. Philadelphia Flyers (Flyers lead all-time series 6-2-5)
This will be the first meetings of the season for the two teams who haven't met since the 2011-12 season, when things looked a lot different for both squads. With Philly back in an offensive funk they need Sean Couturier (personal) back. Courturier, who was questionable heading into Sunday's action, should be back for this series. It looks like Marian Gaborik could return this week, perhaps that's why Jack Skille was reassigned to AHL Springfield. Mike McKenna hasn't been all that bad while Curtis McElhinney is day-to-day.
Boston Bruins vs. Buffalo Sabres (Bruins lead season series 1-0)
There doesn't need to be a ton of previous action for this one to get heated, but since you asked, the Bruins took a convincing 5-2 win over Buffalo in late-October. Milan Lucic and Torey Krug each had a pair of goals on Ryan Miller in the win. Once again, these two teams are a bit different this time around, with the B's racking up the hospital bills and the Sabres under a new staff. As you've likely heard, Shawn Thornton won't participate. After Jarome Iginla appeared to have dislocated his finger in a fight with Ryan Kesler on Saturday, he returned the next period. We question if that adrenaline makes it through to the next game. Tuukka Rask was pulled in Saturday's loss to Vancouver. Reilly Smith netted two more goals (Boston's only) on Saturday. Cody Hodgson's (lower body) reports are just as encouraging.
Three of a Kind
Aside from Philadelphia, we examine four teams playing not only three games this week, but just two games next week.
After Tuesday's tilt with Anaheim, Detroit (ANA, CGY, at TOR) has a fairly favorable schedule. Nobody tell that to the Red Wings who have lost four straight (including two to Florida) and five of 7 to start the month of December. Already missing Henrik Zetterberg (herniated disc), things are just getting worse in Detroit. Stephen Weiss (groin) is out. Justin Abdelkader is going through concussion protocol as of Sunday morning. Jimmy Howard (knee) is out reportedly 2-to-4 weeks. Petr Mrazek and Jonas Gustavsson will hold down the fort.
Los Angeles (EDM, SJS, COL) is 6-0 this month heading into Sunday afternoon's action. If in fact they survive victorious against the Blackhawks, they'll likely remain perfect against an Oilers squad and two more very tough Conference foes. When Jeff Carter posts five points over a two-game period, you know things are rolling for the Kings. Dwight King is also streaking at the moment. Collin Fraser (concussion) was placed on IR while Trevor Lewis (lower body) returned from it on Saturday. At the moment, Martin Jones is outplaying Ben Scrivens and could get two starts this week.
Winners of their first four games this month, Montreal (PHX, at STL, at NSH) mocked our confidence in them last week, yielding a six-goal loss to the Kings. After the Canadiens host Florida on Sunday and the Yotes on Tuesday, their schedule gets sketchy schedule wise. Two road games and then an entire week off for an eventual five-game road trip that won't bring the Habs back until well after the New Year. To be fair, Carey Price bounced back from the demoralizing loss against the Islanders on Saturday night.
Four Aces
Aside from the Stars and Avalanche, this week Four Aces will highlight the schedules of six teams playing 4 games this week, including one team, who drops down to just one game Christmas week.
The Ottawa Senators (STL, at NJD, FLA, PHX) have been the very definition of inconsistent in the month of December. Having yet to win-or-lose more than one game in a row, their schedule suggests they may continue their inconsistencies. We wouldn't worry too much about Craig Anderson being pulled against the Kings on Saturday, as Los Angeles has been pelting masked men lately. Either way Robin Lehner will certainly be needed this week. Marc Methot (illness) did not play against the Kings, nor did Chris Phillips (foot).
The rich get richer as Pittsburgh (TOR, at NYR, MIN, CGY), who has won three in a row and eight out of their last 9 games, face three mediocre teams and Minnesota. By the way, when they do face the Wild, feel free to re-insert the talents of James Neal into your lineup. We know you've been counting the days. Looks like Deryk Engelland may join Thornton. Evgeni Malkin's (lower body) and Kris Letang's (upper body) injuries have allowed Jussi Jokinen to log more power play time. Malkin is due for tests Sunday and Letang is unknown.
Winners of three straight, St. Louis (at OTT, SJS, MTL, at EDM) seems to be back on track after stumbling a bit at the beginning of December. While we're not sure of their chances against San Jose (0-2, 5/12 GF/GA), the rest of St. Louis' opponents don't have a fighter's chance. Chris Porter (11 points in 19 games with Chicago of the AHL) is back with the Blues, after being waived last month. Vladimir Sobotka left Saturday's game with an upper body injury while Vladimir Tarasenko is showing more consistency.
Heading into Saturday's dismantling of the Blackhawks, Toronto (at PIT, FLA, PHX, DET) had lost four of their first 6 games this month. With the Leafs facing three of four teams for the first time this season, there's even more uncertainty. Mason Raymond, Joffrey Lupul and Peter Holland combined for 11 points against Chicago. Jerry D'Amigo also had a goal and an assist in the win over Chicago. D'Amigo had compiled five goals and three assists in 19 games with the Marlies. David Clarkson has been suspended and will miss the b2b occurrence. Carter Ashton was reassigned to the Marlies in favor of Troy Bodie. Bodie has three goals and an assist in 9 AHL games and two assists through 10 intermittent games with the Leafs.
A first glance at the Vancouver Canucks (at MIN, at DAL, at CHI, WIN) schedule suggests they may get tagged this week. However, the Canucks are heating things up (7-0) in December, and while they'll face some tough Central division teams under even tougher circumstances, neither previous loss (2-1 losses to Stars, Blackhawks) to these teams is a cause for concern. With that being said, Canucks players are a liability next week as John Tortorella's squad plays only one game in the coming holiday week. Mike Santorelli continues to pay dividends for those owners who bought low.
While the Winnipeg Jets (at CBJ, at BUF, FLA, at VAN) have enjoyed (8-3-1) their contests with Eastern Conference folks like any other Western Conference team, they lost to Florida and have yet to play the Jackets or the Sabres. Missing Evander Kane and Zach Bogosian, the status on Matt Halischuk (upper-body) is reportedly "more than day-to-day". The Winnipeg Sun reports this may open the door for Eric O'Dell (28 points in 27 games with St. John's). At least Blake Wheeler has picked up the pace.
Three's Are Wild
In Three's Are Wild, we'll analyze the schedule of the six remaining teams with b2b occurrences, despite playing three games (or-less) this week.
At the center of it all is Anaheim (at DET, at NJD, at NYI), who play five of their remaining 7 games this month on the road. Teemu Selanne's (illness) has been anything but predictable this season. Daniel Winnik perhaps gave him the cold. At least Winnik has been producing as of late.
Yes, it's true, teams with a two game schedule are never a good bet but Carolina's (WAS, at TBL) goalies will be an interesting play this week with both games landing on a b2b occurrence. In particular, the Canes have a 2-0 series (7-3, GF/GA) lead against the Washington Capitals. Should be very interesting to see who draws what team with Justin Peters outplaying Cam Ward and Anton Khudobin inching ever-so-close to the three man circus.
While Florida (at TOR, at OTT, at WIN) enjoyed a 5-2 win over the Jets earlier this month, there's no reason to expect a good week out of the Panthers. They're 0-2 against the Sens and Tim Thomas (lower body) is on the shelf for the third time this season. Dylan Olsen is starting to really string them together.
New Jersey (OTT, ANA, at WAS), who lost on their first four chances of this campaign, is as solid a wager (5-0) as any team on b2b nights over the last four weeks. Cory Schneider currently finds himself on the wrong end of a time share again, this time with the ageless Martin Brodeur. Brodeur, who seems favored recently, has a 1.88 career GAA against the Ducks, and a 2.29 career mark against the Caps. If Brodeur's career trend against Anaheim doesn't hold up, the momentum of this time share could change if the slumping (0-2-1 over last three games) Schneider can post a stand up performance against Washington.
Losers in 13 of their last 15 games, the Islanders (TBL, at NYR, ANA) are 0-2 against this week's opponents. The Isles are 1-6 on b2b occurrences this season compounding their problems when they face a superior Ducks squad. Casey Cizikas (jaw) did not play on Saturday.
Despite some recent goaltender struggles and Friday's 3-2 shootout loss to Florida, Washington (at PHI, at CAR, NJD) has won five of their last seven contests. It could be a long week for the Caps who are once again in the thick of a goalie mess. Michal Neuvirth performed admirably with the Hershey Bears (AHL) Saturday night. In the meantime, Phillipp Grubauer outplayed Braden Holtby last week.
Defensemen aren't Fantasy Hockey afterthoughts anymore. Here is how we rank them for 2017-...

You need to hit on some late-round picks to succeed in Fantasy, so here are a few to target...

Learn how to take advantage of the power play with our rundown of the best units in the le...
There aren't enough top-tier goaltenders to go around in Fantasy, so it makes sense to have...

Forwards are the backbone of any Fantasy roster, and we've got the best of the bunch ranked...

Where should Fantasy owners look for value? Often times they come from the victors in these...