Bubba Watson officially joins Oakley
The Masters champ has had an interesting week in Maui so far.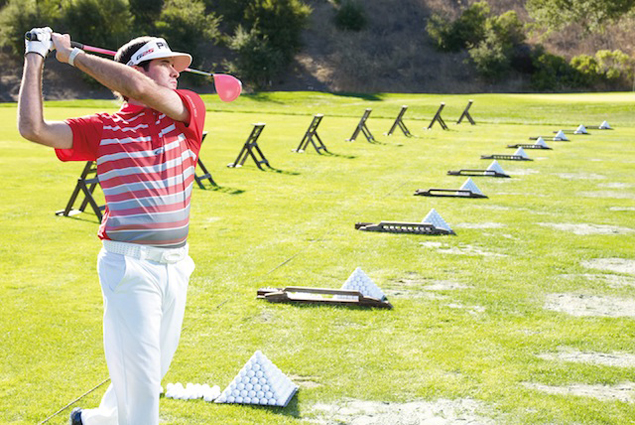 Bubba Watson tees off in his new Oakley threads. (Oakley)
Stop me if you've heard this: tall, left-handed bomber in the news for outlandish quotes and fashion news.
Yep, Bubba Watson is back at it again, this time from the shores of Maui.
Wednesday he dropped these quotes about his mental health on reporters after he was asked about Charlie Beljan, who suffers from panic attacks on the course.
I've had a lot of panic attacks off the golf course … thinking I was having something wrong with my heart and my wife is like, 'What is wrong with you?' So I've had some issues.
Jason Sobel of the Golf Channel reports:
The most recent panic attack occurred during the 2011 Northern Trust Open, when he posted an opening-round 76 before withdrawing from the tournament and checking himself into a hospital.
Watson noted:
I've done everything. I've done EKGs, we've done tests -- all kinds of things. [My doctor] told me basically I need medicine. I need medicine that helps me calm down, which I'm not going to do. I don't take medicine, so I would never do that.
Typical unconventional Watson response to a serious mental health condition. Hopefully he doesn't experience any relapses this year -- on or off the course.
This isn't the only reason he's been making waves this week either.
Earlier in the week there were rumors about his relationship with Travis Mathew ending badly. The fashion company released a statement assuring fans that everything ended amicably but that Watson was indeed headed over to Oakley.
This move was made official Thurrsday in a press release from Oakley. 
Watson had this to say about the move:
Oakley gets it. I'm proud to join their family because they love the game
and they never stop pushing technology to make the game better. Whatever they can do -- whatever can be done -- Oakley will do it. I respect that.
He went on about Oakley's style:
Style is important because personality is part of what makes fans connect with golf, especially the new generation of players. Oakley sets the pace. And I need a clothing company that can keep me looking good!
Oakley has made a pair of moves (Watson today and Zach Johnson in December) that really fill the void for Rory McIlroy's impending move to Nike later this month. Color me impressed.
Here's another picture of Bubba in his new threads.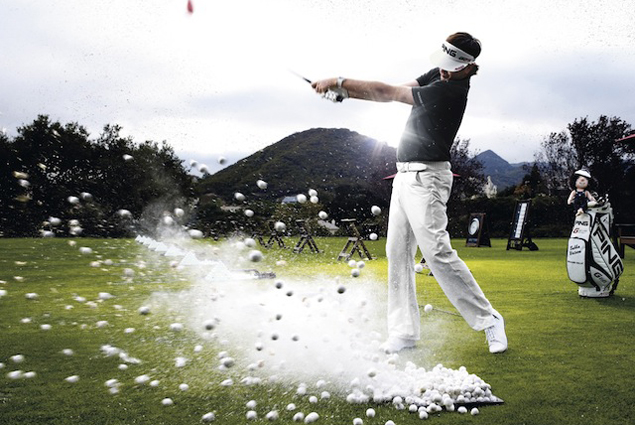 Bubba Watson hitting many golf balls. (Oakley)
And what would a Bubba move to a new company be without the requisite "vintage animated Bubba video you're not totally sure you understand but probably enjoy anyway"?
For more golf news, rumors and analysis, follow @EyeOnGolf and @KylePorterCBS on Twitter and like us on Facebook.
The next season of golf has a real chance to be one of the best any of us has ever seen

This season will fascinate as old stars converge with up-and-coming superstars

With a single golf lesson up for auction, Tiger Woods changed some lives forever in Texas this...
The Days have had a rough 2017 from beginning to end

Why in the world would a former FedEx Cup winner hop on 24 hours worth of flights this wee...

Following the debacle at the ANA Inspiration earlier in 2017, Thompson has some thoughts