Finally on upswing, Tiger Woods gets legs kicked out from under him again
The 14-time major winner withdraws in middle of round from Doral, leaves venue with yet another injury to his troublesome left leg and his playing path uncertain.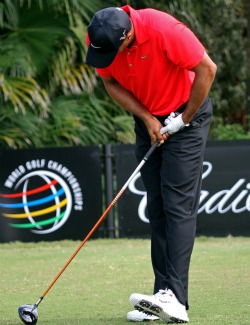 Tiger Woods winces before withdrawing at the WGC-Cadillac Championship. (AP)
DORAL, Fla. -- Dragging his luggage behind him, English veteran Robert Rock ambled out of his hotel room at the Doral Golf Resort & Spa and saw about three-dozen media folks bolting through the parking lot like the place was on fire.
Having already finished his round at the Cadillac Championship, he was headed to the front desk to check out when the herd scrambled frantically past.
It was the early checkout of another that had everybody's attention.
Former world No. 1 Tiger Woods, who has leg battled injuries for most of his adult life, was carted off the course after hitting a booming tee shot on the 12th hole, withdrawing Sunday after experiencing yet another issue with his left leg.
"Quite a story, huh? said Rock, who beat Woods in a duel at Abu Dhabi last month. "I just got out of the shower and hadn't heard. Is he OK?"
That's the franchise question.
For weeks, Woods has told anybody who has asked that his health was not an issue, but by the time he started the back nine, red flags started flapping everywhere.
Woods, 36, changed his golf spikes at the turn because of discomfort he was feeling, then began flexing his left knee and limping visibly after hitting his second shot on the 10th hole into the water, which viewers of the European television feed noticed immediately.

"I felt tightness in my left Achilles warming up this morning, and it continued to get progressively worse," Woods said 90 minutes later through his publicist. "After hitting my tee shot at 12, I decided it was necessary to withdraw. In the past, I may have tried to continue to play, but this time, I decided to do what I thought was necessary."

The caddie of his playing partner Sunday noticed Woods seemed uncomfortable very early in the round, and he asked Woods' sideman, Joe LaCava, about it.

"He started hobbling on about the fourth hole," veteran caddie Paul Tesori said. "You knew something was going on. Joe said his Achilles was puffed up and swollen."

Even though he hit his best drive of the day on the 12th, Tesori said the swing looked awkward.

"He kind of gimped it through the ball," Tesori said. "He probably made a good call to cut it loose [withdraw] now." 

After making a bogey on the 10th, Woods dropped to T27. He parred the 11th hole from a greenside bunker, then teed off on the 12th with a driver and crushed a shot 321 yards down the middle of the fairway.
Speaking of 3-2-1, nobody knew the withdrawal countdown had started. He was 3 over for the day at the time and well off the pace at 6 under overall when he jumped into a golf cart and was taken straight to his black Mercedes sedan in a nearby car park. He drove off with LaCava, moments after a paramedic team from the Miami-Dade Fire Rescue team cruised up to see if he required treatment.
Tiger Woods injured
More Golf coverage
"He didn't say a whole lot," playing partner Webb Simpson said. "But his expression was enough that, you know, he was in enough pain to end it."

If this sounds all too familiar, it should.
He walked off the course after shooting 42 for nine holes last year at the Players Championship after tweaking the same leg -- which has undergone four surgeries -- and didn't play again until August. That time, he hurt the shot while hitting a routine 3-wood off the tee on the first hole on Thursday morning.
Moreover, Woods said he hurt his left knee when hitting a shot from underneath a tree in the third round of the Masters last spring, though he played the final round the following day and was tied for the lead at one point. It's been difficult to separate the knee and Achilles issues, because Woods is hardly a fount of information and at times has intentionally misled others about his physical condition. He said at the 2010 Masters that he had torn the Achilles in his right leg four months earlier, with little elaboration.

One of the massive, looming questions as Woods has slowly crawled back into the top echelon is whether his leg would hold up. Indeed, if he could tweak it twice in the span of a few weeks while hitting routine golf shots, including one from a tee box under controlled circumstances, who could possibly guarantee that it would not happen again?

Woods had just finished second last week, with a closing 62 that represented the best final round of his career. It was his best finish in a PGA Tour event in 30 months.

"It's a shame, because he looked like he was coming out this year, swinging it really well, playing good, getting himself into contention," world No. 1 Rory McIlroy said Sunday. "It's probably just precautionary, but I really hope he's healthy for the Masters, because obviously it would be a great week with him there."
Woods, who had committed to play in the Arnold Palmer Invitational in two weeks in his last tuneup before the Masters, where he is a six-time winner, was out so long after the Sawgrass misstep, he missed the U.S. and British opens last summer.
Woods said he hoped to get the injury examined early this week, though Achilles injuries can be notoriously hard to predict.

Veteran and old friend Steve Stricker played with Woods on Saturday and saw no sign of a problem.

"Nothing out of the ordinary," Stricker said Sunday. "He hit it good, putted it good. I didn't see that [a leg problem] at all."

Saturday, Woods was asked how his body was holding up after shooting 68 while playing in his third consecutive week.

"Oh, it feels great," he said.

As Woods drove away, a television blimp following his car with a camera from above like he was an escapee. His short-term status will probably be tracked just as acutely, too.
Woods lives on Jupiter Island, about 90 miles north of the tournament venue.

That might be the only certain destination in his future. He hasn't truly played a full season since 2007.

"Tiger Woods has been the face of golf for the last 15 years," McIlroy said. "Feeling like he's coming back to his best or something near his best, it's great for the game. He can spark an interest in golf that no one else can."

But there's a big caveat lately -- only when he plays. 
Steve Stricker and his team will not take a knee at Liberty National

A look back on the year that was on the PGA Tour

Matthew Southgate got maybe the worst beak of all time last weekend
J.T. finally showed the media what was on his phone to start the year

The $10 million man got a party when he got to New York

Malnati had some strong words for the POTUS