U.S. Open tablesettings: What to watch for in Saturday's third round
There's a lot more going on at Olympic Club on Saturday beyond Tiger Woods' attempt to win a 15th major championship.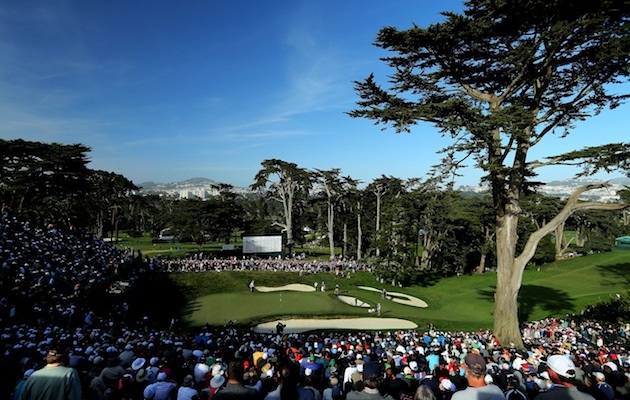 Moving Day is sure to shake things up at Olympic Club. (Getty Images)
SAN FRANCISCO – To frame the week in uniquely California terms, the last time this particular hunk of property was tougher to navigate, Father Junipero Serra was dragging his donkey up the coastline and building Spanish missions.
Here's a few things to look for Saturday as weekend play begins at the 112th U.S. Open at punitive Olympic Club, where exactly three players enter the tournament's fateful second half under par.
1. The first six holes are crucial. As advertised, they have been bruising and then some. In fact, five if the six most-difficult holes in the cumulative stroke-average statistics are in the opening stretch. For the leaders, it's imperative to merely hang on. Tiger Woods made two birdies in that stretch in his opening 1-under 69. Hole Nos. 1 and 6, long par-4s, are tied for the toughest of the week, averaging 4.55 strokes. Avert the eyes of children when these holes are played -- combined, they have yielded 20 birdies in two days and 311 bogeys or worse. Boys, bring a bandaid.
2. Nobody has more on the line today than Woods, who tees off with Jim Furyk at 6:05 p.m. ET Saturday. Woods has 14 majors, but has held at least a share of the 54-hole lead in each. Coming from behind to win? Never done it. That's not a massive sample size, but definitely notable. Being forced to make up ground on an Open course is not an enviable position.
3. The byplay between Woods and Furyk will be interesting to watch. According to the bestselling book, "The Big Miss," authored by swing coach Hank Haney earlier this year, Woods considers Furyk a friend and had tremendous respect for his work ethic, tenacity and achievements, but has never considered the 42-year-old to be a threat to his dominance.
4. What about the rear guard? Among those stuck in a tie for ninth at four shots back are two-time winners Hunter Mahan and Jason Dufner, and Players Championship winner Matt Kuchar, who finished T14 at Olympic Club in 1998 as an amateur. Surely, one of those three, based on their season to date, can be expected to muster a charge. Charl Schwartzel, the 2011 Masters champ, is also T4.
5. Can Graeme McDowell outduel the dragons to win a second Open in Northern California? The 2010 champ at Pebble Beach staved off threats from Ernie Els, Tiger Woods and a slew of more decorated players and seems to relish playing in the toughest conditions and under duress (see: 2010 Ryder Cup deciding point). Had he not bogeyed three of his last four holes on Friday, he'd be leading, not starting the day at T4, two strokes back. McDowell missed his last three cuts entering the week, so handicapping his chances is complicated and risky.
The next season of golf has a real chance to be one of the best any of us has ever seen

This season will fascinate as old stars converge with up-and-coming superstars

With a single golf lesson up for auction, Tiger Woods changed some lives forever in Texas this...
The Days have had a rough 2017 from beginning to end

Why in the world would a former FedEx Cup winner hop on 24 hours worth of flights this wee...

Following the debacle at the ANA Inspiration earlier in 2017, Thompson has some thoughts